Turret # 2 after the storm, July 1942. Photo by Horst Grund.
Design and construction
After disastrous war with Japan in 1904-1905 Russian Imperial government decided to upgrade coastal defenses of the Sevastopol Navy Base in Crimea with two huge armored naval gun batteries. Existing batteries of 11-inch naval guns were constructed in 1867-1877 and by 1905 they were completely outdated and outclassed by the guns of the modern battleships. Old coastal defense guns were standing in the open and all loading operations were conducted manually, slowing down the rate of fire to one shell in 2 minutes, against 2 shells per minute of contemporary English battleships. Another major drawback was concentration of all batteries on the relatively narrow shore strip from Cape Tolsty to Quarantine Bay, where they protected entrance to the Sevastopol Bay. This position was considered as suitable to protect Sevastopol from European Navies of 1870-s, but in 1900s, era of new, much more powerful battleships, able to shell Sevastopol from offshore areas near Balaklava and Cape Violent at 30 km distance above Mackenzie and Cape Chersonese mountain ranges, old coastal artillery defense system had to be completely updated and re-positioned.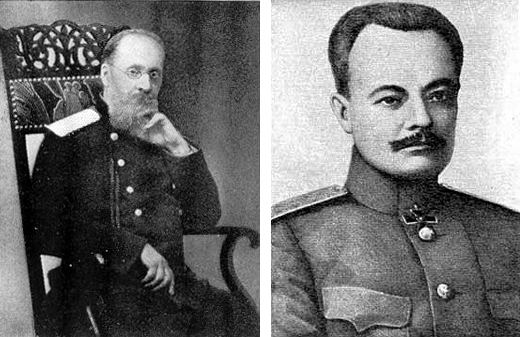 Creators of the battery - Generals Cesar Cui and Nestor Buinicky
In order to solve this problem, Russian fortification expert, General of Artillery César Cui, also famously doubling as Russian "silver age" composer and musical critic, suggested to construct first battery approximately 3 miles to the north from Sevastopol on the steep western slopes of the narrow Alkadar Heights near shore Lubimovka village.
Battery was designed by professor of the Nikolayev Engineering Academy General N. Buinicky, who used Cui's preliminary project, and after intensive polemics with, ironically, German expert von Sauer, who dismissed the very idea of naval shore batteries as outdated, project was approved and in 1912 construction started.
Cui-Buinicky project was well advanced for the era. Both steel turrets were armed with two 305-mm guns each, with barrels 52 calibers long. They were able to rotate 360 degrees and fire as far away as 42 km distance. All operations, including target acquisition, aiming and loading were powered by 17 electric motors, but could be conducted manually as well. Only huge turrets 1360 tons weight each, protected by the 406-mm thick armor, were visible on the surface. All other battery compartments: ammunition cellars, inner power station, living quarters and service rooms were encased in 2-levels ferro-concrete shell 4 meters thick with overall dimensions 130 by 50 meters.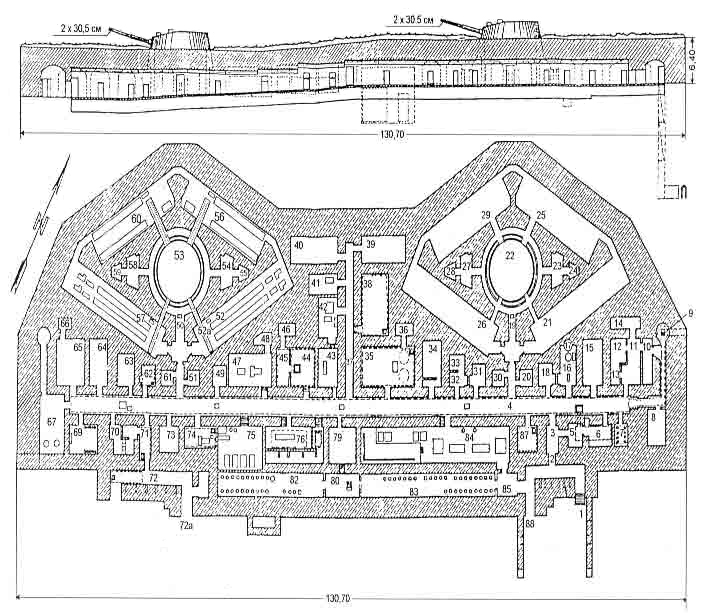 1. Main entrance. 2. Entrance. 3. Lobby. 4. Main entrance. 5. Change room. 6-7. Bathroom. 8. Medical center. 9. Sally port entrance (37 meters under the surface). 10. Reception. 11. Surgery. 12. Medical room. 13. Medical room. 14. Hospital attendants room. 15. Sleeping quarters. 16-17. Water supply. 18. Air ventilation unit. 19. Passage to the right turret (# 2). 20. Electrical room. 21. Ammo cellar. 22. Guns. 23. Storage. 24. Storage. 25. Guns service room. 26. Ammo cellar. 27. Storage room. 28. Storage room. 29. Guns service room. 30. Sleeping quarters. 31. Air ventilation unit. 32. Electrical room. 33. Service room. 34. Electrical accumulators room. 35. Repair room. 36. Storage. 37. Communication passage. 38. Officers quaters. 39. Sleeping quarters. 40. Sleeping quarters. 41. Electrical accumulators room. 42. Telephone station. 43. Sleeping quarters. 44. Sleeping quarters. 45. Pumps. 46. Sleeping quarters. 47. Compressor room. 48. Storage. 49. Air ventilation unit. 50. Passage to the left turret (# 1). 51. Air ventilation unit. 52. Ammo cellar. 53. Guns. 54. Storage. 55. Storage. 56. Guns service room. 57. Ammo cellar. 58. Storage. 59. Storage. 60. Guns service room. 61. Sleeping quarters. 62. Air ventilation unit. 63. Reserve room. 64. Sleeping quarters. 65. Sleeping quarters. 66. Sleeping quarters. 67. Kitchen and galley. 68. Kitchen and galley. 69. Closet. 70. Bathroom. 71. Lobby. 72. Entrance. 73. maintenance room. 74. Air filters. 75. Heating room. 76. transformers room. 77. Arrest room. 78. Lobby. 79. Sleeping quarters. 80. Air filters. 81. Entrance to the reserve room. 82. Air filters. 83. Air filters. 84. Service room.
30th battery
According to the project's specifications, ammunition had to be delivered to the battery storage rooms by underground railway, equipped with special ammo trolleys. 650-meters long underground passage (sally port) would connect battery with command and communication center. Construction continued until the start of the First World War, but construction had not been completed. Command of the Black Sea Fleet had to regret that battery was not battle-ready just 4 months later, when German battle cruiser Geben, which after her legendary rush across Mediterranean Sea joined Turkish Fleet, shelled Sevastopol and returned undamaged. In 1915 construction was put on hold, since steel turrets, just completed at the St. Petersburg Metal Works Plant were transferred for the defense of the Baltic Sea.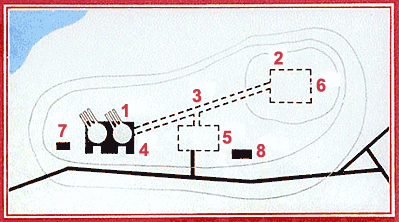 30th battery layout
1. Main facilities (guns and ammo storages). 2. Command center. 3. Sally port. 4. Reserve ammo storages. 5. Gas shelter. 6. Radio center. 7. Reserve command center. 8. Guard house.
By 1917 battery's walls, roof and turrets foundations were completed, 40% of the steel doors were put in place. 6.5 km long service railroad connected battery with Mackenzie Mountains railway station on the main Crimean railroad. Water was provided by 2 artesian wells and three water storages were constructed under the floor of the gun level. Metal Works Plant developed 100-tons crane and continued development of two new steel turrets. However no equipment was installed inside and battery's command center was not even on the drawing board.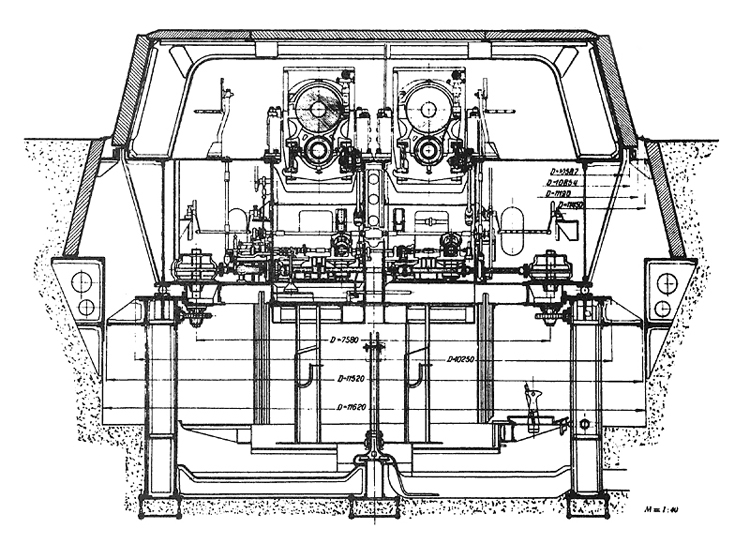 Gun Turret Cross-Section 1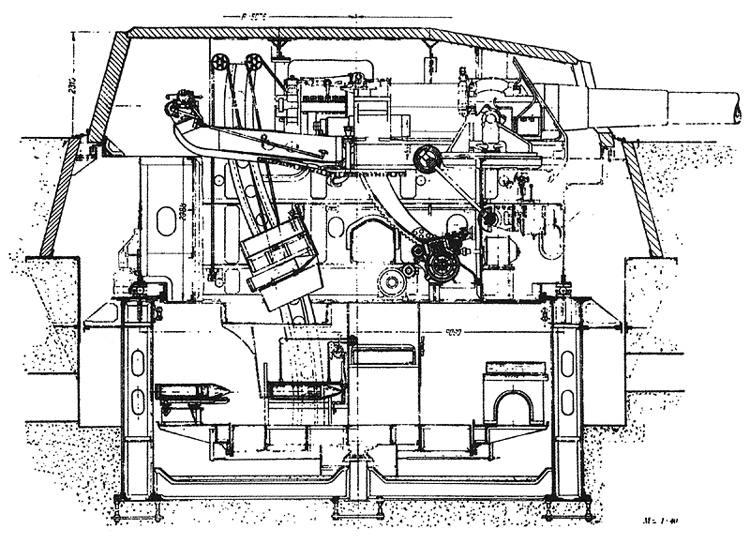 Gun Turret Cross-Section 2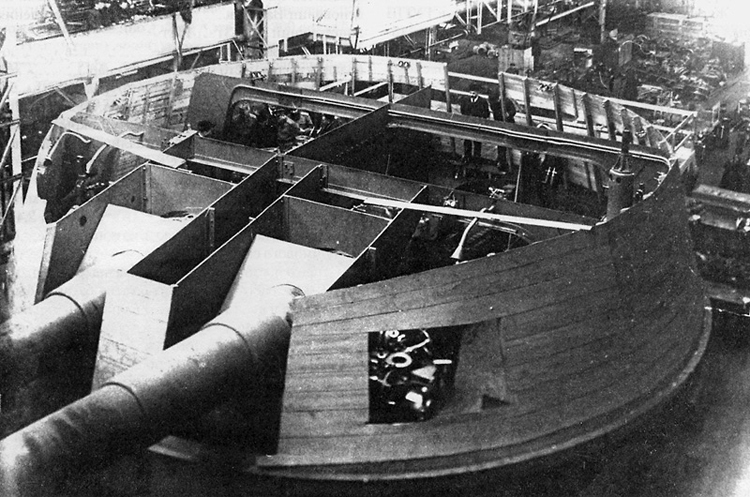 Gun Turret on the Metal Works Plant, Petrograd, 1917
After turbulent years of revolution and civil war, battery construction was resumed only in 1928 and mostly completed by 1934. Massive pre-fabricated construction elements were unloaded from railway platforms and put into place by battery's organic 75 tons crane, which had its own protected shelter. Battery was equipped with 305-mm naval guns SA of 1913 vintage, made in St. Petersburg for Great War era battleships, upgraded with modern optical range finders and automatic fire control station "Barricade". Gun turrets Mb-2-12 were identical to the Red Gorka and Ino batteries, which were protecting sea approaches to Leningrad. Located at 37 meters below the surface, underground command center has been completed by 1936, as well as supporting network of 6 observation posts (on Cape Lucullus, in the mouth of Alma and Kacha Rivers, on Capes Chersoneses and Violent, and above the western shore of Balaklava Bay). That vast network of observation posts was necessary because of the long range of the battery's gunfire. Battery was able to blast as far away as Nikolayevka, Pochtovy (with full powder charges), or Bakhchisarai (with half-charges). Altogether 30th battery controlled area approximately 5000 square kilometers. 3 batteries of anti-aircraft artillery and 4 machine guns defended battery from air attacks, while 5 heavy machine guns in concrete emplacements supported defense against enemy's infantry. However, turrets, as well as the entrances to the gun compartment and command center were not provided with embrasures. In November 1937 captain-lieutenant of the Soviet Navy Georgy Alexander was designated as the battery's commander.
World War II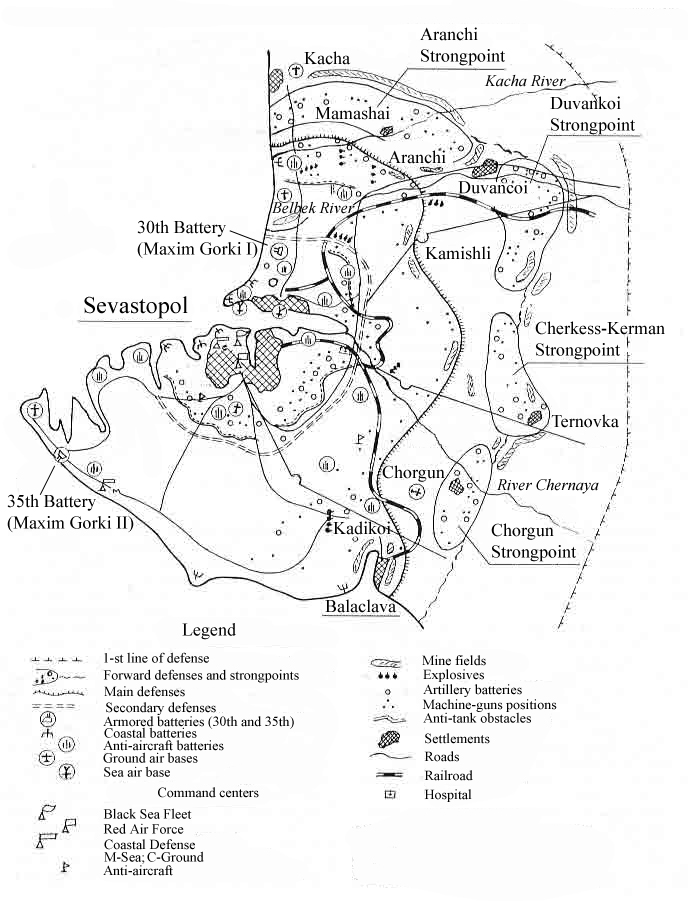 Sevastopol defenses by the start of the first German offensive, November 1, 1941
By the start of the World War II Sevastopol defense also received identical battery of 305-mm naval guns, which covered sea approaches to the Sevastopol from the south. Sister battery was constructed on Cape Chersonese and received number 35. Both batteries were part of the First Separate Artillery Division of the Black Sea Fleet Coastal Defense Command, earmarked mostly for the defense against enemy's capital ships. 30-th battery covered wide arc to the north from Cape Lucullus, 35-th battery controlled south sector from Cape Chersonese to Cape Violent. However, when in October 1941 German armies broke through Russian positions at Perekop and entered Crimea, the coastal batteries, originally intended for protection of the Sevastopol Navy base from the sea, became the main staples of the city defense from the inland threat. Roles of each battery were proved to be quite different. Since 35th battery was located too far to the south from the area of the main German thrust, it was able to fire only as far away as Mackenzie Mountains railway station, and 30th battery had to play the major role in Sevastopol's defense.
On October 30, 1941 11th German Army again atacked Soviet positions and after breakthrough, started advance in the direction of Sevastopol.
On November 1, 30th battery opened fire in anger for the first time. It targeted vanguard units of kampfgruppe Ziegler from 132 Infantry Division, assembling between Alma railway station and Bazarchik village for the attack on positions of Russian 8th Marine Brigade. After 68 shells Germans were dispersed and attack was canceled.
On November 2 30th battery shelled column of motorized infantry, resting at that moment between Bahchisarai and Alma-Tarchan. Shock waves, shell fragments and heavy fire destroyed up to 40 trucks and several tanks.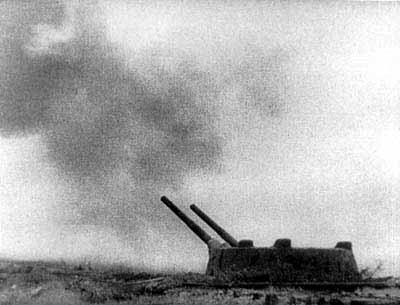 30th battery opens fire, 1941
On November 3 German infantry and tanks attacked Duvankoy sector and attempted to break along the highway into Belbek Valley. 17th Marine battalion, remains of the 16th battalion and cadets from Coastal Defense Academy were supported by the 30th. As a result, when 30th shelled attacking force and field artillery battery near Bahchisarai, Germans retreated.
On November 4, at 14:36, 30th battery fired 19 fragmentation shells on advancing German infantry and mortar battery. At 16:35 30th lobbed 6 shells into Koba-Jiga ravine, where German armor were concentrating for the attack, at 19:10 20 shells fell on Sevastopol-Bakhchisarai highway, on the assembly area of the German infantry battalion, which took heavy casualties. And at 22:00 pm later on the same day battery fired on German trains, unloading reinforcements on Alma and Biuk-Suren railway stations.
On November 6 30th shelled advancing Germans in Aranchi-Mamashai sector, on November 8 battery supported counter-attack of the 7th Marine Brigade by firing fragmentation shells, quite risky undertaking, which, by the war standards, was, however, considered as necessary.
Staff analysts of the 1st Artillery division determined that 30th battery was often used excessively, mostly to compensate poor performance of Maritime Army field artillery, which was slow to deploy and short of guns and ammunition. Also it was determined, that 54% firings were commenced without further correction, which resulted in wasting ammunition. After November 15 battery's fire became less frequent and more tightly controlled. Overall battle effectiveness increased, since battery at last managed to develop a number of observation posts in all sectors, 20 in total. Sometimes observers were parachuted in the German rear to direct artillery fire against enemy reserves, assembly areas, transport, communication and storage units. In total during the first German offensive 30th battery fired 517 shells.
Germans received intelligence about 30th battery even before November advance and made constant attempts to bomb her, but this target proved hard to find, since it was camouflaged by special nets and metal models of trees and bushes. Adjacent airspace was protected by four powerful anti-aircraft 75-mm batteries with the most experienced gun crews available. The only technical problem was some damage of the left gun of the first turret, inflicted on November 16 by constant salvos, but broken parts were changed promptly, as soon as spare parts were delivered from the storage of the Coastal Defense Academy.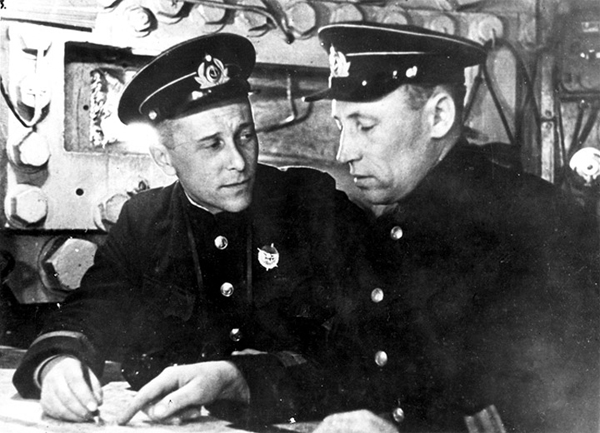 Battery's commander Alexander (left) with commissar Soloviev
With this hard-hitting fire 30th battery proved to be not just nuisance for the Germans and they had to alter their next offensive, started on December 17, accordingly. One of their spearheads was aimed along Belbek River Valley and Mackenzie Mountains specifically with the purpose to destroy 30th battery, which Germans dubbed Maxim Gorky-I (They mistakenly considered battery's command center as a separate "fort" and named it "Schutzbastion"). 22nd German infantry division and Romanian motorized infantry regiment attacked positions of the Soviet 90th Rifle regiment and 8th Marine Brigade. At first December offensive went on smoothly, Germans broke through Soviet defenses, inflicted heavy casualties on the 8th Marine brigade, 151 Cavalry and 773 Rifle regiments and on December 28 4 infantry battalions supported by 12 German tanks approached battery's command center. Alexander had to form 2 rifle companies from the crew members and with the help of the sector's designated reserve battalion protected exposed battery's right flank. As a last resort battery opened fire with open sights, assuming unusual role of the frontline artillery. One of the defenders, D. Piskunov remembered later: "With German tanks shelling command center from the distance just 300 meters situation became inconvenient enough. But then earth trembled and we heard enormous explosion. I climbed out from the trench and couldn't see German tank, which stood in front of us just moments before. Now nothing was there. Only earth and unrecognizable debris were still falling down. Soon we were told that Alexander's battery opened fire". On the next day Soviet Marines successfully counter-attacked enemy infantry, which was digging near communication center and Germans retreated back along the Belbeck Valley.
In just two months 30-th battery fired 1238 shells. However, after 300 shots maintenance rules required to replace guns' barrels. Even if most of the shells were fired with half charge or less, by the beginning of 1942 barrels had been completely worn out and accuracy markedly decreased. Crew extracted spare 50-tons barrels from the secret storage in Sevastopol and in January 1942 transported them to the battery. According to the same maintenance rules, new barrels had to be installed with the help of 75 tons crane in no less than 60 days. However battery's crew with the help of experts from Leningrad's Metal Works Plant, original manufacturer, and workers of Repair Plant #1127 of the Black Sea Fleet managed to replaced barrels in just 16 day, using much smaller and less conspicuous crane and jacks, working only at night, since front line by that time run only in 1,5 kilometers from the battery.
In May 1942 Germans started yet another Sevastopol offensive, which, as they hoped, would be decisive. Well aware of the key role of Maxim Gorky-I in city's defense, commander of 11th army, General-Colonel von Manstein concentrated powerful siege group of heavy artillery. This group included scores of field artillery guns with caliber up to 180 mm, one battalion of 210-mm mortars, two battalions of 240-mm heavy howitzers, four batteries of 280 mm howitzers, two battalions of 305-mm mortars, battery of two 356 mm mortars, 624th battalion (each of its three batteries had two 305-mm mortars and three 210-mm Moerzer-18), battery of 420-mm howitzers, the battery of 420-mm моrtars "Gamma" WWI vintage (total weight 140 tons, weight of a shell of 1020 kg, range of fire 14 kilometers) and the battery of 280-mm railway artillery.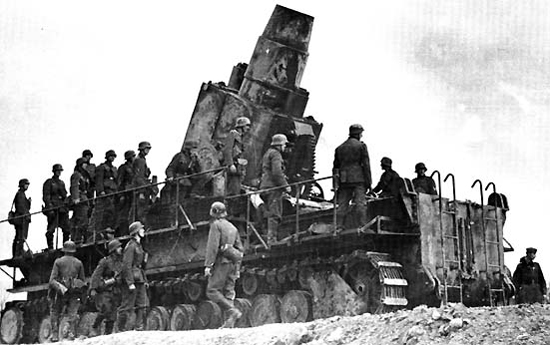 German super heavy mortar "Karl"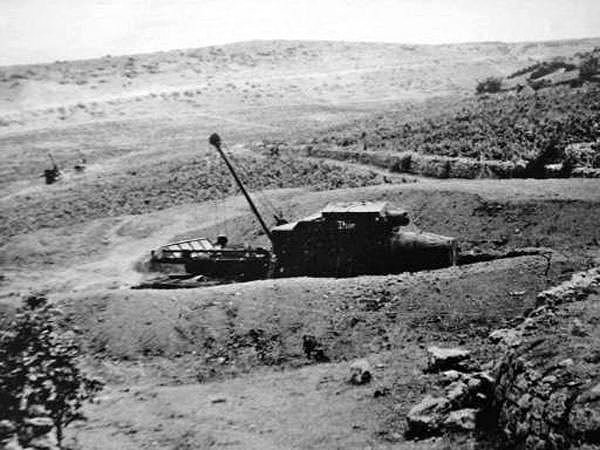 "Karl" in the firing position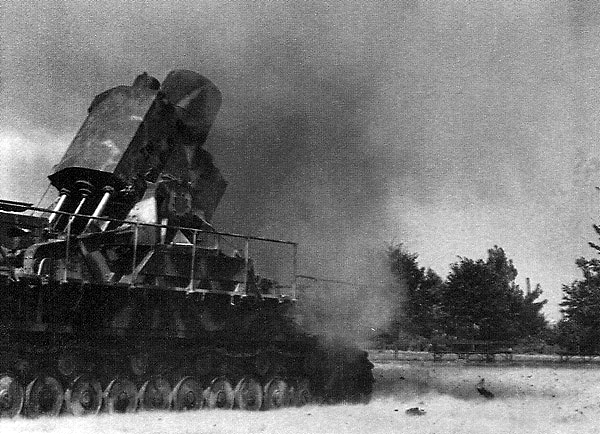 "Feuer!"
On top of these powerful artillery group Germans delivered to the front line two 615-mm self-propelled mortars type "Karl" named "Thor" and "Odin" and one 800-mm railway super-gun "Dora". Siege mortars moved on caterpillars and fired 615-mm shells, which weighted 2.2 tons each and were specifically designed for the use against thick ferro-concrete slabs up to 3.5 m thick or 450-mm steel armor. Odin and Thor entered history books as the most powerful and heavy self-propelled guns ever made, however, caterpillars were used only for the limited maneuvering of the huge gun into position. Because of the extremely strong recoil, " Karls" had to be unlimbered and placed on the ground before firing. Small speed of shell's flight allowed to observe it in the air, and duly impressed German soldiers immediately called Karls' massive shells "flying coffins", while Russians prefer to stick with WWI trench slang and called these enormous projectiles "suitcases".
As if it was not enough, Germans were ready to use the biggest artillery weapon in their arsenal, railway gun "Dora", which was able to lob 800 mm shells. It was and still is the biggest railroad gun ever made. All Dora's establishment was transported in 106 carriages on 5 trains, gun's barrel had 32.5 m length, and carriage towered as high as 3-stored building. This monster gun was served by the firing crew of 1500, and overall, including service, transport, maintenance, ant-aircraft and security personnel, compliment counted as much as 4370, so General-Major of Artillery Zukerort was appropriately put in charge of this huge outfit. After aerial reconnaissance, which was conducted by general himself, Dora's firing position was carefully chosen in 2 km from Bakhchisarai, and all necessary preparations lasted more than a month. Dora fired shells from 4 up to 7 tons which theoretically were able to punch holes in 1 meter thick steel armor or in 8-meters thick ferro-concrete slabs. Originally "Dora" was constructed for breaking French Maginot fortified line, but was not finished by May 1940, and so Sevastopol defense batteries had to become its first battle target. On May, 26th, 1942 the super-gun was put in firing position on 4 railroad tracks, slighly curved for horizontal aiming adjustment and made ready to open fire. German Propaganda Minister Goebbels planned to mold Dora's debut into a showcase of Wermacht military might and documentary crews waited anxiously to film enormous gun in action.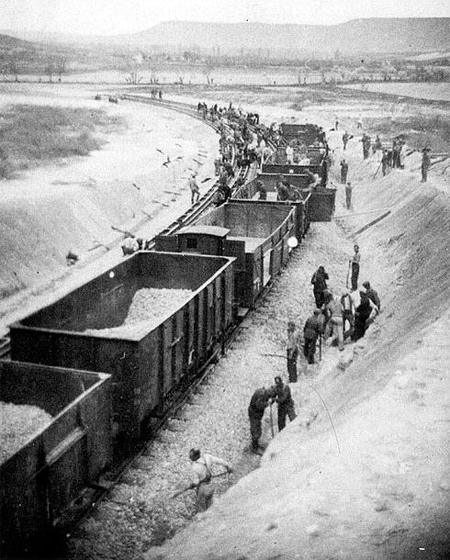 Preparing firing position for the "Dora"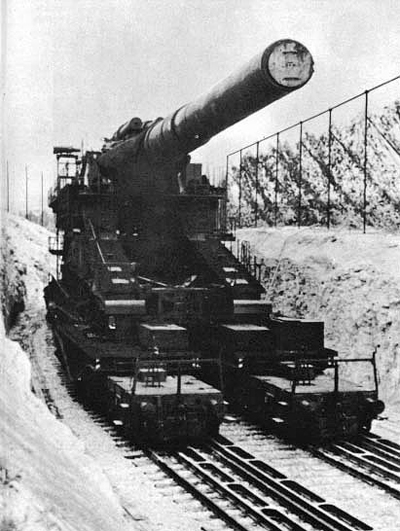 Horizontal aim correction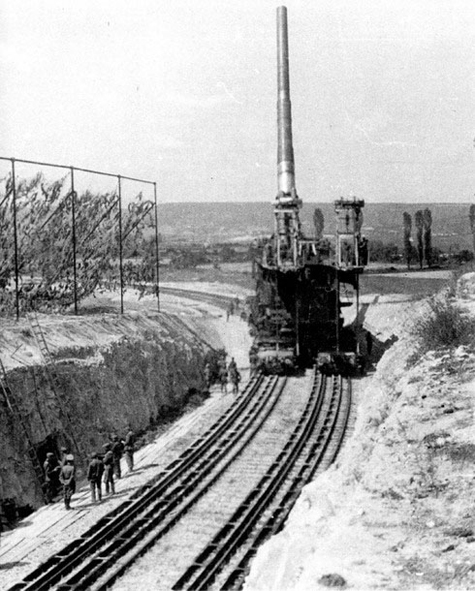 Ready to fire
On June, 5th, 1942 at 5.35 am Dora's first "inaugural" shell was fired on Sevastopol's Northern Side. It was followed by 8 more shells, 5 of them were aimed directly at 30th battery. Columns of black smoke from powerful explosions rose up to 500 feet in the air, however, no shells landed on armored turrets, since shooting accuracy of the monster gun, firing from a distance of almost 30 km, proved non-sufficient, the closest hit was registered in 0.5 km from the nearest turret. Dora switched on more lucrative targets on the North Side of the Sevastopol proper, but was not able to inflict serious damage, due to the relatively small proportion of explosives in the overall weight of the projectile.
Most Russian war-time sources didn't mention Dora at all, and immediate post-war surveys of the siege treated rumors about the monstrous gun as one of the war legends. Some sources did mention that "Dora" had been located by Russian battle reconnaissance group, which transmitted target coordinates to Soviet aircraft bases on the North Caucasus. Russian pilots bombed "Dora" firing position and put out of action power supply train, several maintenance and service platforms, as well as special climate-controlled carriages with gun's ammunition. However, German sources don't mention any air attacks at all. Whatever happened in reality, fact of the matter was that after just 48 shots Dora's battle history ended. City was taken and Dora stayed in position until the end of July, when it was transported north to support siege of Leningrad.
In fact, "Karls", not "Dora" gave Alexander every reason to worry. After first accurate mortar shells Alexander reported that Germans were using unknown guns of monstrous proportions, but his report was met with disbelief. However soon one 2-meters long dud shell was found, photographed, and measured. Only then Soviet Navy intelligence officer agreed with Alexander that there was something suspicious going on indeed. Comparing to Dora, Odin and Thor were firing from much smaller distance, just 3.5 km and were much more accurate, also delivering much greater load of explosives. On June 6 German fire damaged and displaced 2 armor plates of the first turret, which for a while was not able to rotate. Next day one of the Karl's shell again hit the first turret and second punched a hole in ferro-concrete encasing, damaging room with chemical air filters. German guns had to be found as soon as possible. From the top of Alkadar Heights battery observers could see all Sevastopol's northern defense perimeter, and Alexander instructed them to collect data for the counter-battery fire.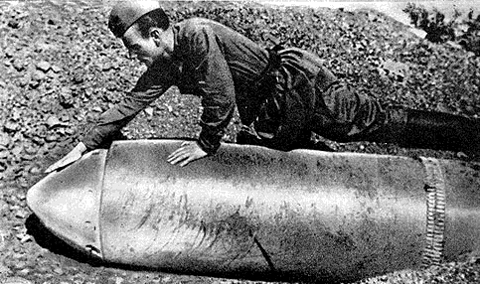 Karl's dud shell
Despite Karls' well-thought tactics of firing simultaneously with other German batteries, careful positioning in the 30th battery's "dead zone", behind the crest of the hill, and exceptionally good camouflage, they were eventually betrayed by unusually bright muzzle flashes and signature "clearing throat" sound of the firing blast. Artillery duel between "monsters" and Soviet batteries started in earnest. From June 6 to June 14 Karls fired 172 anti-concrete and 25 high-explosive shells. However no more hits on the turrets were registered. According estimations around 40% of all shells didn't explode or just fell apart after falling on the ground. One dud shell was transported to the Suharnaya Ravine arsenal for further research, survived arsenal explosion after the fall of the city, and was demolished only in 1957. Luftwaffe airplanes also were active, making 600 raids on the 30th battery with bombs up to 1 ton weight, but still couldn't produce any notable results, since ferro-concrete encasing was designed to withstand bombs of exactly that weight.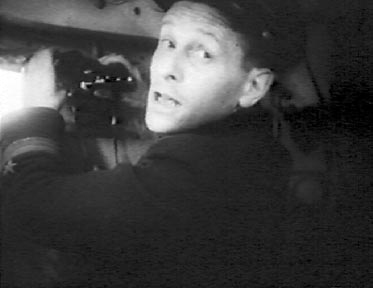 Georgy Alexander (Frame from the Soviet documentary)
In June 15-17 Germans 213 infantry regiment, 1st and 2nd battalion of 132d pioneer regiment and 1st battalion of 173d pioneer regiment moved in to encircle the 30th battery. Communication land line with Sevastopol was cut, on the next day radio communication was also shut down, since all external aerials were destroyed (radio with internal antenna proved to be unable to perform properly). Clearly understanding value of 30-th battery in Sevastopol defense system Germans continued attacks by tanks and infantry. Gnawing their way through Russian defenses they put out of action machine-gun nests, suppressed snipers fire and ward off counter-attacks. Previous heavy bombardment, going on for weeks, considerably soften defense, stripping 30th battery of all field defenses, removing barbed wire, leveling trenches, machine-gun nests and detonating minefields.
On June 17 30-th battery was completely encircled. Next day it fired all remaining live shells. Battery gunners used whole shots, which were stored before war for training purposes. One such shot torn off turret of the German tank, which tried to fire from Sofia Perovsky state farm. When no more shells remains in stock, battery fired 70 kg powder charges, three at once, and lucky shot, producing jet stream of powder gases with temperature up to 1000 degrees Celsius, reportedly, could obliterate approaching German infantrymen. But 30th was already doomed. By that time Germans were storming Northern Side and Michailovsky Bastion, far in the battery's rare. 200 gunners, marines and soldiers from 95th Rifle Division were still inside the battery compartments, blocked by the Germans, who by that time positioned machine guns to control exits. German infantry regiment and three pioneer battalions managed to reach damaged turrets and lobbed hand grenades inside.
Moving closer to the burning turret #2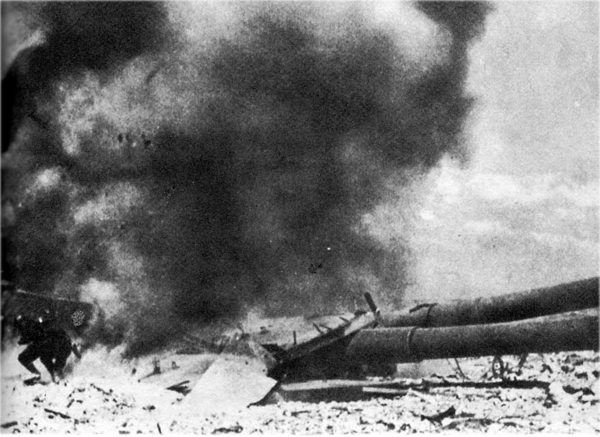 German infantry attacks the gun turret #2
At first Alexander planned to break out in three groups, the last had to blow up all equipment, but first group of 76 defenders was completely wiped out by machine gun fire, only several survivors managed to reach front line with desperate appeals for help. However counter-attacks to rescue garrison failed. Delay in escape of the second and third groups made retreat impossible. On June 21 Alexander ordered to blow up turrets, diesel engines, electric station, and destroy fire control equipment.
Meanwhile German pioneers found exhaust pipes of the diesel generators and attempted to block them. Then they poured gasoline into concrete cracks and burned it. Soon gun compartments were engulfed by flames from burning oil, but due to sturdy steel doors and still partly working air ventilation system, flames and smoke were contained. At last Alexander ordered survivors to leave the battery and join partisans, which, according rumors, already operated in Crimean Mountains, since Sevastopol's Northern side had been already taken by the Germans.
Since underground sally port was blocked, Alexander and several gunners were not able to return to the battery. They left command center through the water drain and made last-ditched attempt to reach Crimean Mountains. However on the next day, near Duvankoi village, Alexander's group was surrounded and captured. By that time Alexander was in civilian clothes, but a local resident recognized him and gave him up to the Germans. Alexander was sent to the Simferopol prison, where he was interrogated and promptly shot, probably, as one legend goes, for refusal to give Germans some information regarding 30th battery. Another legend says that Germans found Alexander to be German by birth, born in the family of XVIII century German settlers in Ukraine, and asked him to switch sides, intending to use him as a propaganda tool, but he refused. However, most likely Alexander was shot as a punishment for his key role in prolonged siege. Germans were not able to capture a battle banner of 30-th battery, either it was destroyed by the last defenders, or, as some versions say, it was immured in a wall in one of the battery's vaults and remains there since. Absence of a battle banner was frequently cited as a reason why Georgy Alexander has not been made the Hero of Soviet Union posthumously, but true reason could be Stalin's overall dissatisfaction with the siege's outcome.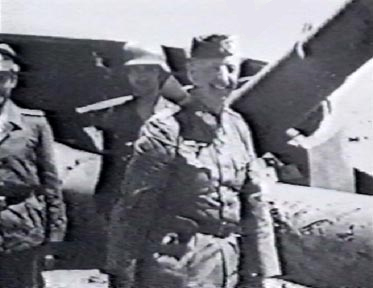 General-Colonel von Manstein smiles after his victorious visit to the silenced battery (frame from the German documentary) with turret # 1 on the background.
On June 26 Germans started to clean up the large subterranean complex from the last isolated defenders. Trying to break resistance of the remaining defenders Germans blasted through steal doors, moving from one compartment to the next, using grenades and flamethrowers to flush out defenders, who continued to fight in total darkness. Mopping up continued for another week, when at last Germans rounded up 40 wounded survivors out of the original compliment of 200.
In the last days of the war Soviets captured German confidential archives, which contained drawings and engineering specifications of the "monster guns", and other "miracle-weapons". However to their complete surprise they also discovered among these papers complete description and drawings of the 30-th battery, made by the German engineers after the fall of Sevastopol. Original research included calculations of survivability, graphics of barrels deterioration, analysis of the chemical composition of gunpowder and a number of other research issues. In conclusion Germans named Russian "fort" a masterpiece of military engineering and stated that the battery by virtue of its exclusive properties and their skillful applications could delay the fall of Sevastopol for more than 6 months.
30th battery after the storm
General Views of the battery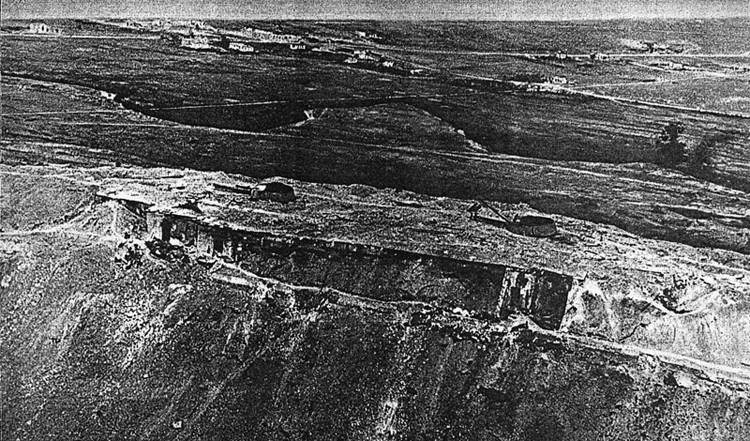 General view from the east to the turret and entrances to the concrete guns block. Black Sea is slightly visible in the upper part of the picture. Turret №2 is on the left, #1 is on the right. Picture by Hauptmann Otto Schmidt, from J-87 7./St. G. 77.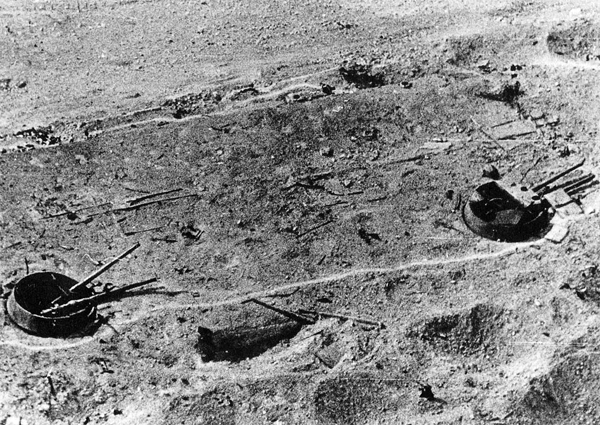 View from the north. Turret #1 is on the left, #2 is on the right. Barrels are turned to the south-west to prevent barrels' damage from splinters. Picture by Hauptmann Otto Schmidt, J-87 7/St.G.77.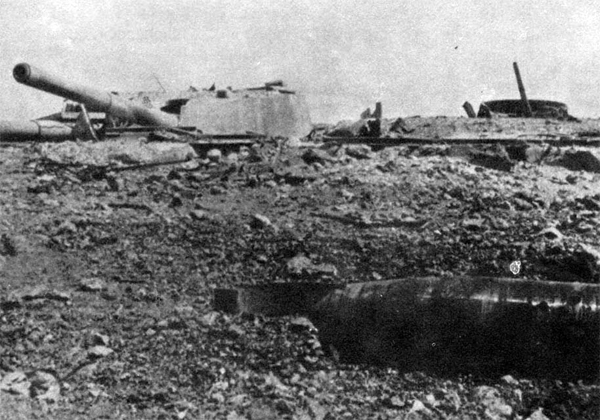 Damaged turrets of the 30th battery. Turret #2 is on the front, #1 is on the background. Black cylinder in the foreground is a dud, heavy Karl's shell without nose cone.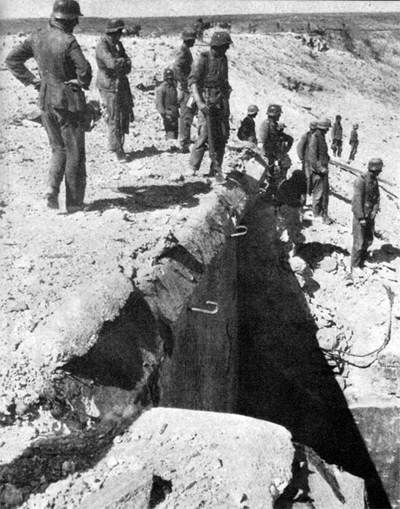 German soldiers on the roof of the concrete guns block.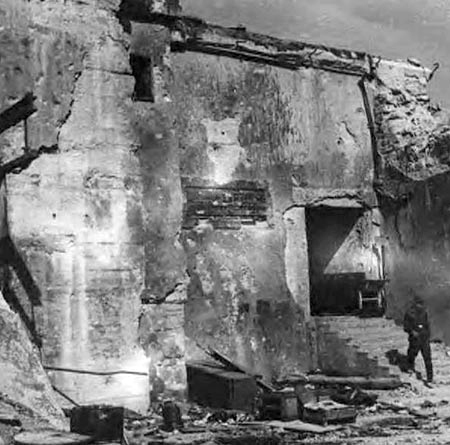 Right entrance to the guns block
Turret #1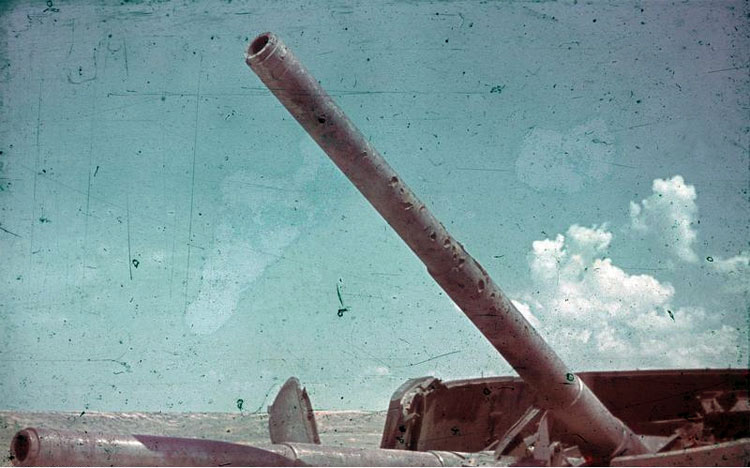 Turret # 1 after the storm, July 1942, view from the south. Photo by Horst Grund.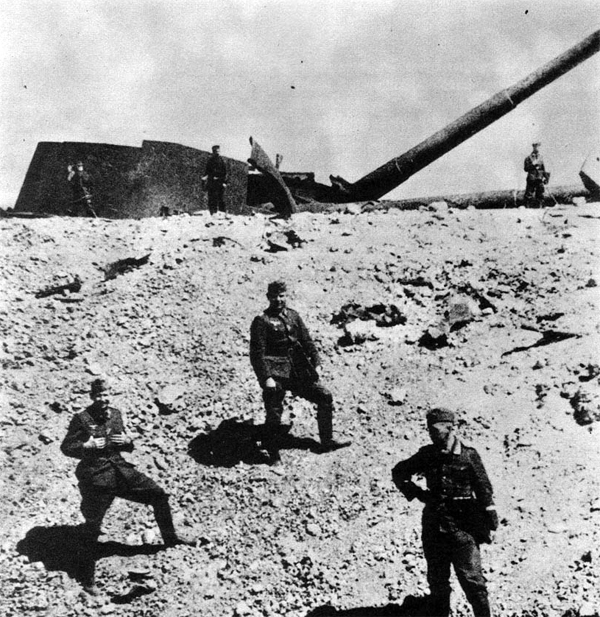 Turret #1, view from the north-west.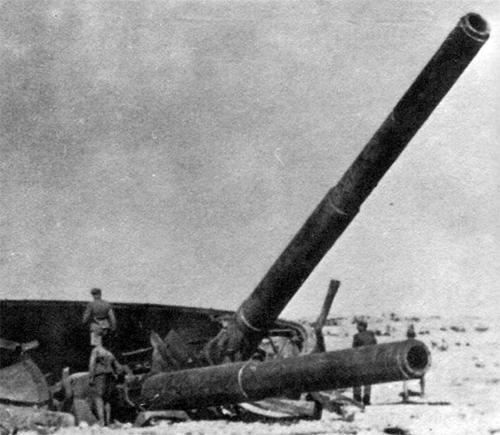 Turret #1, view from the north-west.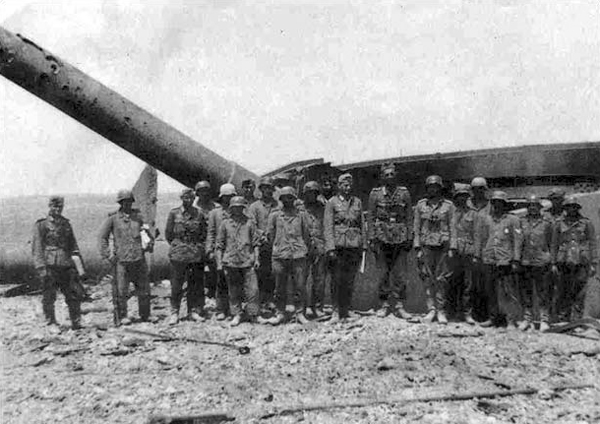 Turret #1.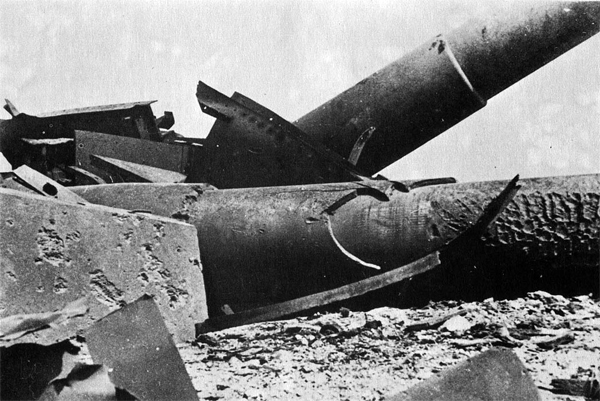 Turret #1, close-up.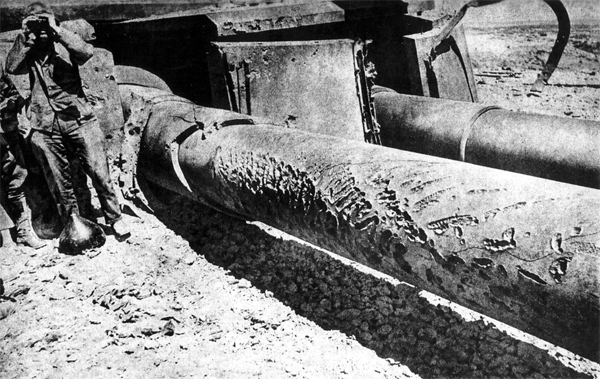 Turret #1, barrels are damaged by the splinters.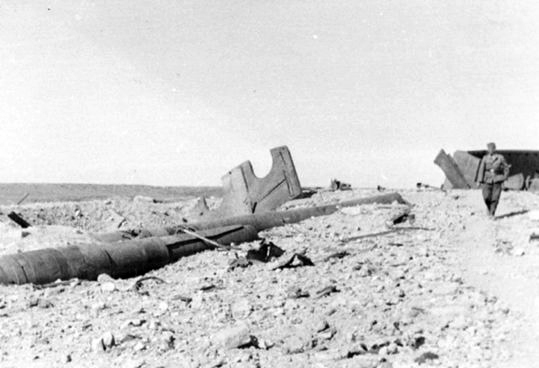 Worn out and changed barrels near turret #1 (which is partly visible on the right, behind the walking soldier).
Turret #2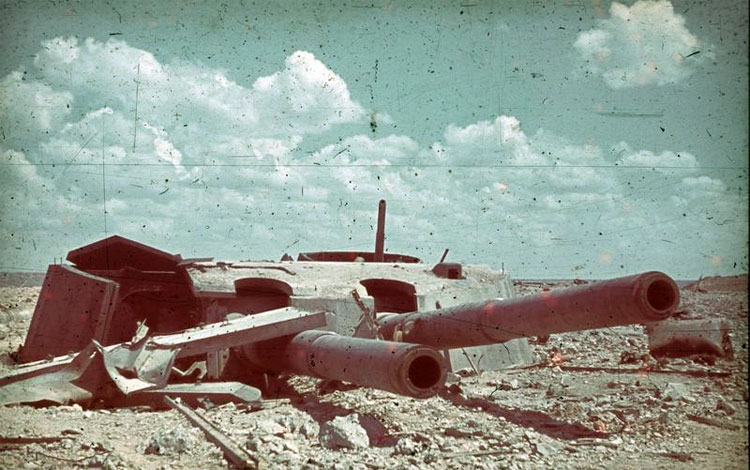 Turret # 2 after the storm, July 1942. Turret #1 is slightly visible on the background. Photo by Horst Grund.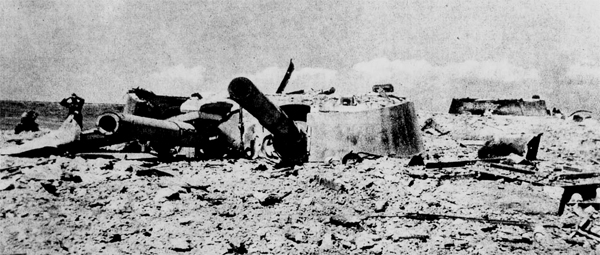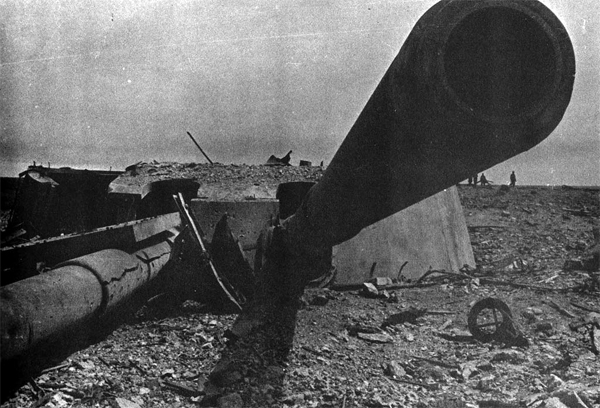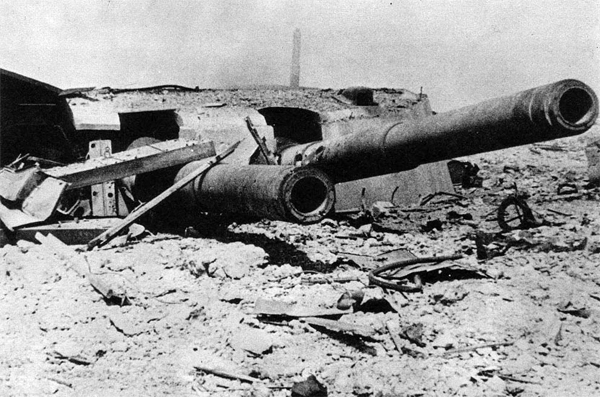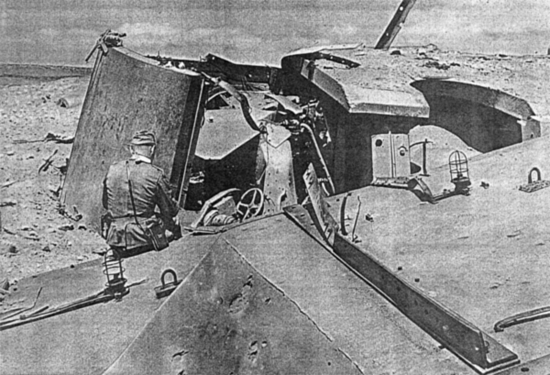 Command center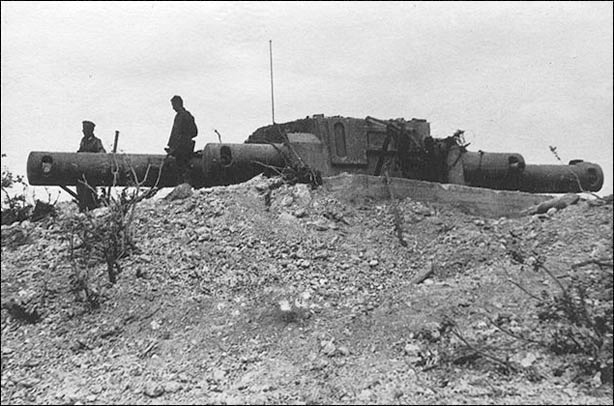 Range finder on the command center. View from the guns block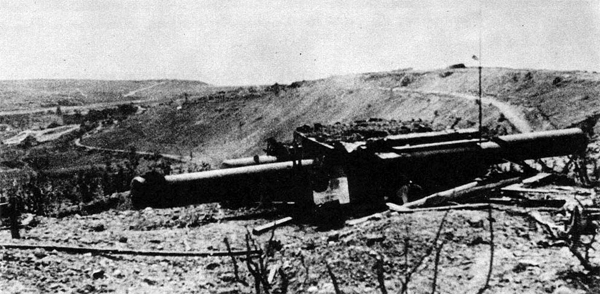 Range finder. View from command center to the gun turret #1 (barely visible on top of the height). Service road on the south slope connects battery and command center.
Fortified 2-levels machine-gun nest on the command center.

Battery's Power station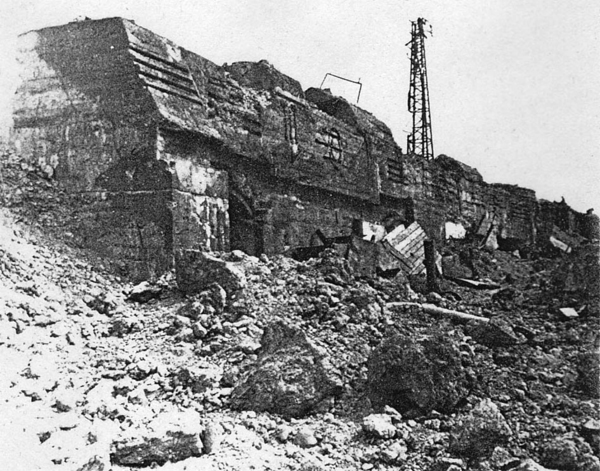 Destroyed outer power station
After World War II
Conducting their own postwar survey, Russian engineers found out that many underground compartments had not been damaged at all, only turrets, mechanical and directional equipment were destroyed, so battery was rebuilt and upgraded with MB-3-12-FM turrets from the Baltic Fleet battleship Frunze (former Poltava) with the same caliber 305-mm guns. Command center was equipped with the most sophisticated for that time fire control system "Shore-30" with built-in radar station and heat-detecting optical and electronic range finders. With this new equipment battery is able to fire at sea targets, moving up to 60 knots speed. According to the new specifications battery can withstand prolonged chemical attacks for 10 hours, bombardment by 2 tons anti-concrete shells or even tactical air nuclear explosion.
Last time battery was seen in action in 1958 during the shooting of the movie "Sea on Fire". Guns fired blanks in the direction of Mackenzie Mountains. As a result in neighborhood houses, which appeared in vicinity of Alkadar heights after the war, window glass was broken, and some roofs were shattered. In 1997, six years after Ukraine gained independence, battery crew was transferred to the Caucasian coast, leaving behind only preservation platoon of the Russian Black Sea Fleet. Reportedly, battery still can be ready for action in 72 hours, other sources state that the real preparation time would be around 1 month. Today this is the only 305-mm naval gun battery on the territory of the former USSR which still able to operate, other famous batteries like Red Gorka near St. Petersburg and Voroshilov battery near Vladivostok haven't survived. Officially battery is leased by the Russian Black Sea Fleet, but after the lease will expire in 2017, 30th battery may be looted, scrapped and demolished, as already happened with other Sevastopol defense batteries, both artillery and rocket. On the more optimistic note, new Ukraninan president Victor Yanukovich, propelled to power by voters from more Russia-oriented Eastern Ukraine, promised to renew lease of the Sevastopol naval base to the Russian Black Sea Fleet, move, which can preserve 30th battery well into 21st century.
Contemporary Photos
(Courtesy of sevdig.sevastopol.ws)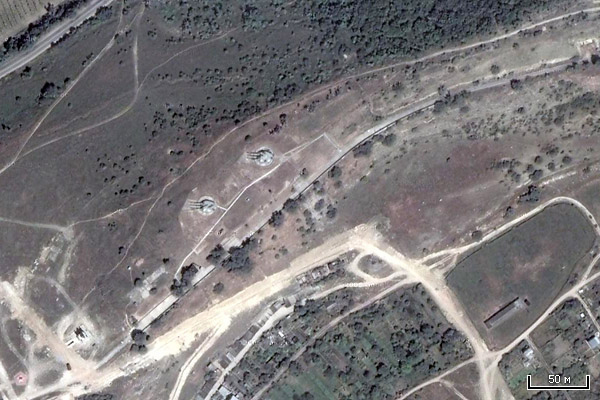 Satellite image of the 30th battery, square command center is visible near the right upper corner of the picture.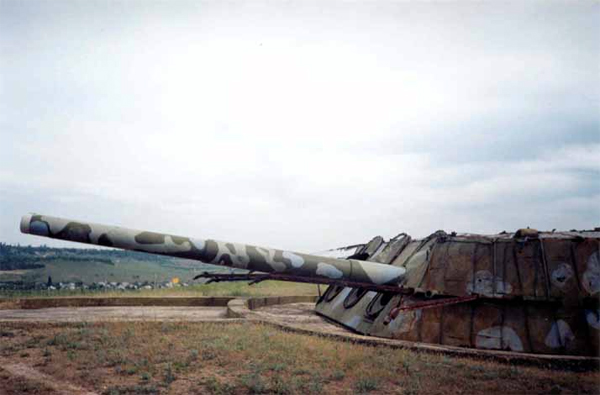 Modern view of the 3-guns turret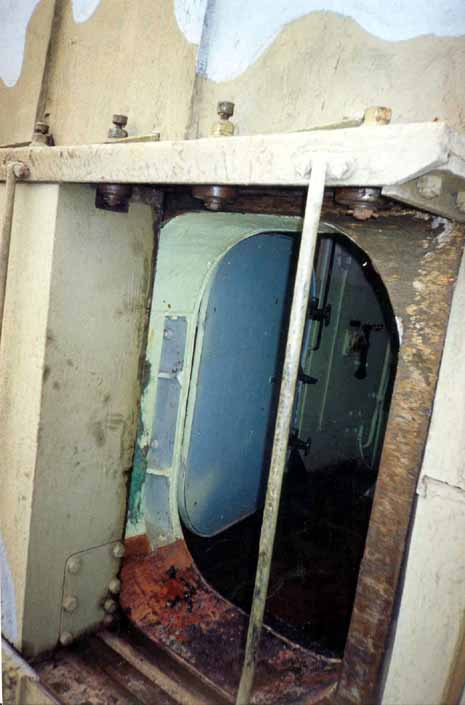 Entrance to the gun turret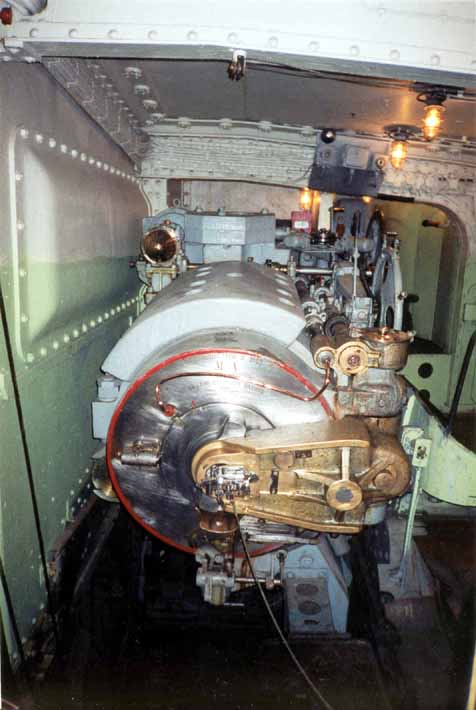 Inside gun turret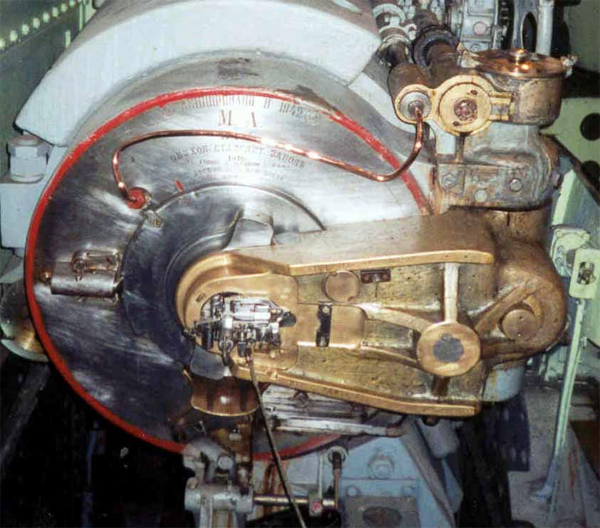 305-mm gun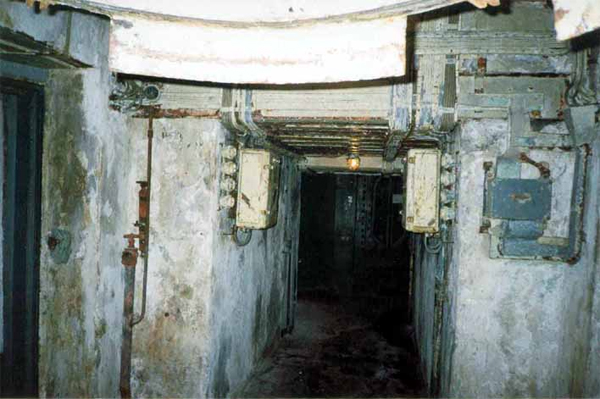 Underground passage to the gun turret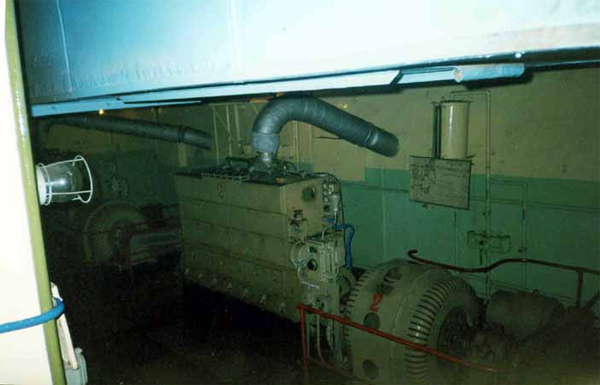 Electric power station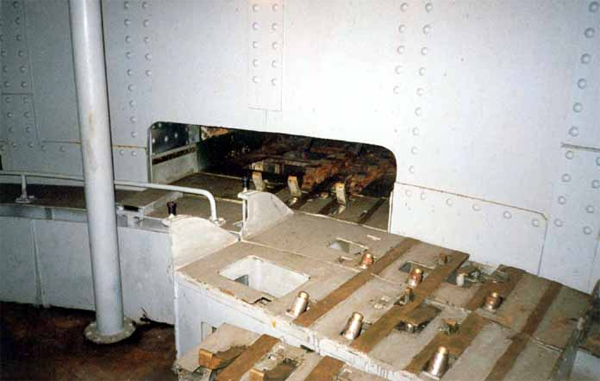 Shell transfer compartment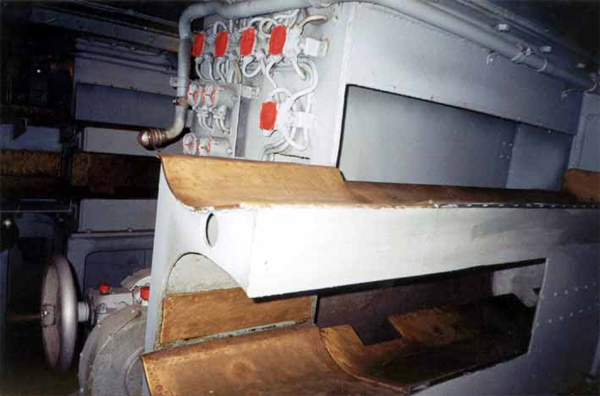 Shell feeder
Shell transporter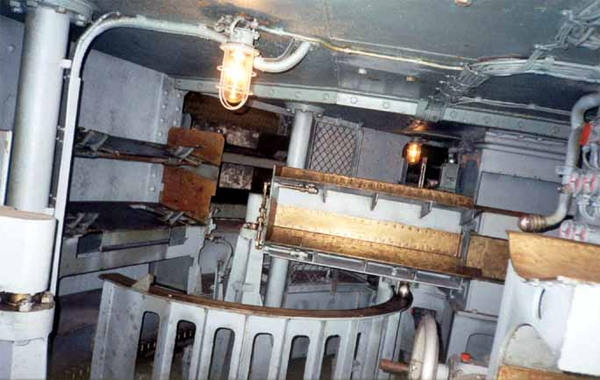 Powder chargers transporter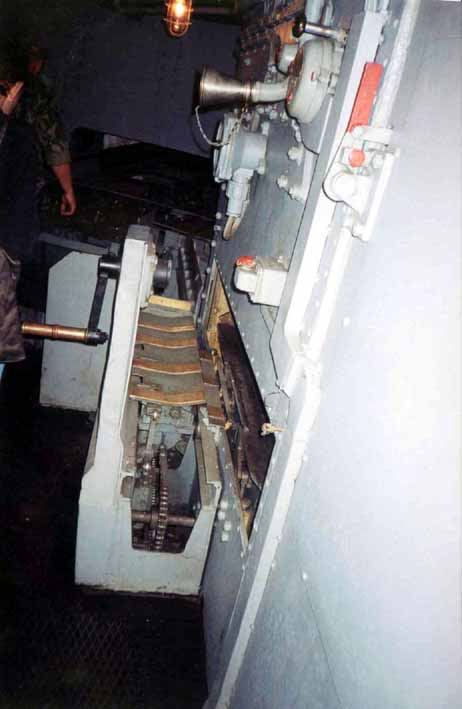 Shell loader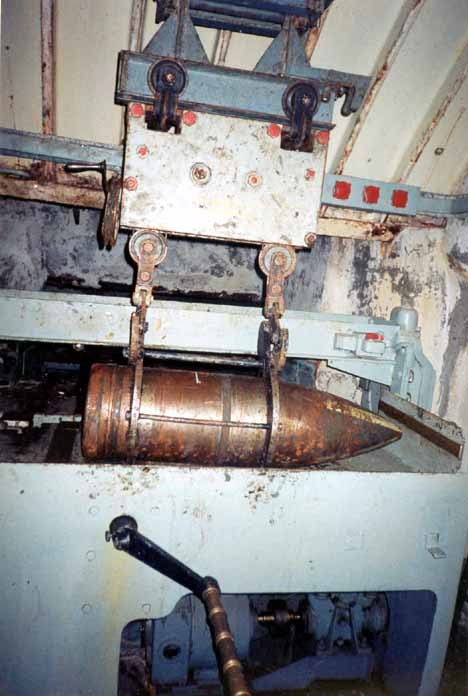 Shell on the transfer table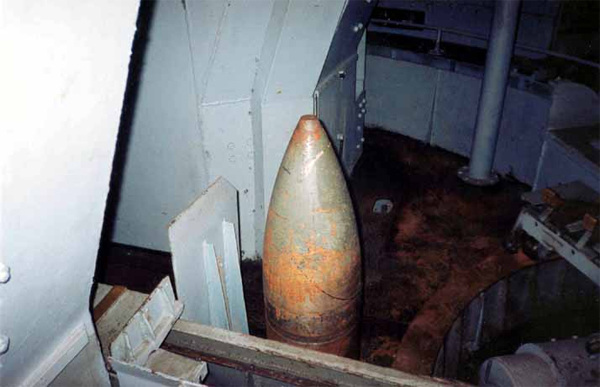 Loading compartment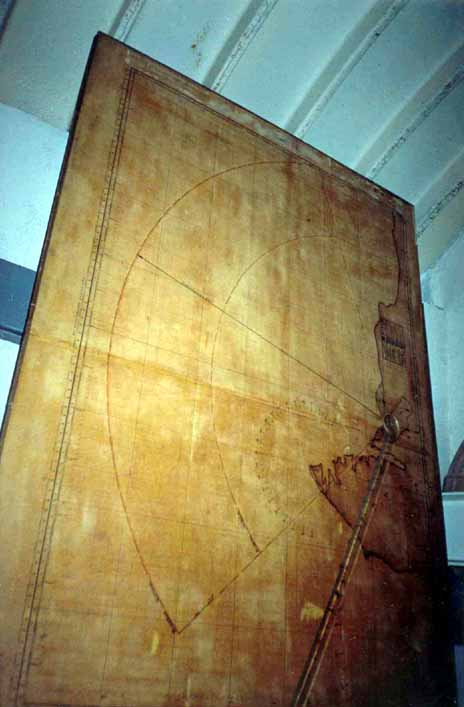 Fire solution board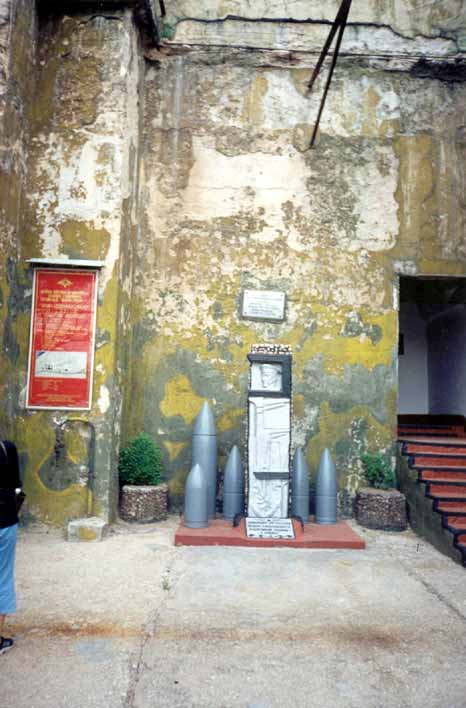 Monument to the defenders of the 30th battery near the main entrance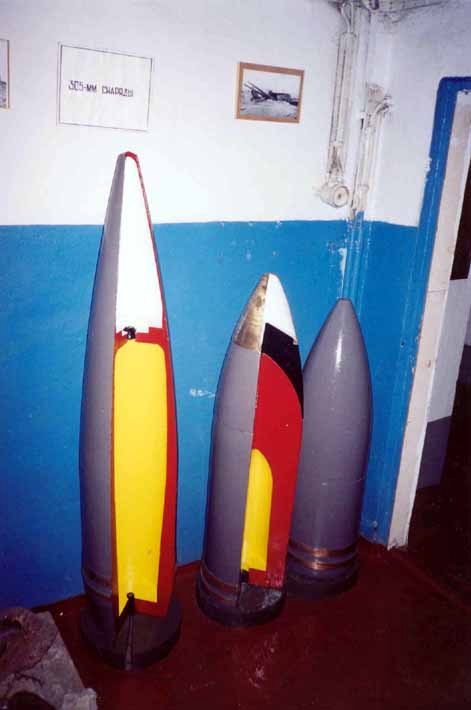 305-mm mock-up shells
Huge splinter of the Karl's 615mm shell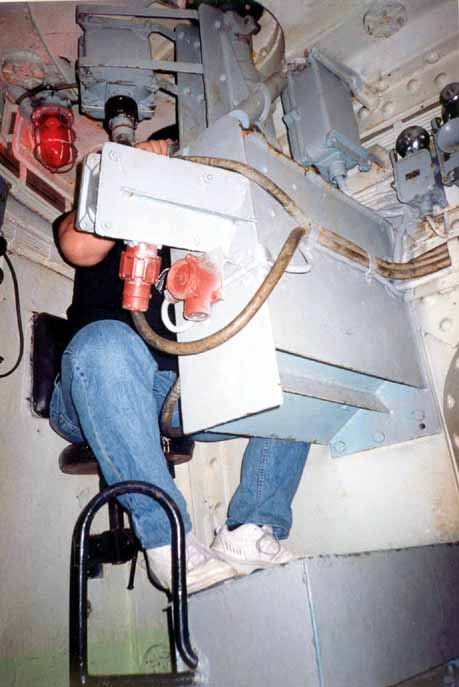 Gun turret's commander battle station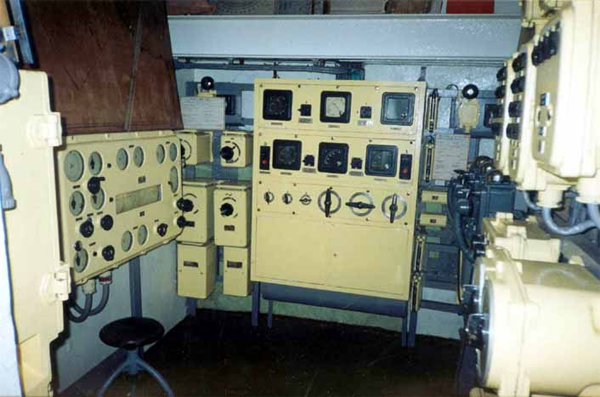 Fire control station with gun directors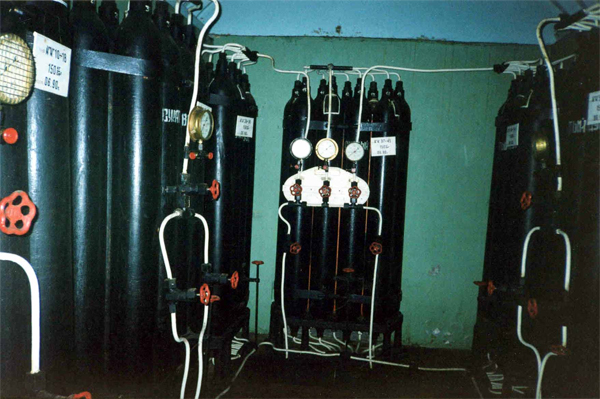 Compressed air cylinders