SOVIET WAR PAINTINGS. PART II

M. Kupriyanov, P. Krylov, N. Sokolov. Moscow Road
1941

Attack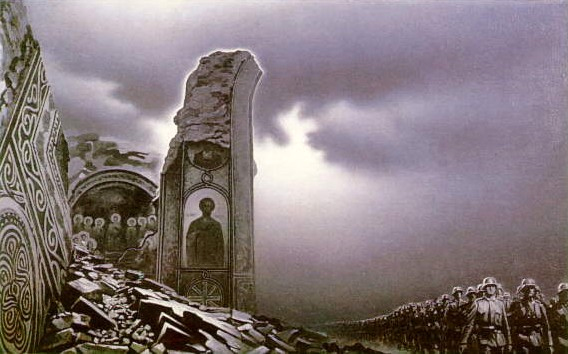 K.Vasilev. Invasion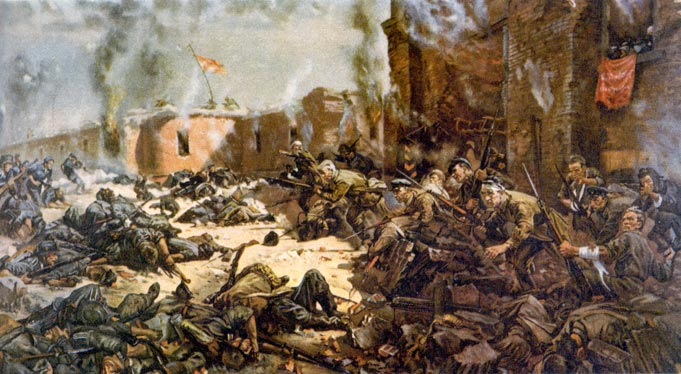 P. Krivonogov. Defenders of the Brest Fortress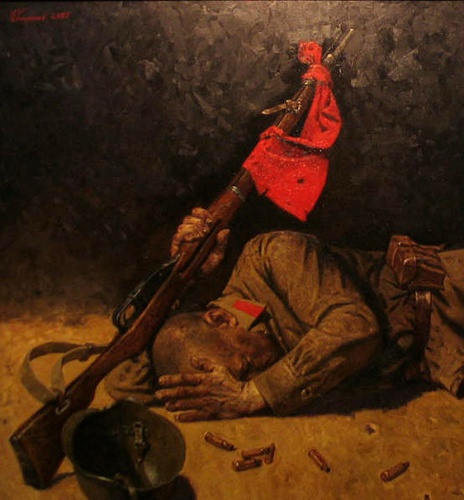 N. Kolupayev. 41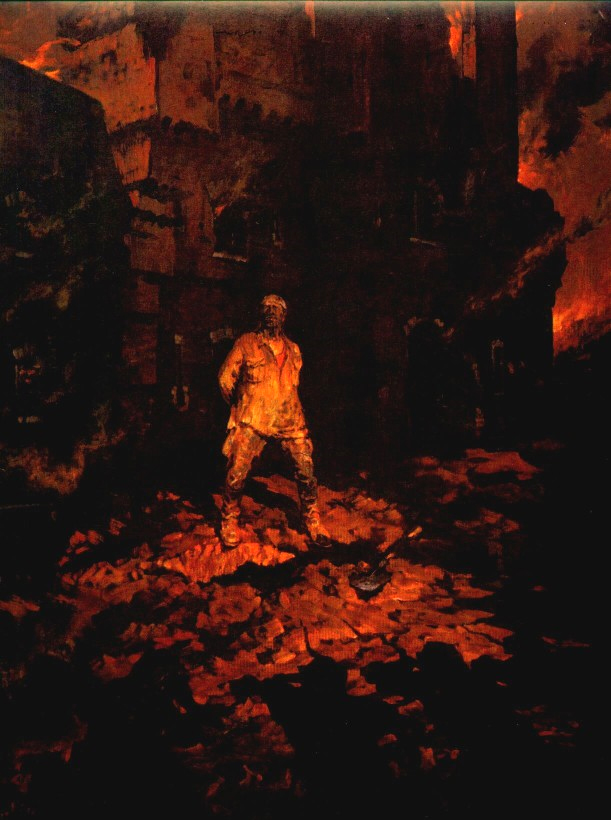 P. Krivonogov. Comissar of the Fortress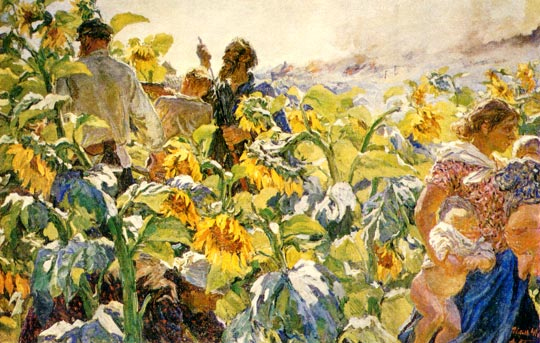 A.Plastov. Germans are coming. July, 1941
Defense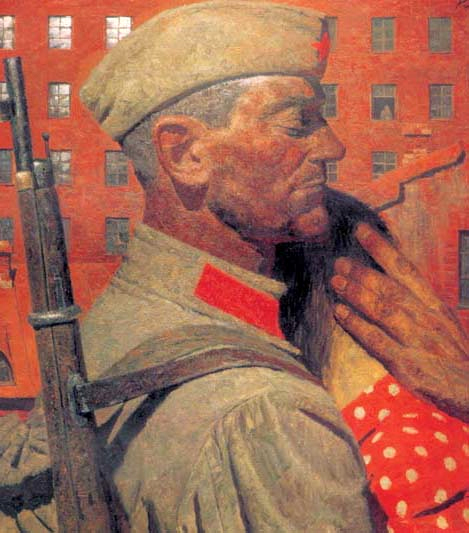 G. Korzhev. Farewell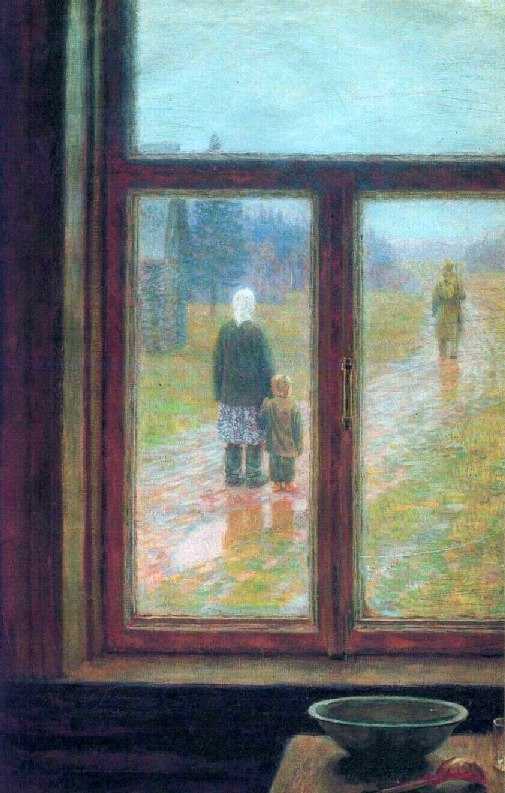 M. Kugach. During the War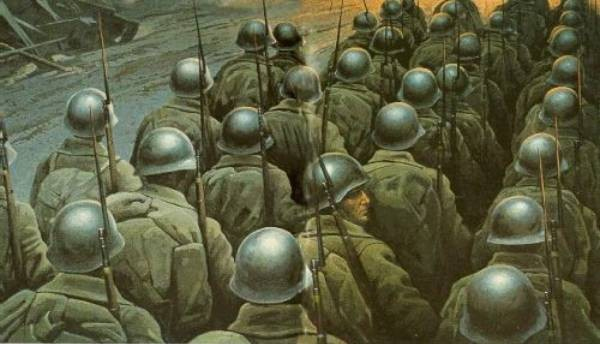 K.Vasilev. Sadness for the Motherland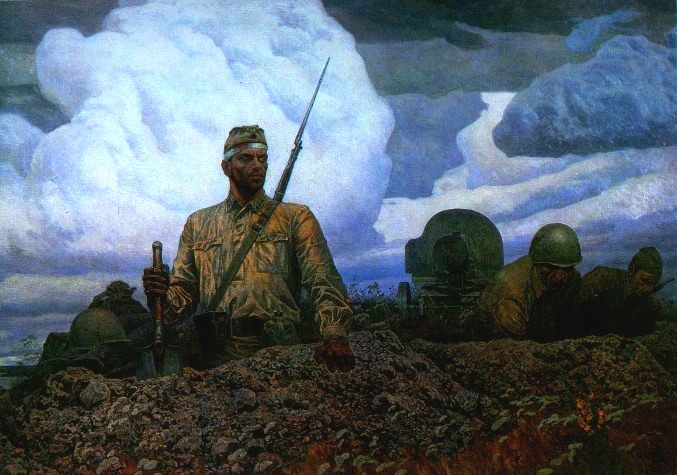 B. Kohal. On the No-name Height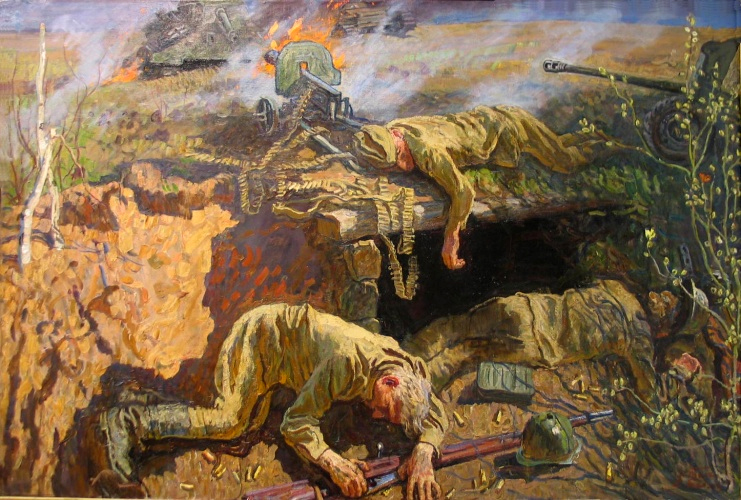 A. and S. Tkachev. No-name Height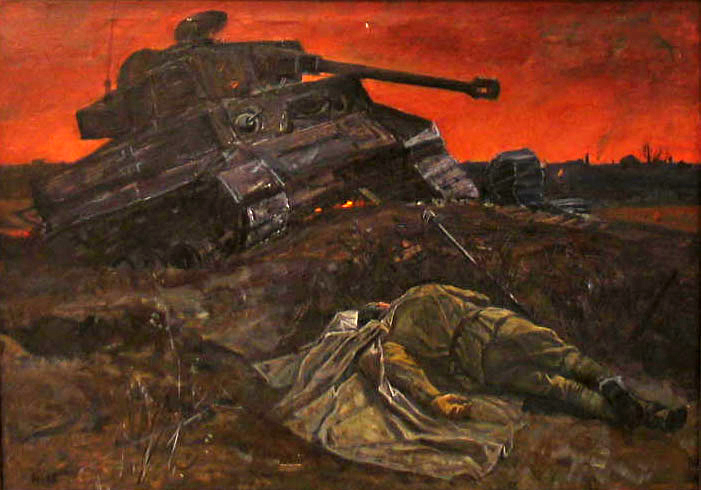 G. Moskalev. Face to Face
Battle for Moscow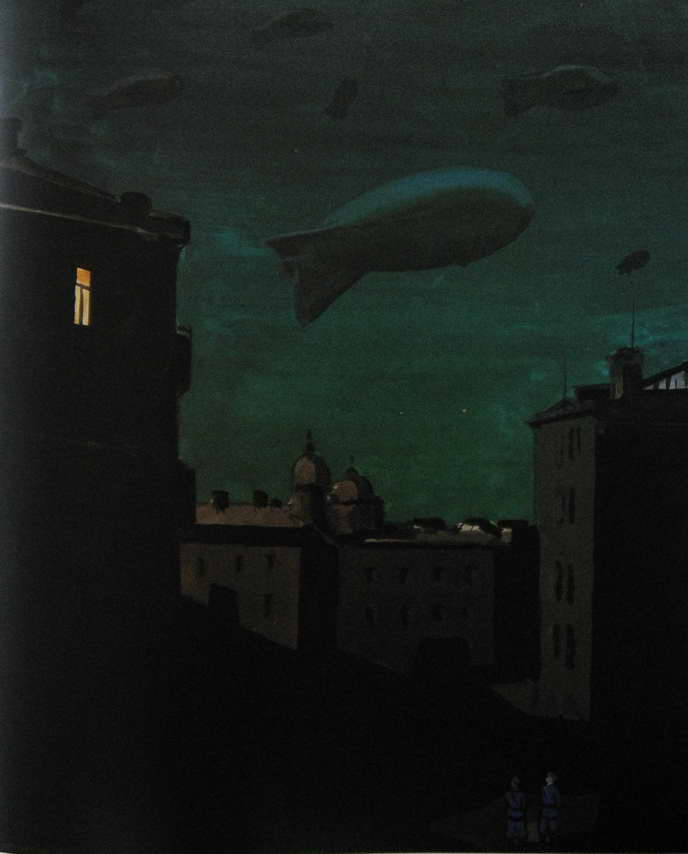 M. Kuprianov, P. Krylov, N. Sokolov. Wartime Moscow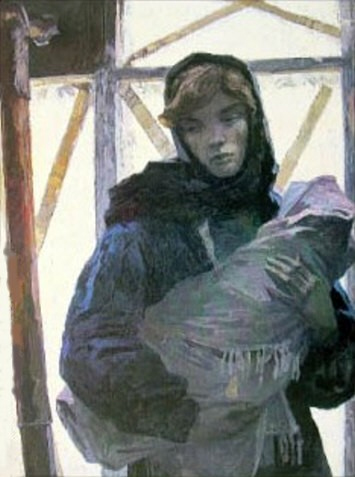 A.Mikhailov. Air Raid Alarm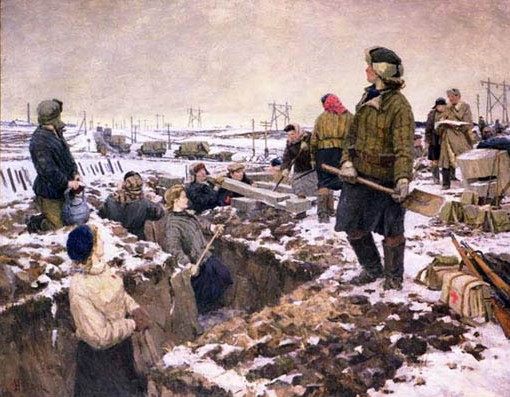 N.Osenev. Komsomol Youth on Fortifications near Moscow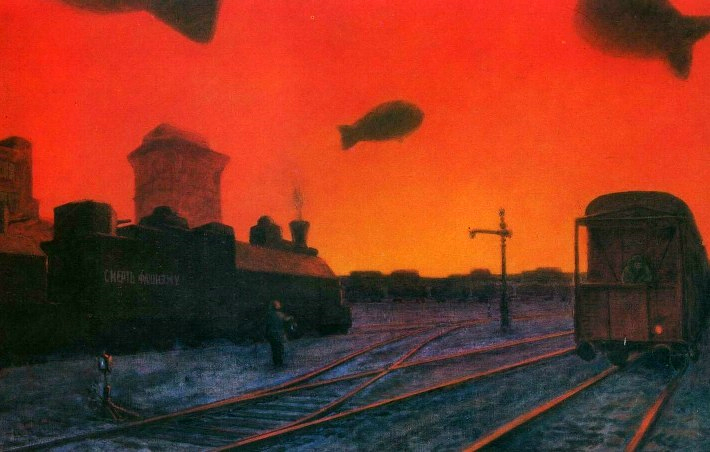 N.Rodionov. Uneasy Year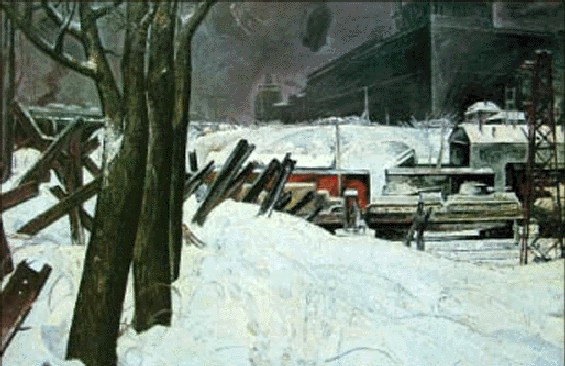 A.Alekseev. Moscow. Belt Road. 1941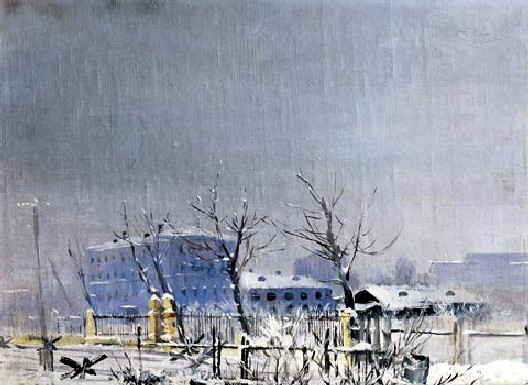 Y.Pimenov. War. City Surburbs. Moscow. 1941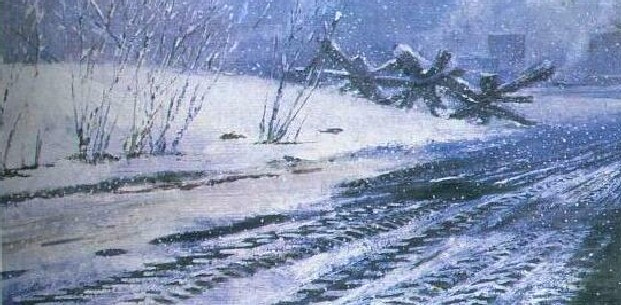 Y.Pimenov. Tracks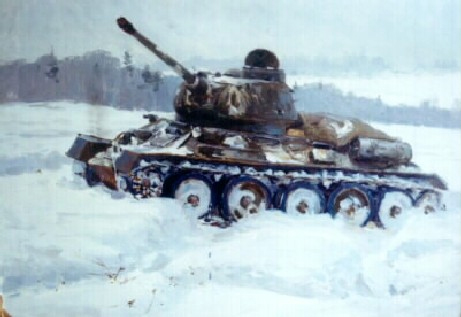 N.Belyaev. The Tank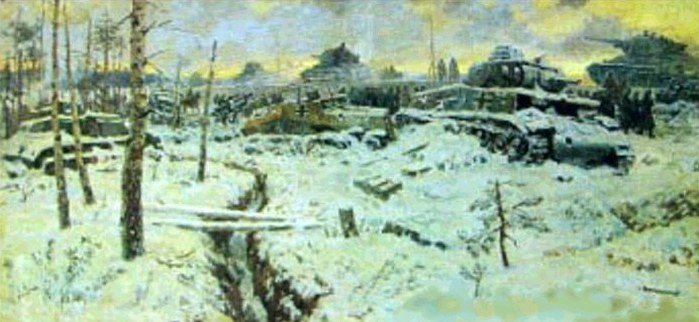 N. Sokolov. Near Moscow in 1941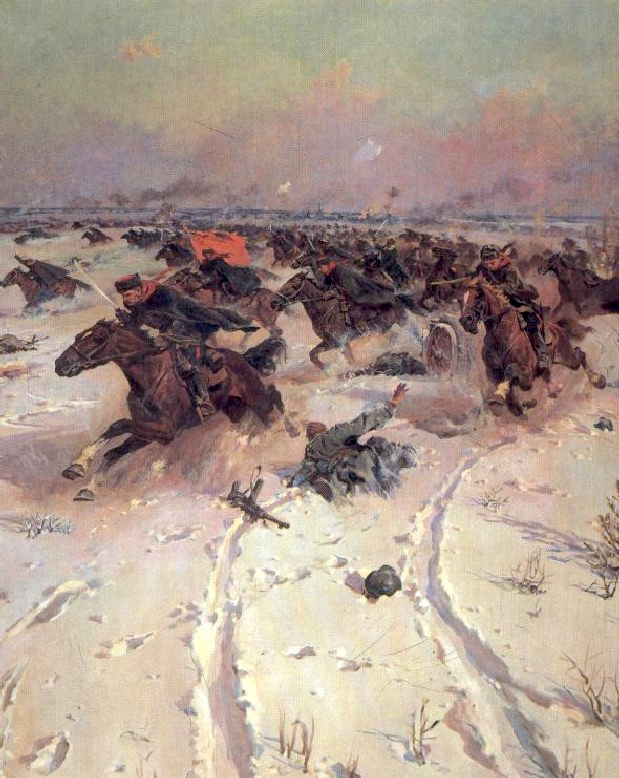 P. Krivonogov. Soviet Cavalry's fighting near Moscow.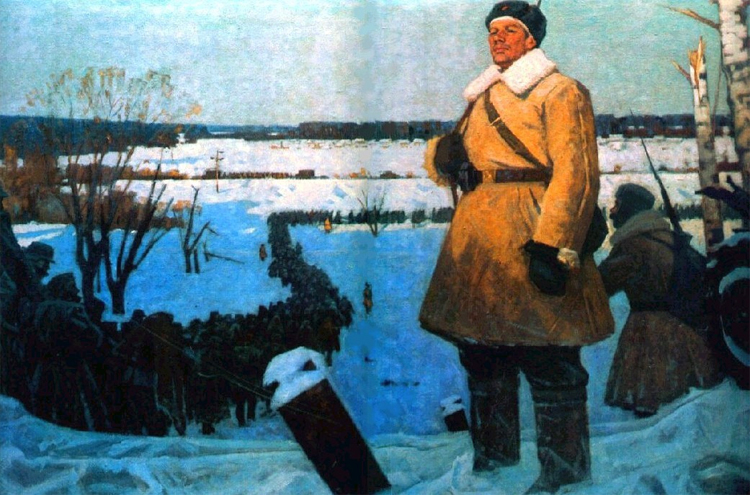 A. Lysenko. Moscow has been defended
Leningrad Blokade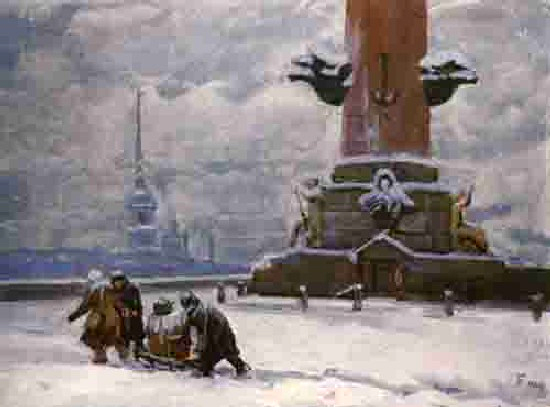 S.Boim. Water from Neva River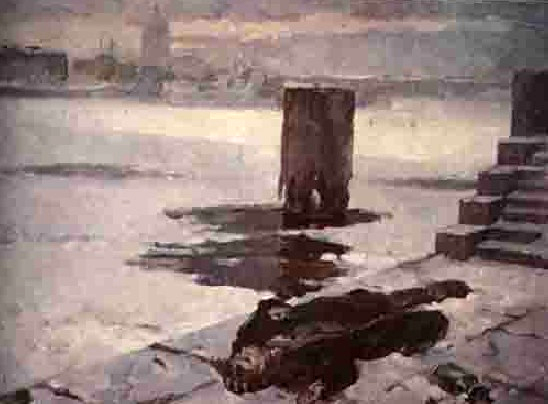 Y.Nikolaev. Why?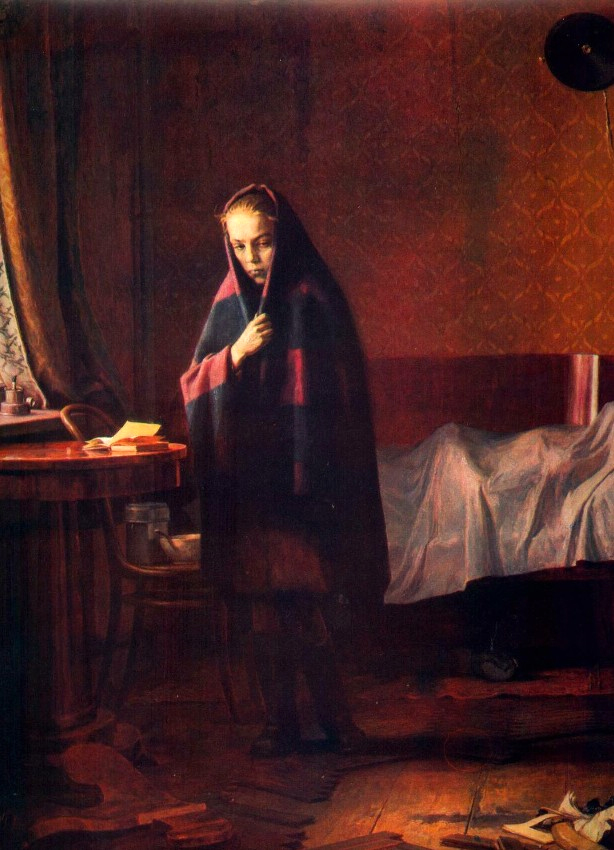 P. Belousov. From Blockade Diary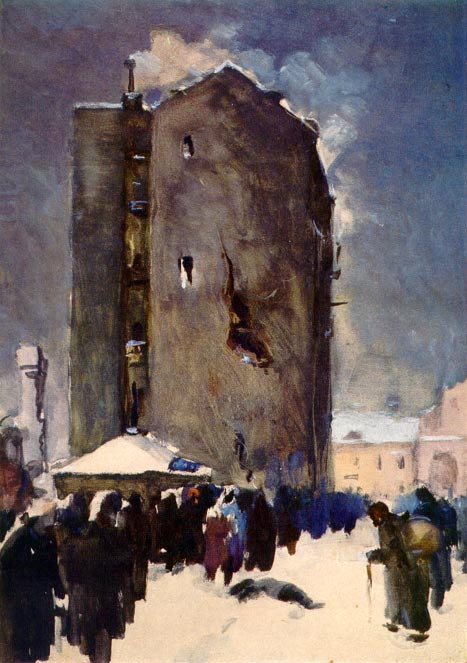 Y.Nikolaev. Leningrad. Winter 1941-1942. Bread line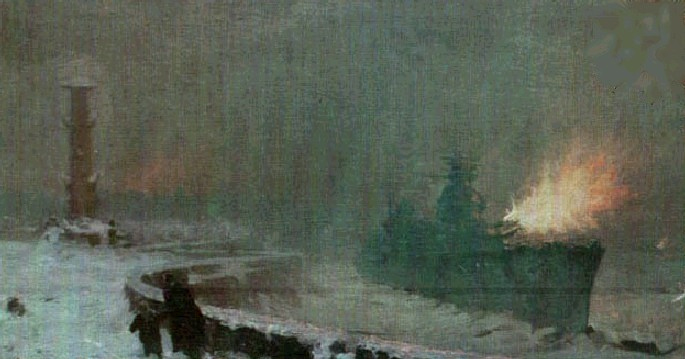 Y.Romas. Winter Salvos on the Baltic

1942

Sevastopol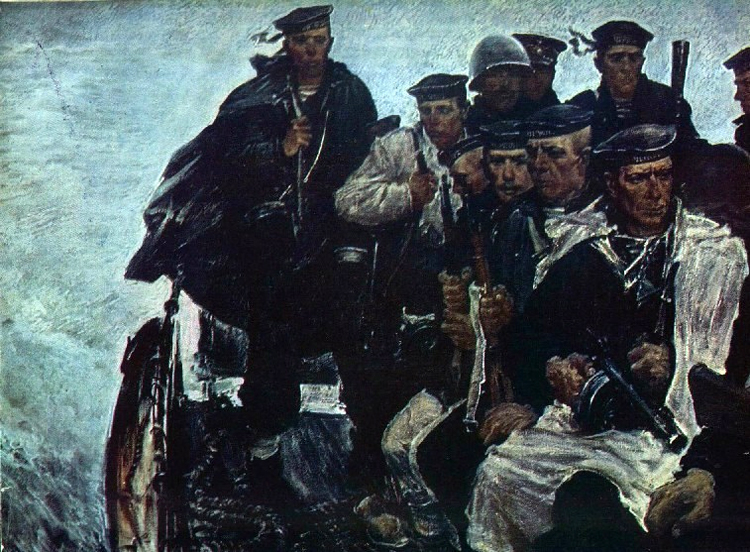 A.Alekseev. Black Sea Marines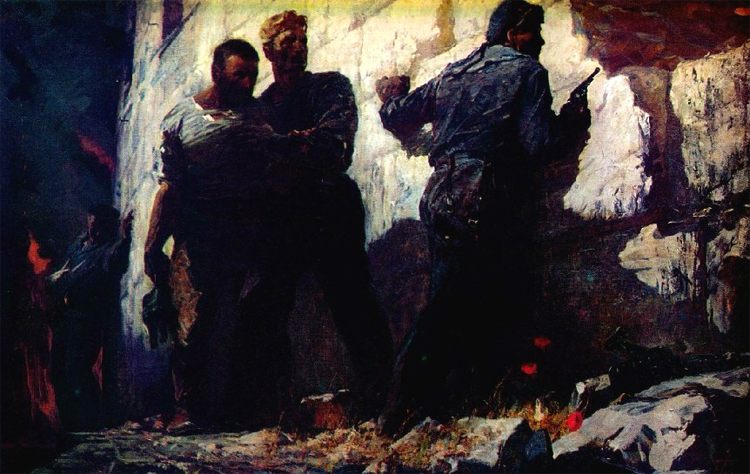 N.Prisekin. Konstantinovsky Ravelin
Stalingrad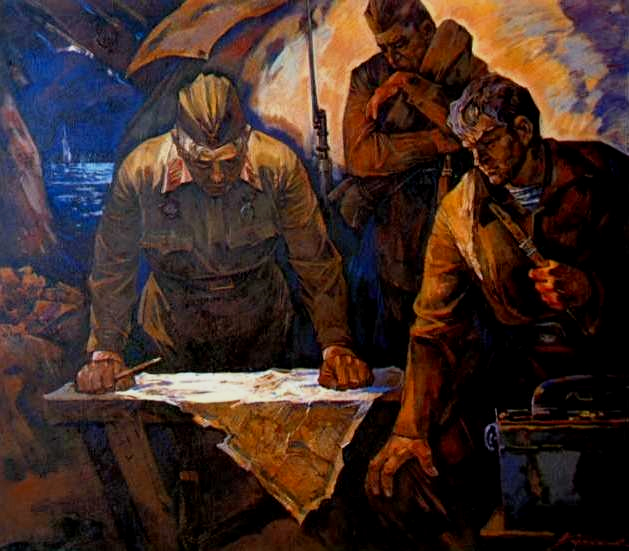 A.Prokopenko. In Stalingrad Trenches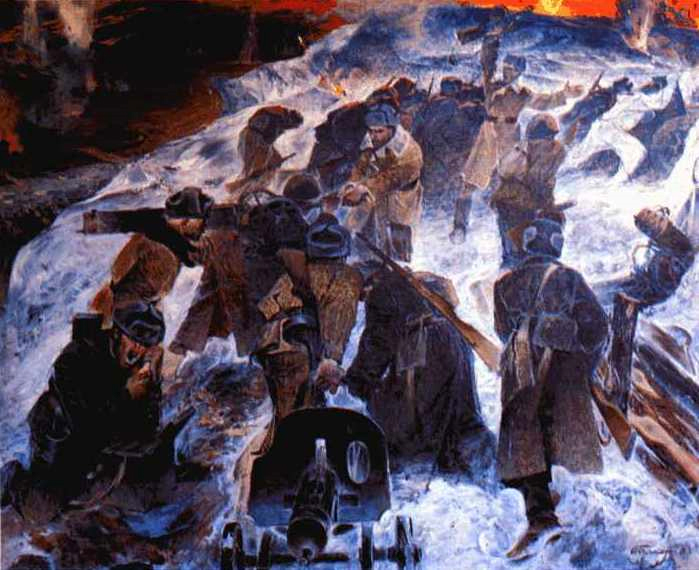 A.Burlai. "Ludnikov Island"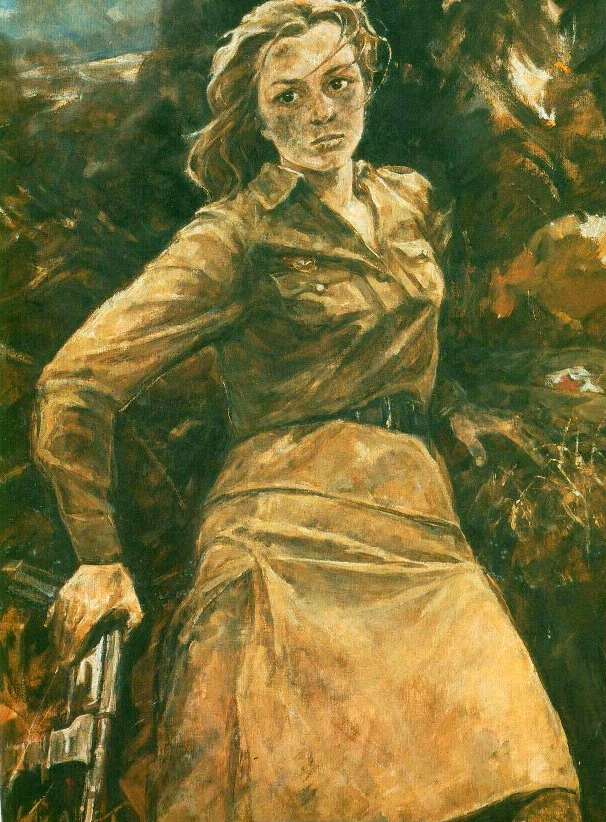 I. Baldin. Natasha Kachuevskaya
1943


V. Serov, I.Serebryany, A.Kuznetsov. Breaking the Liningrad Blockade. January 18th, 1943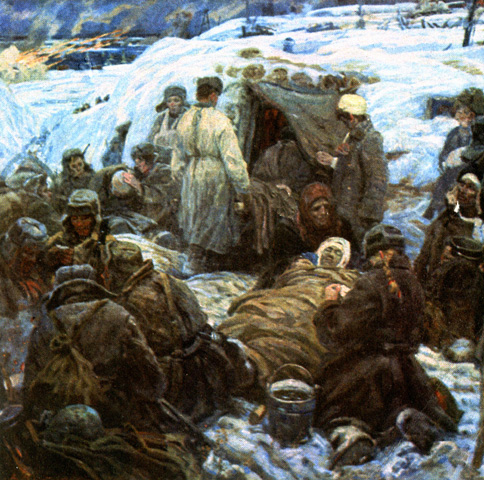 P. Dmitrievsky. Offensive has begun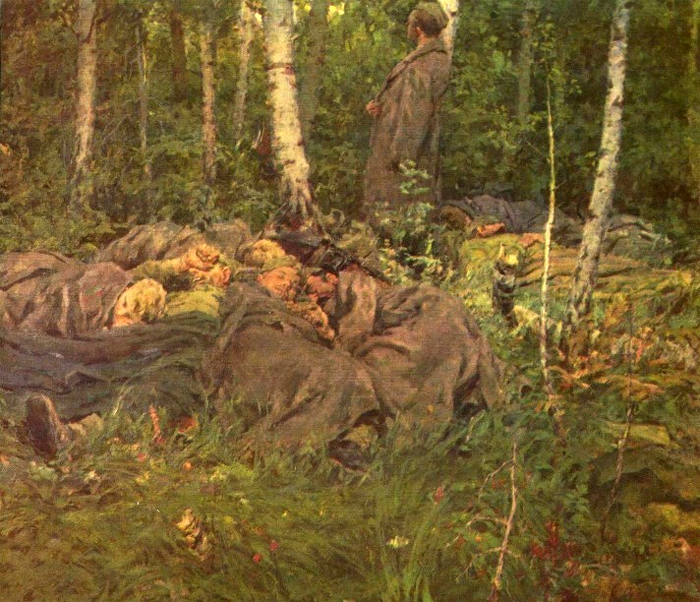 D.Oboznenko. Nightigales Night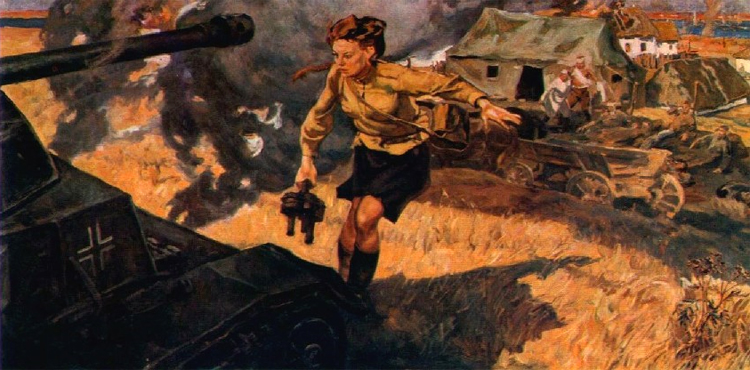 M. Samsonov. Valeria Gnarovskaya, September 23, 1943.
Dnieper Crossing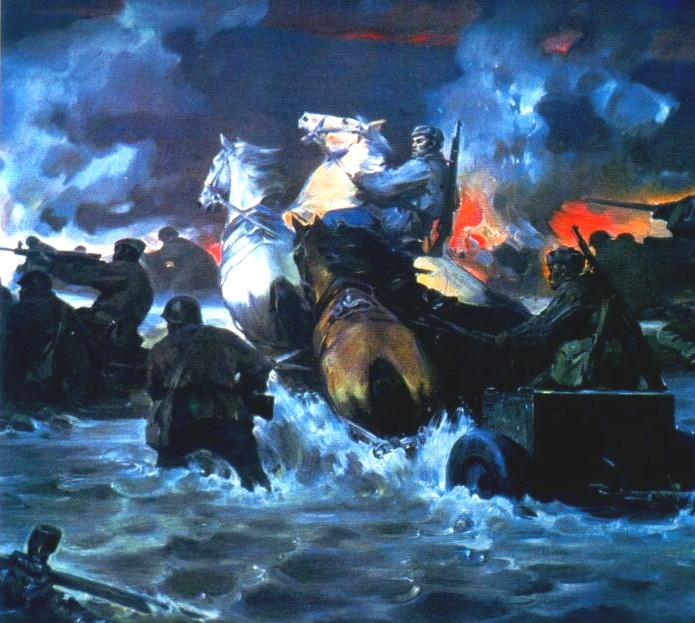 V. Shatalin. Fight for the Dnieper River.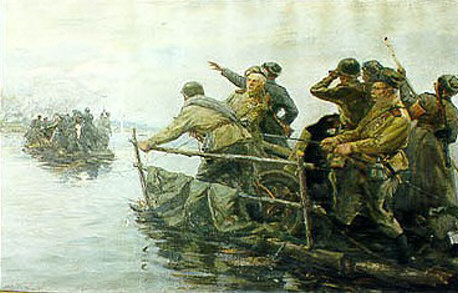 Y.Neprintsev. Dnieper River Crossing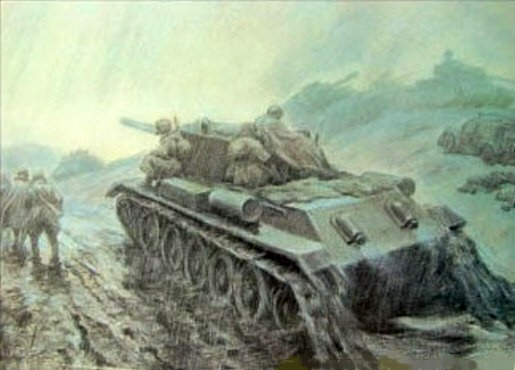 L. Golovanov. In Hard Campaign
1944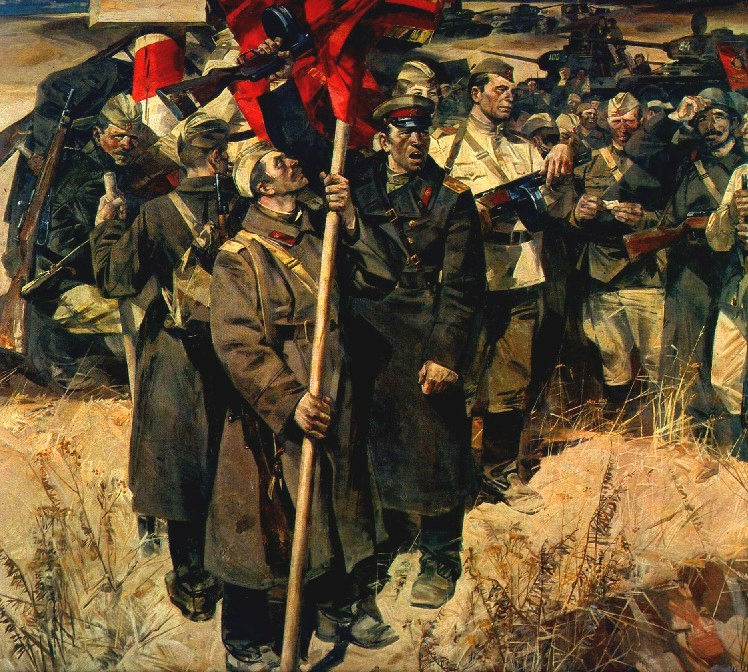 D. Zhemerikin. March, 1944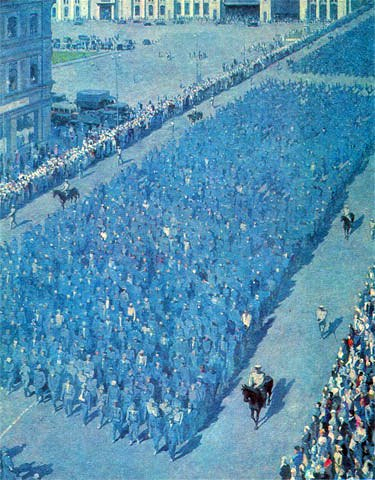 A.Mikhailov. They saw Moscow


War Roads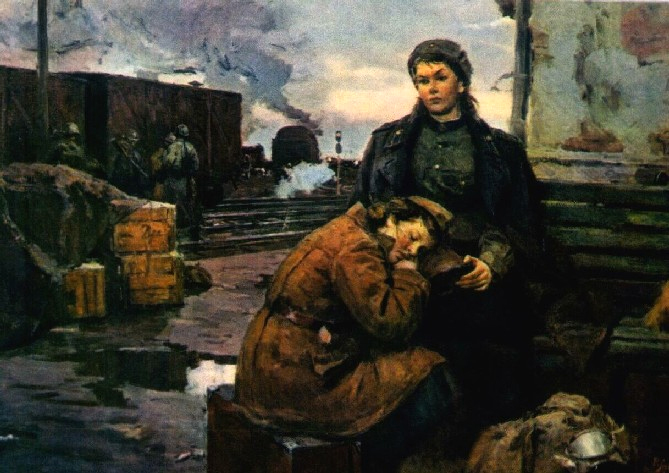 V. Artamonov. On the War Roads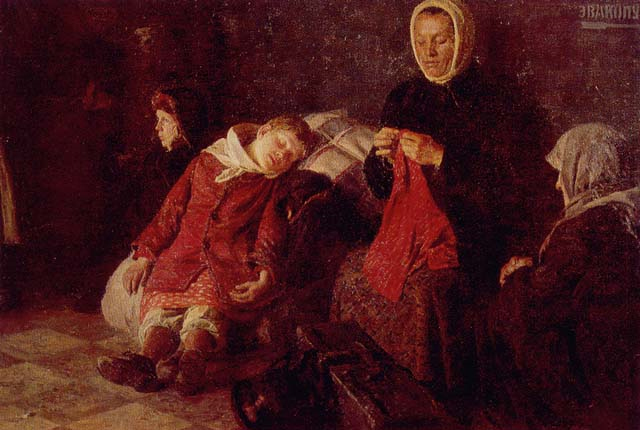 Y.Kugach. On the Roads of War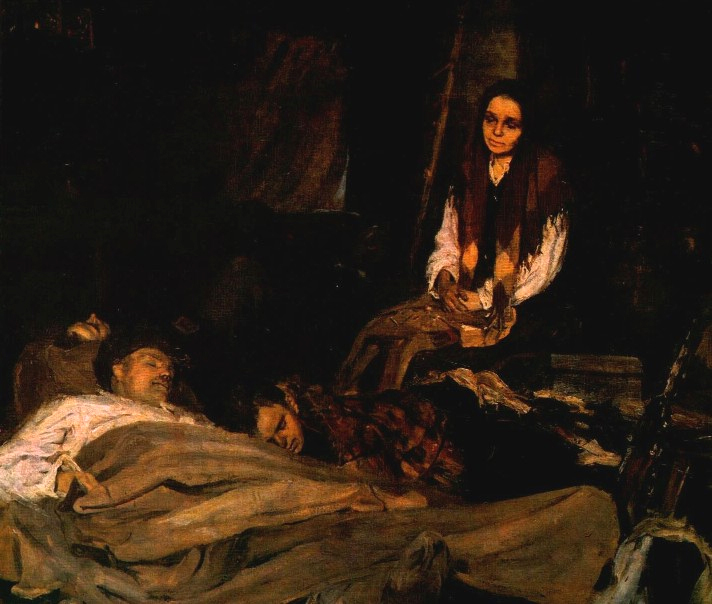 B. Nemensky. Mother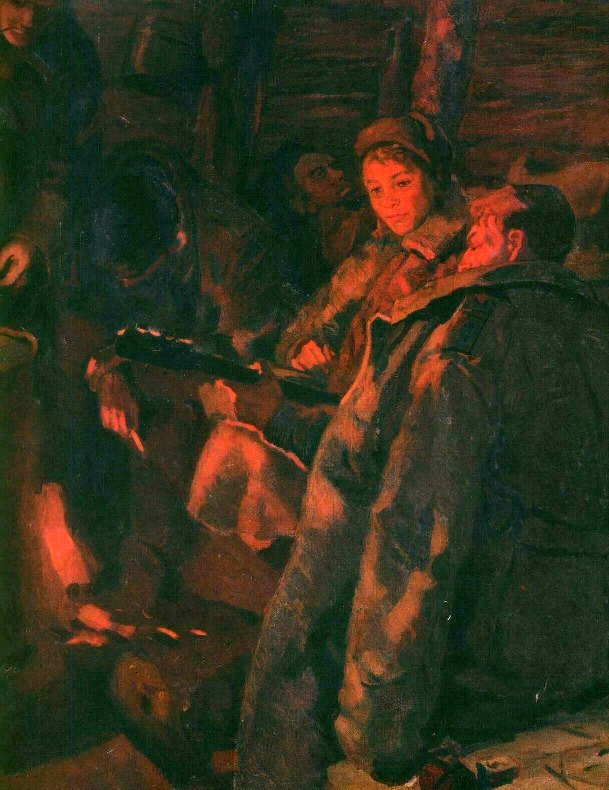 M. Samsonov. A Quiet Minute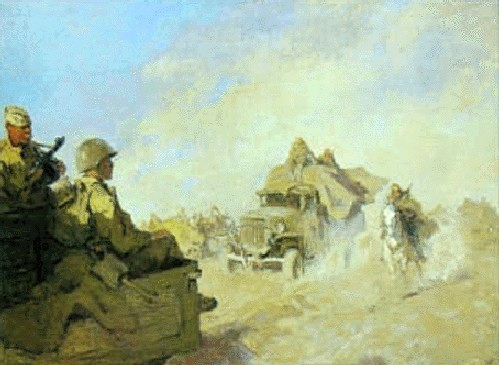 A.Kokorin. Front Road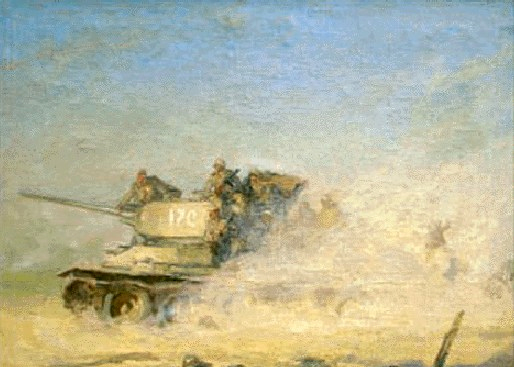 A.Kokorin. Front Road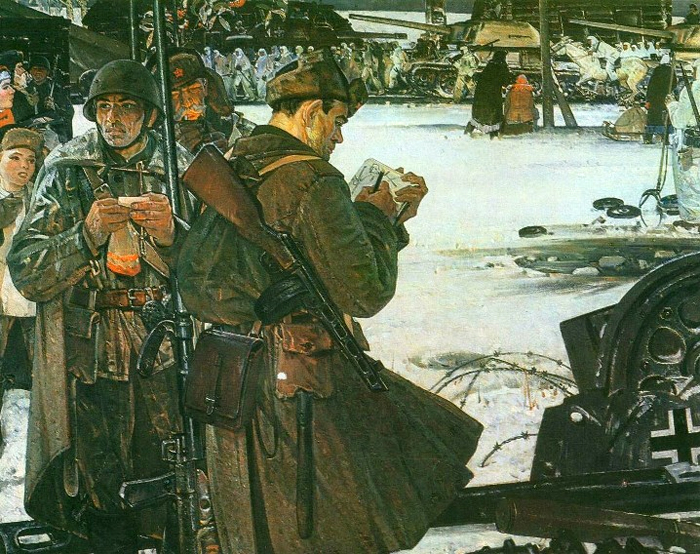 K.Yakupov. The Artist. Front sketches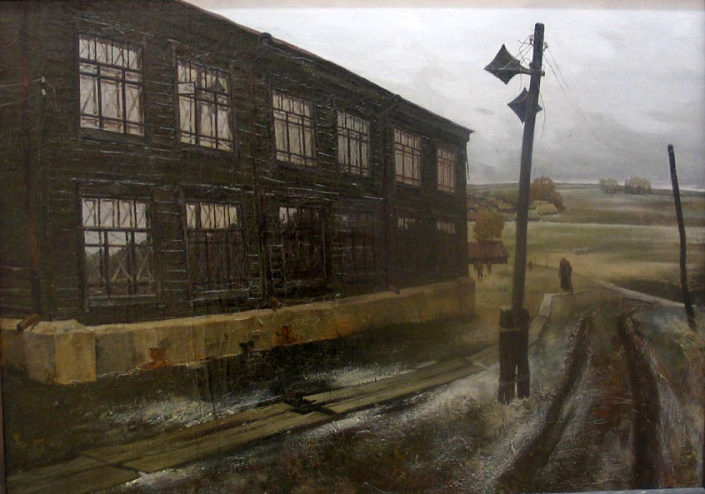 A. Kiyakin. Returning from the Front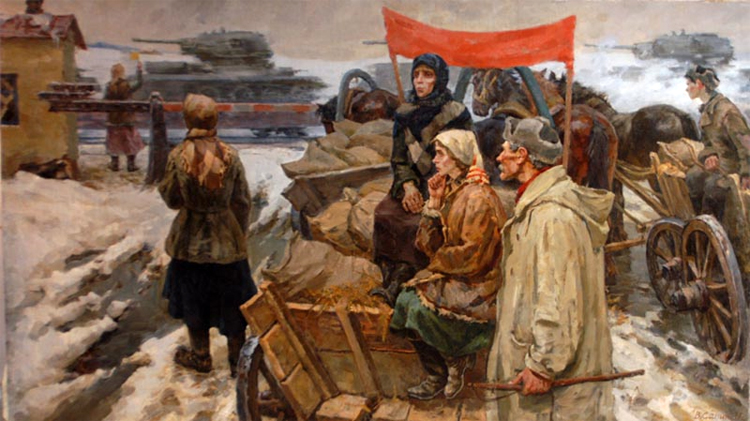 V. Sanin. Everything for the Front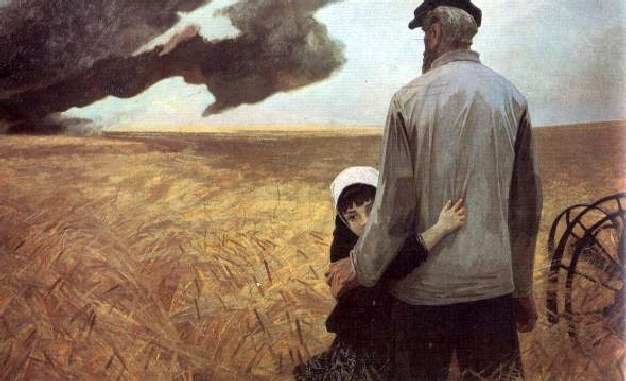 A.Mikhailov. Bitter bread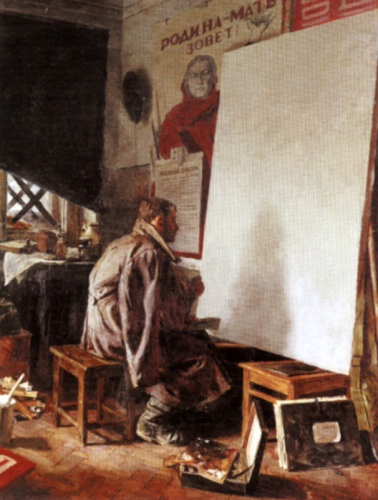 G. Korzhev. During the War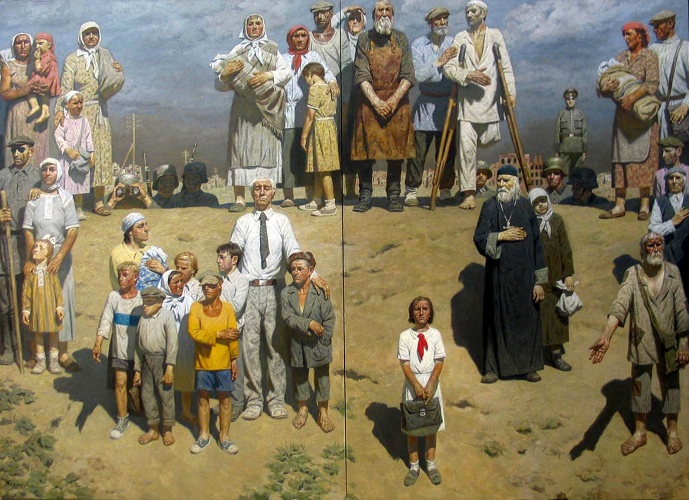 G. Korzhev. Live Fortification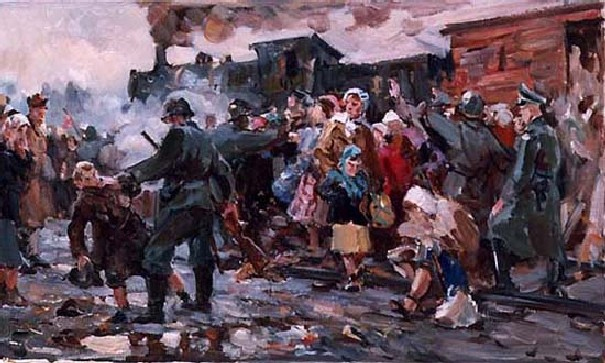 V. Chekalov. Invaders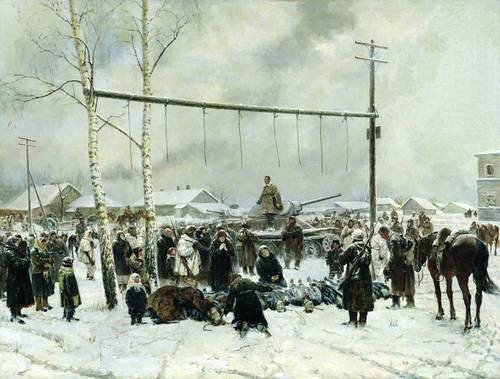 P. Krivonov. Never Forget, Never Forgive, 1942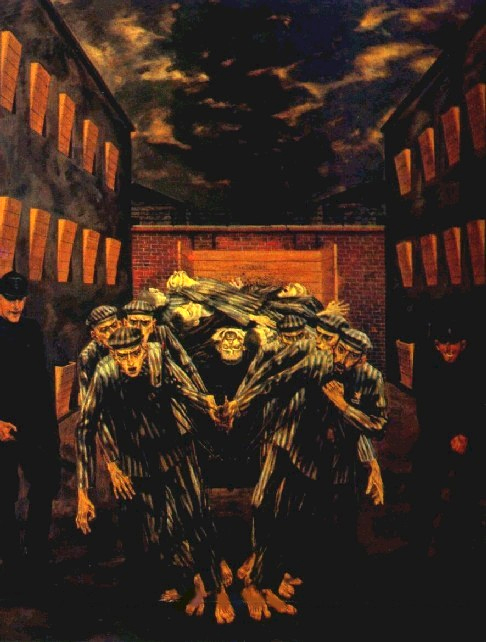 M. Savitsky. Singing Horses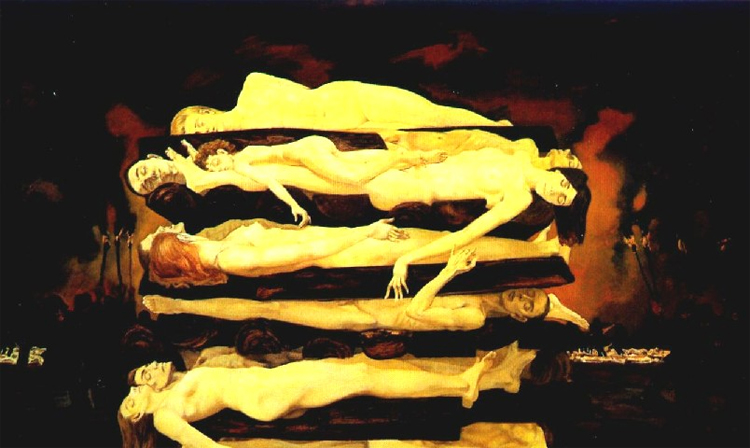 M. Savitsky. Dance with Torches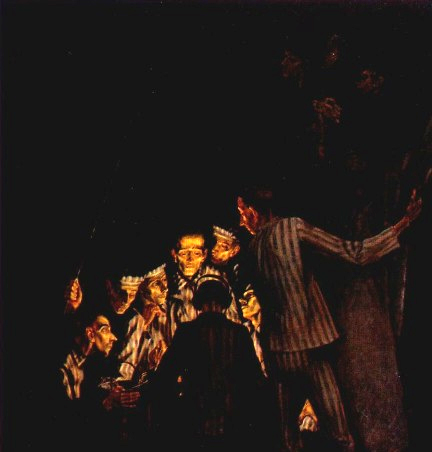 M. Savitsky. SOS
A.Volkov. Liberation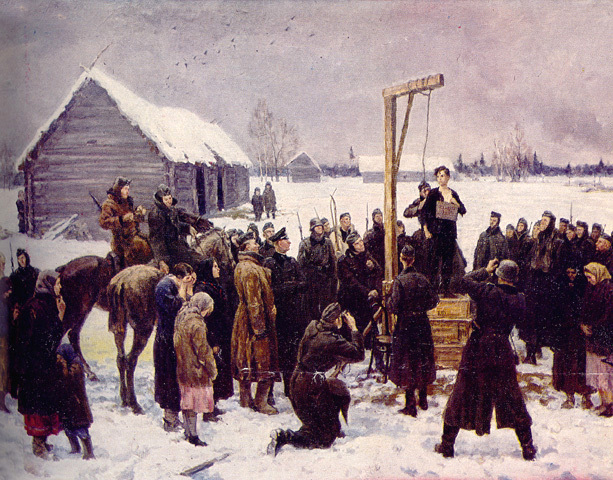 M. Kupriyanov, P. Krylov, N. Sokolov. "Tanya"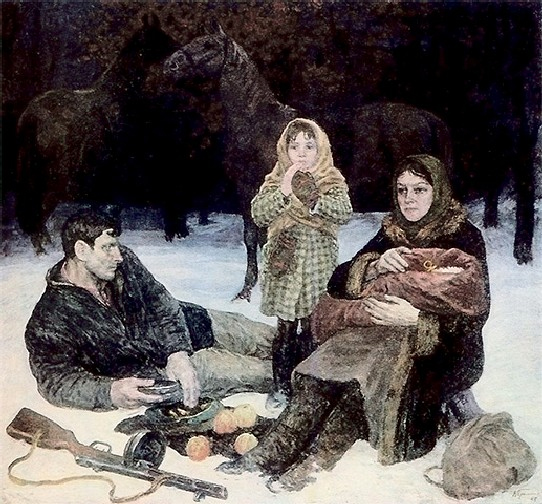 V. Gromyko. Apples of 1941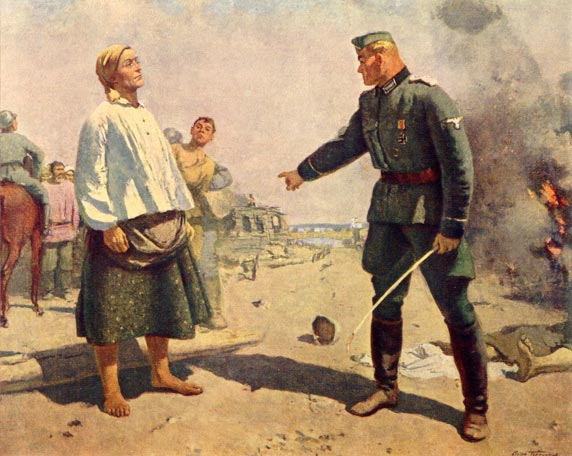 S.Gerasimov. Partisan's Mother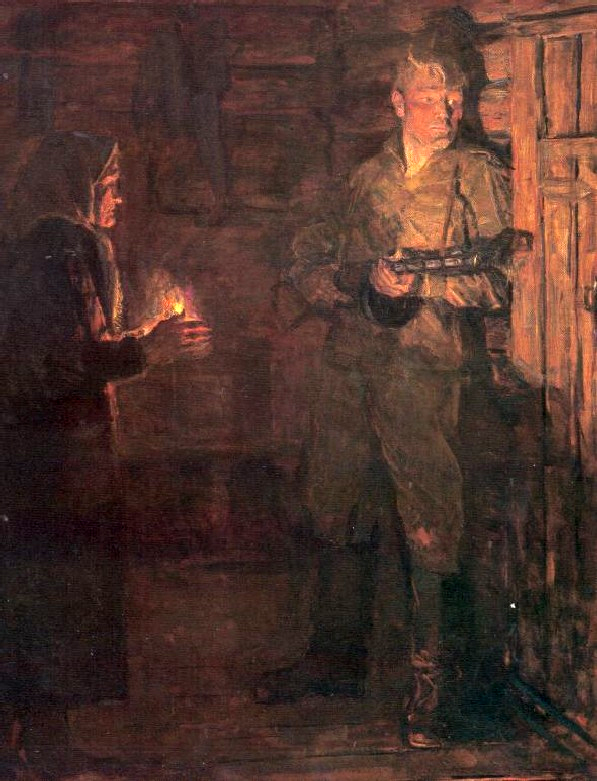 N. Novikov. Let them enter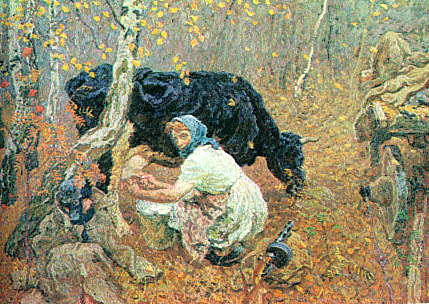 A. and S.Tkachev. On the Partisan Territory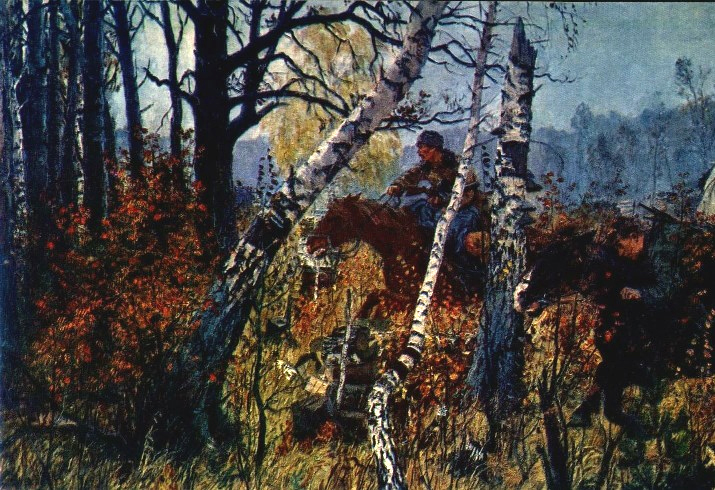 A. Plastov. Partisans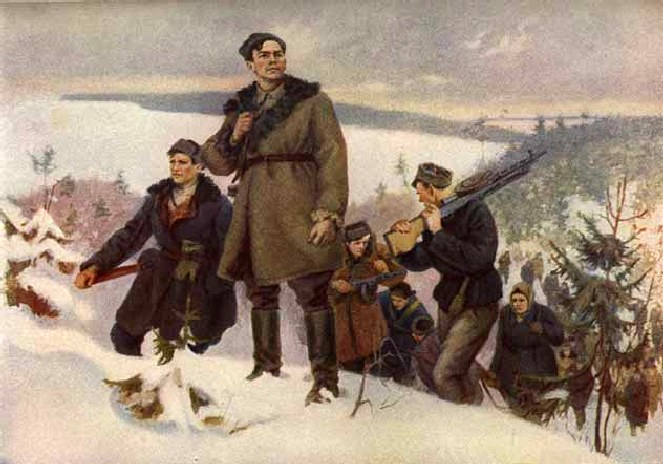 A.Sukhoverkhov. Partisans of Belorussia
1945

Liberation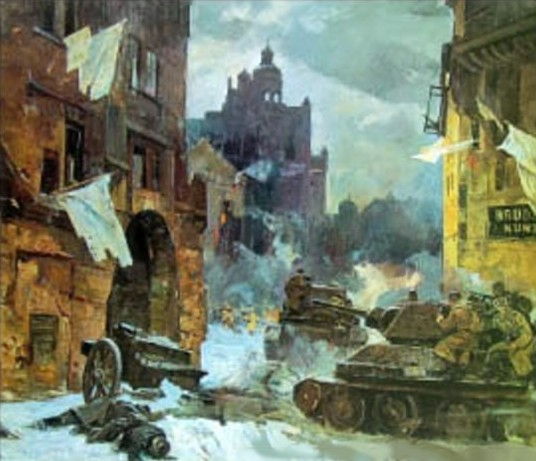 F. Usypenko. Soviet Armies liberate City of Legnica in 1945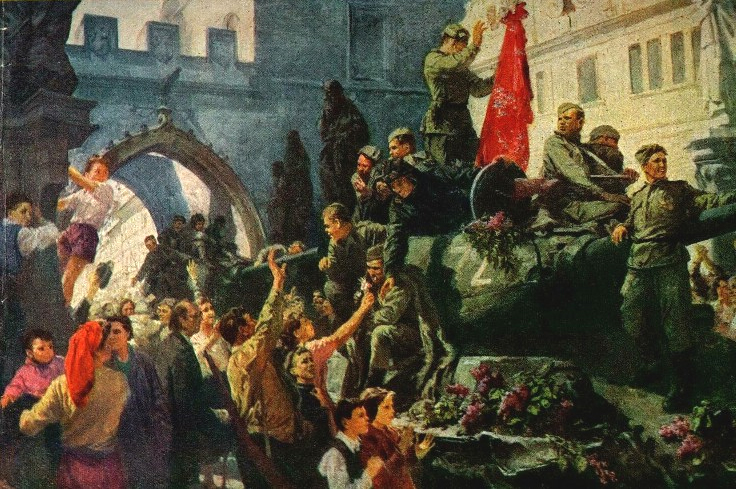 E.Kozanov, A.Orlovsky. In the Liberated Prague
Berlin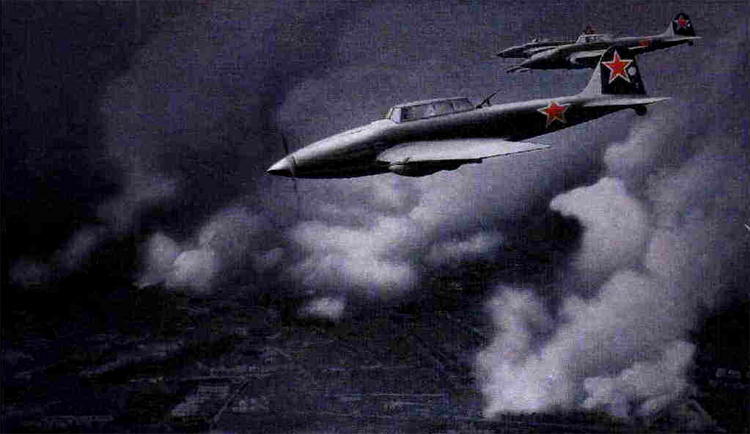 K.Vasilev. In the Sky above Berlin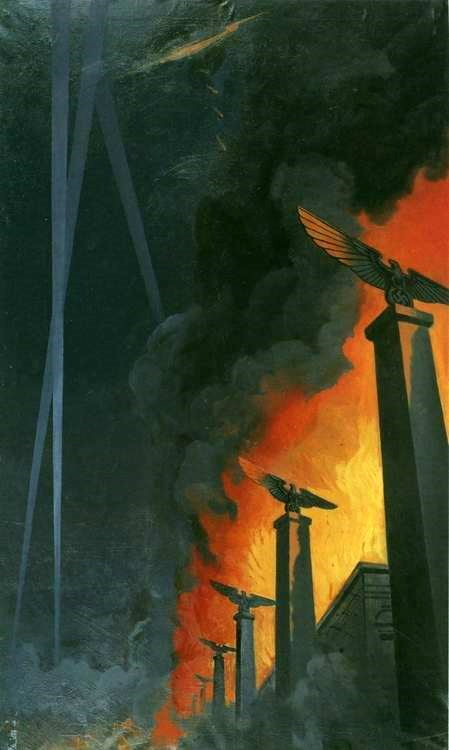 K.Vasilev. Unter den Linden on Fire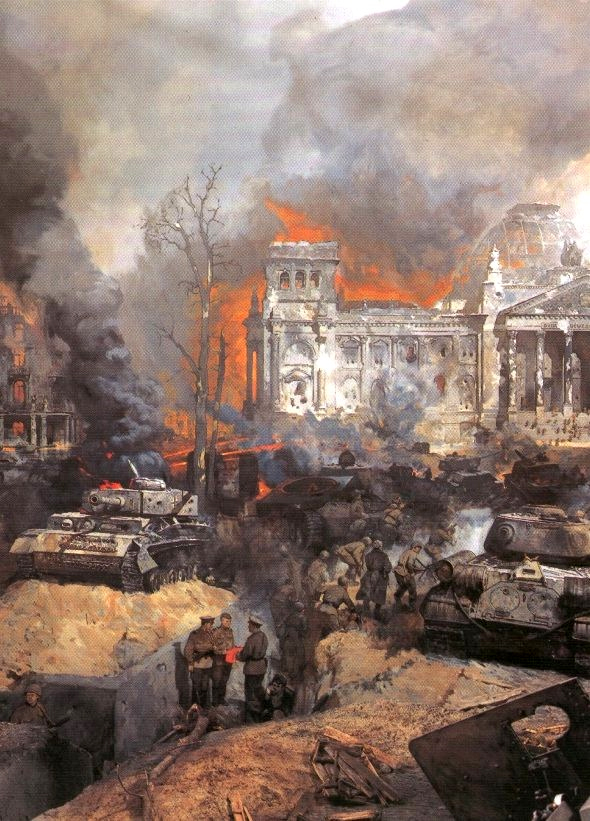 V. Sibirsky. Storm of Berlin.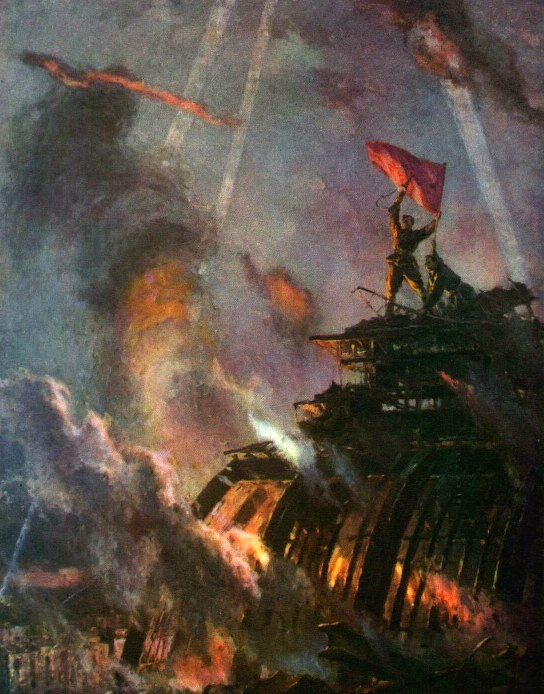 V. Bozhko. Banner of Victory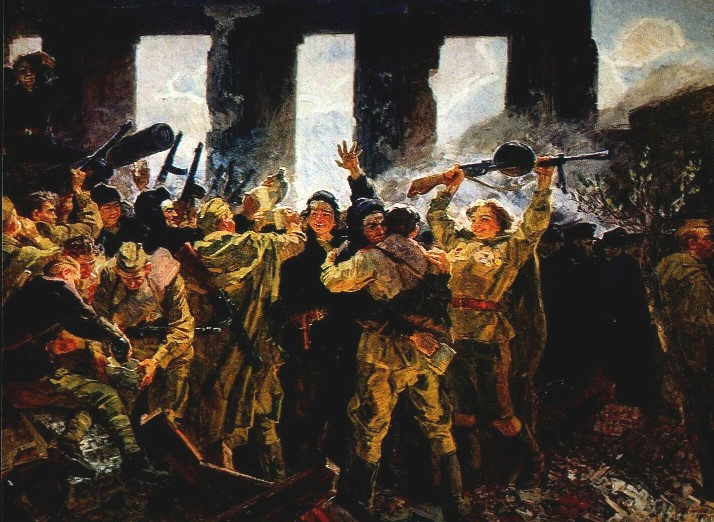 A.Lopukhov. Victory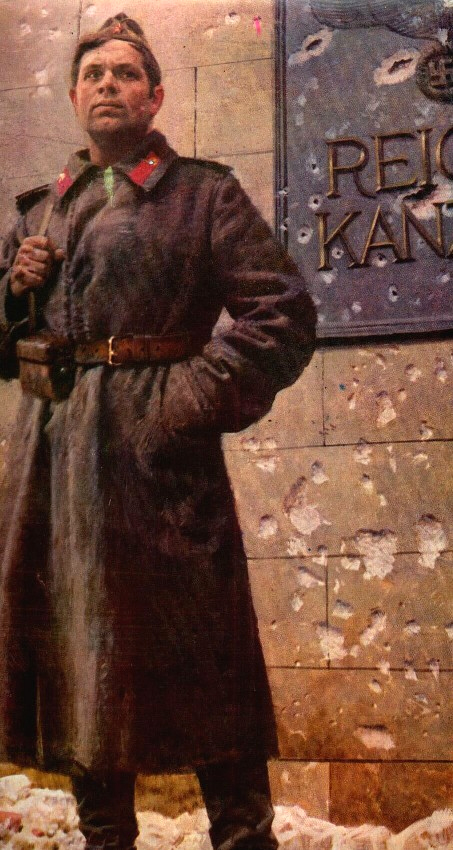 A. Kitaev. Guarding the Peace
Victory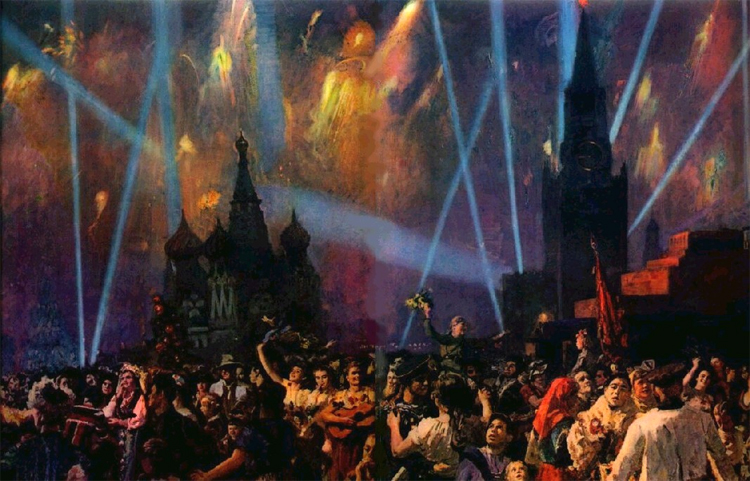 B. Ioganson. Celebrating the Victory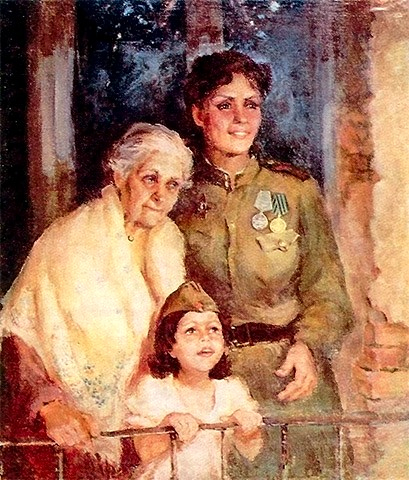 I. Beloglazova. Victory Salute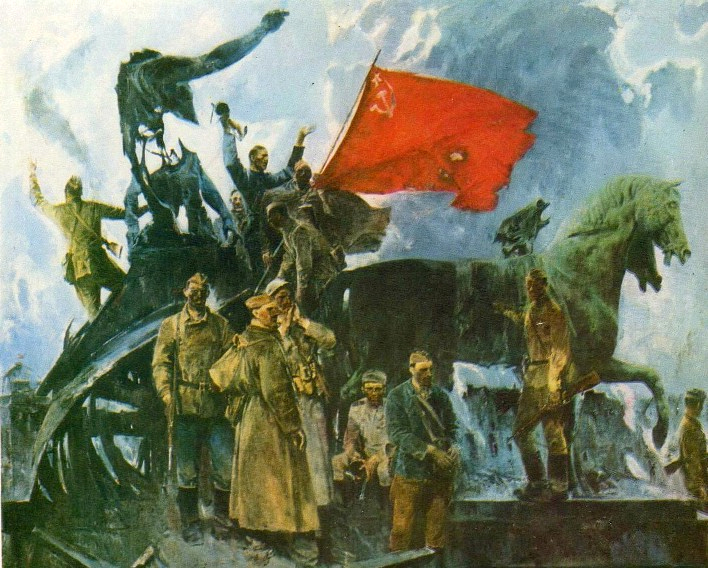 O.Ponomarenko. Victory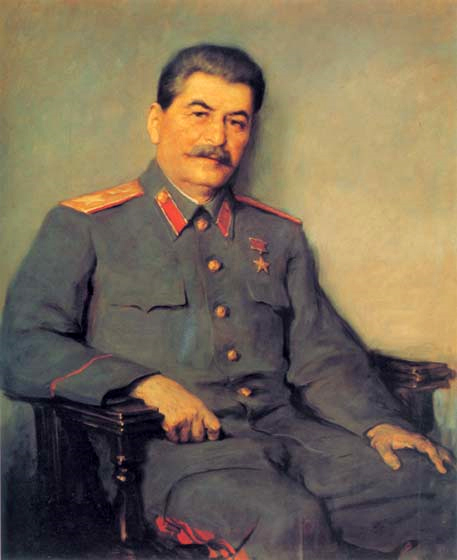 V. Oreshnikov. Iosif Stalin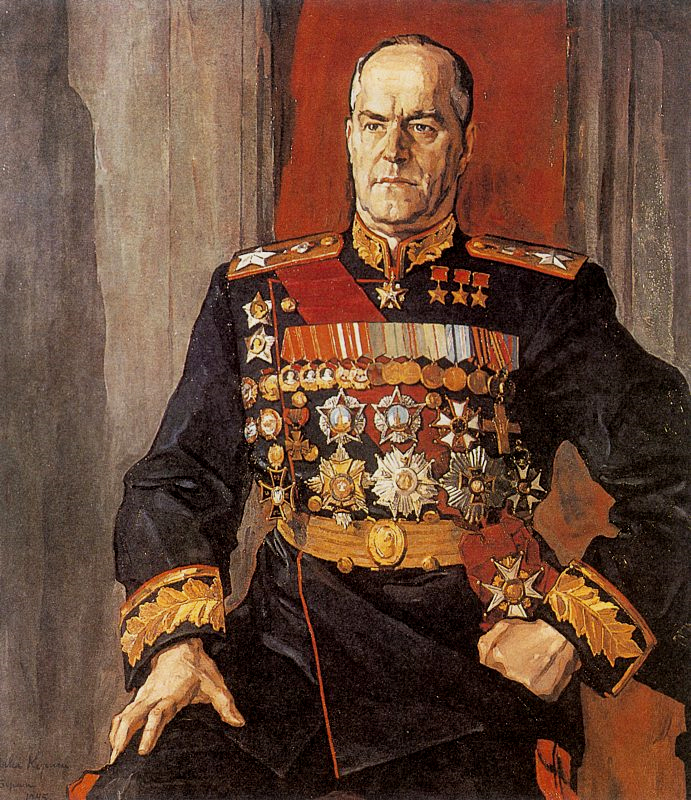 P. Korin. Marshal G. Zhukov
Burned by Fire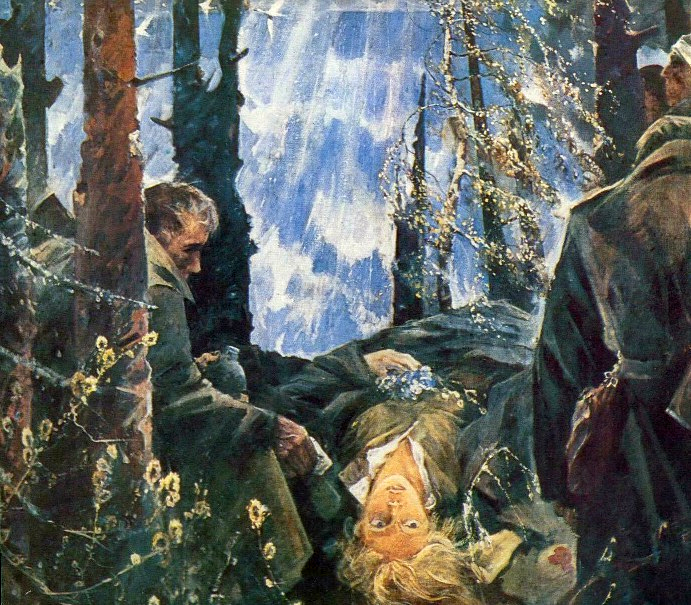 A. Eremin. Nurse Masha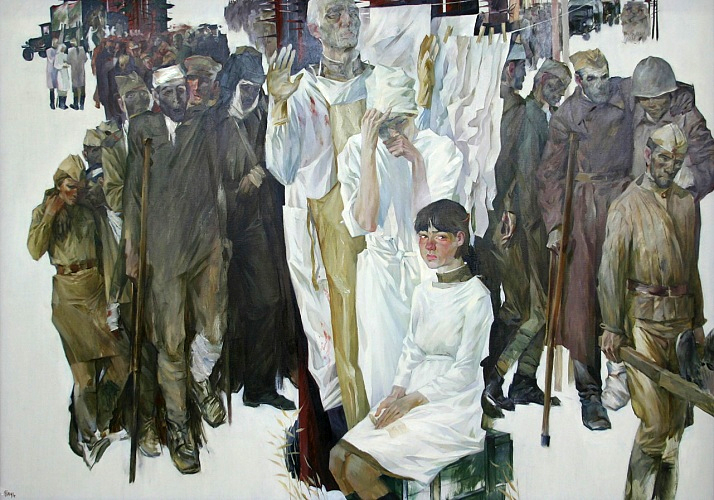 Y. Platonov. Anonymous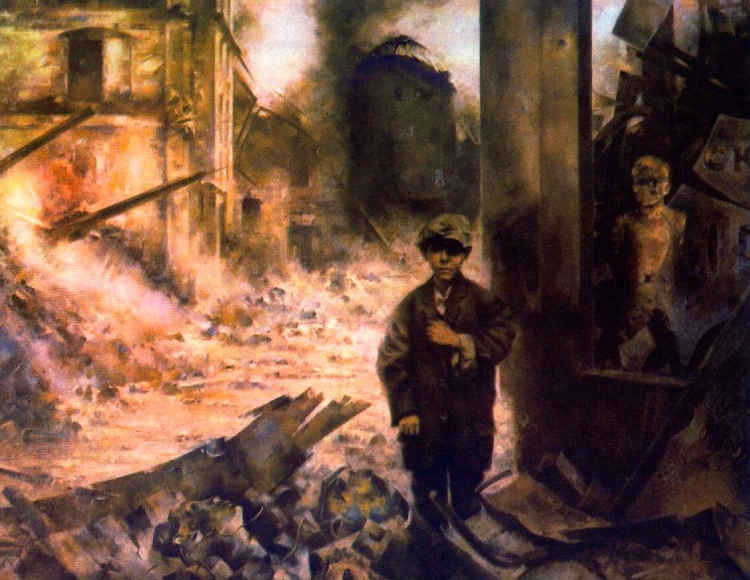 S.Ovsepyan. Children's World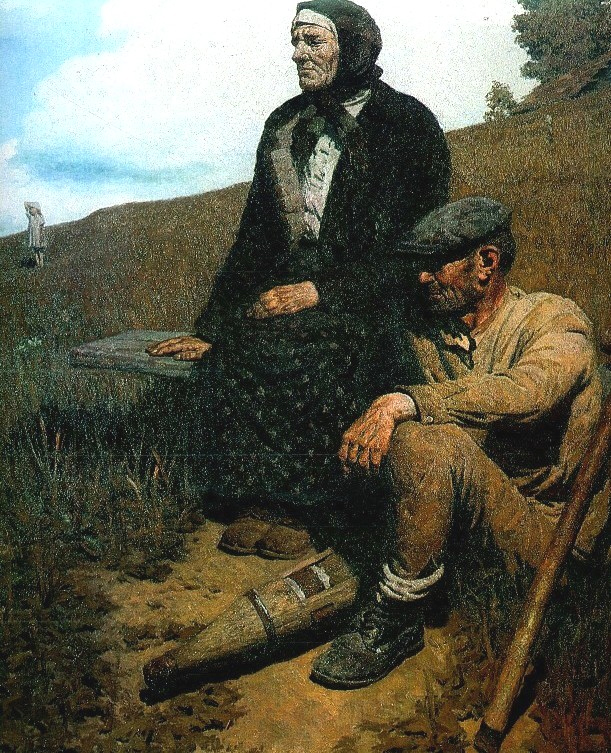 G. Korzhev. Clouds of 1945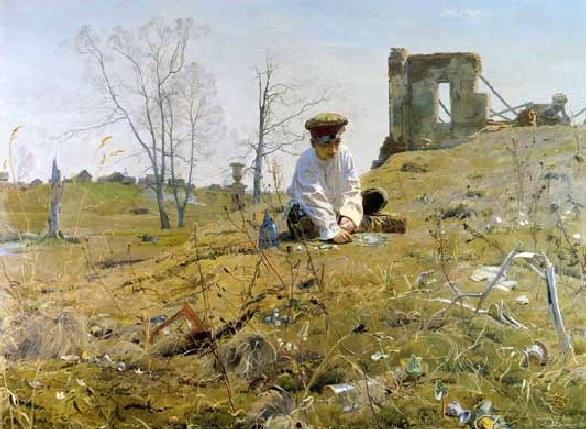 D.Belyukin. Splinters.

After the War
Coming Back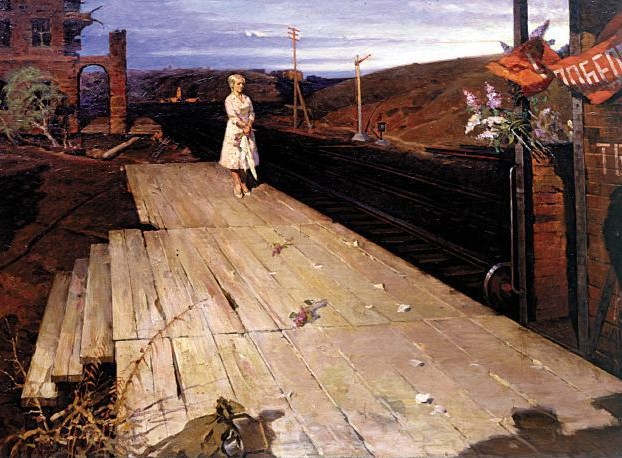 I. Babenko. Waiting. 1945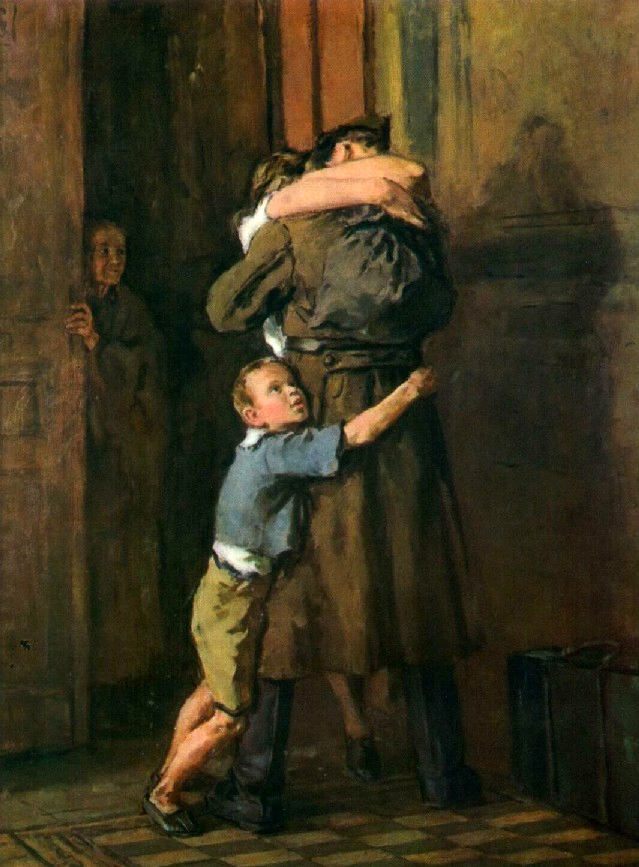 V. Kostecky. Coming Home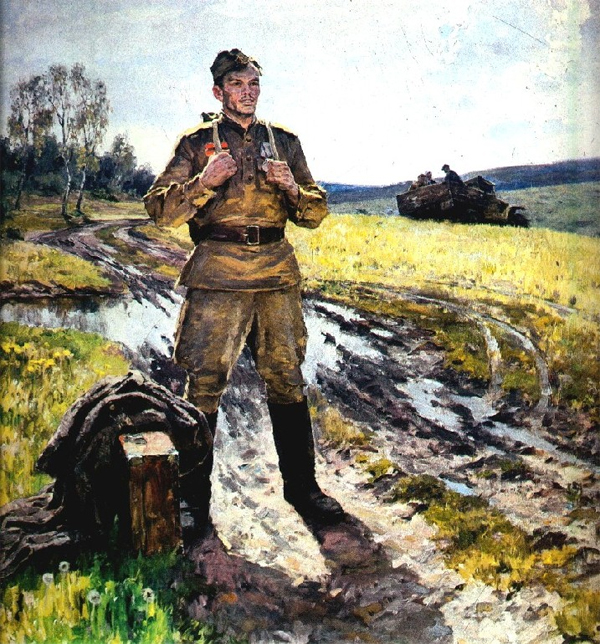 V. Puzirkov. Peace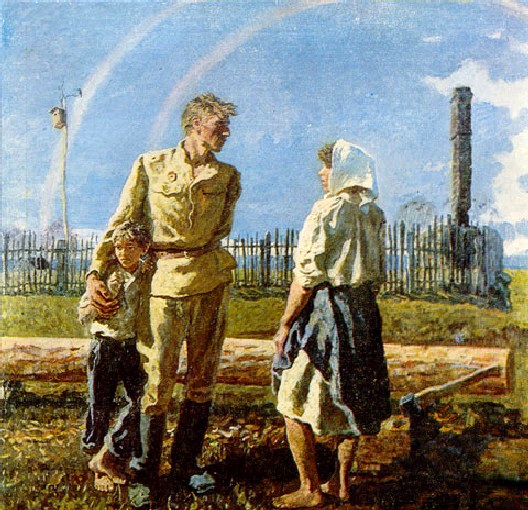 A and S.Tkachev. Life Again
B. Ugarov. Coming Back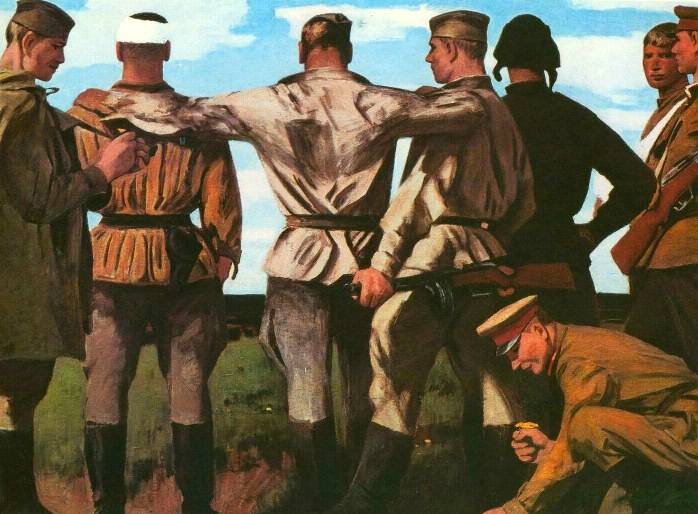 B. Fedorov. Native Land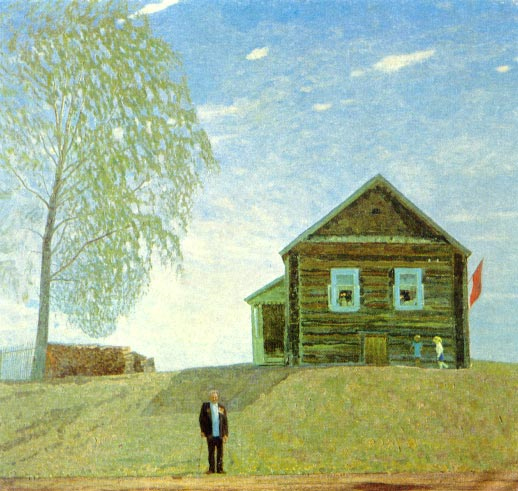 V. Sidorov. Victory Day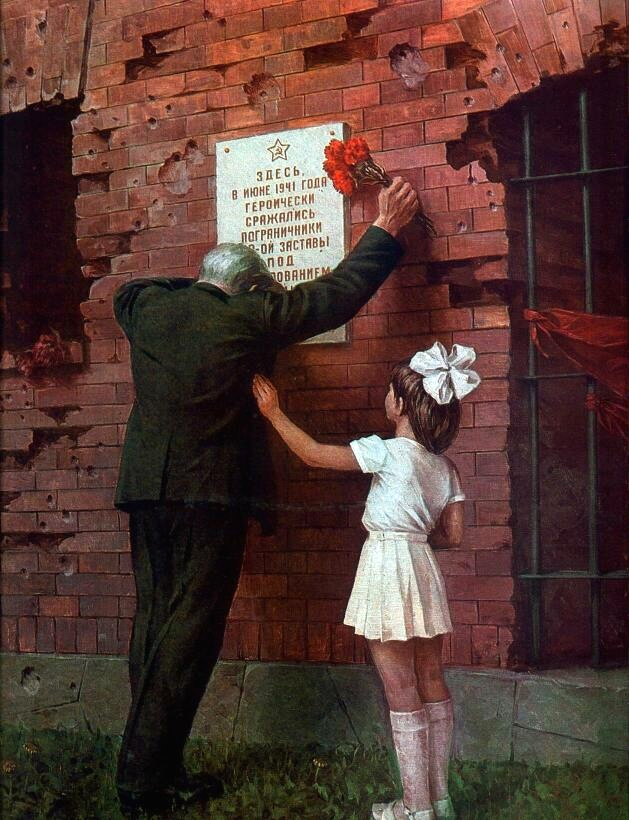 V. Licho. Please, don't cry, Grandpa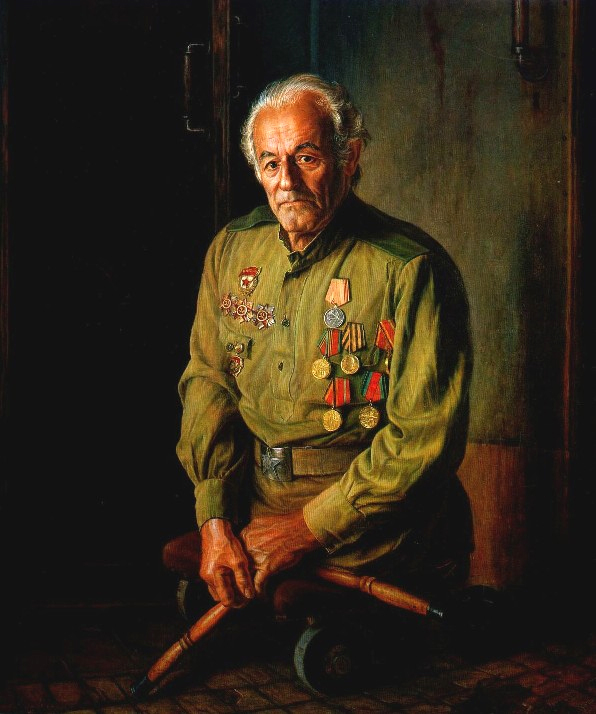 A.Shilov. Victory Day. Machine gunner P. Shorin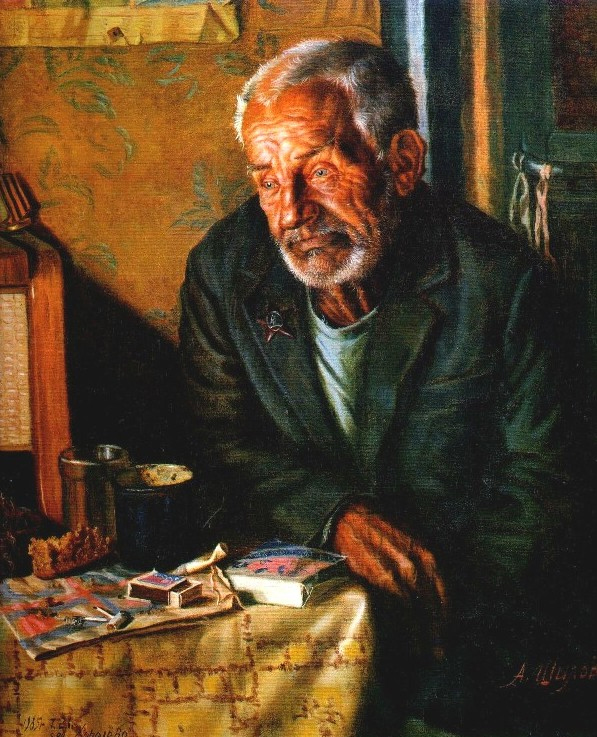 A. Shilov. Forgotten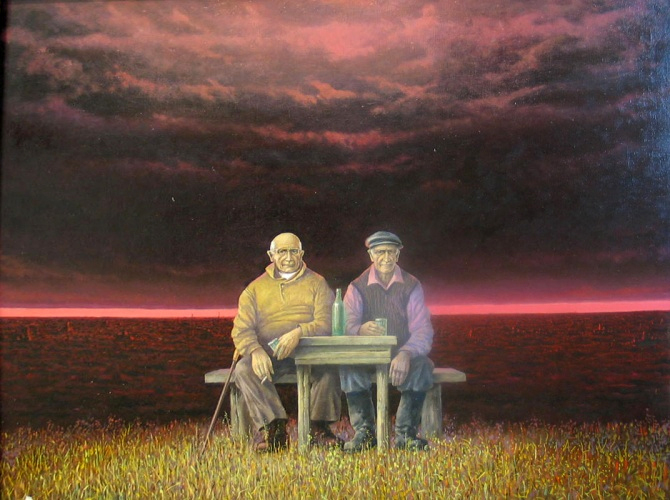 G. Rashkov. Those who didn't kill each other, 60 Years later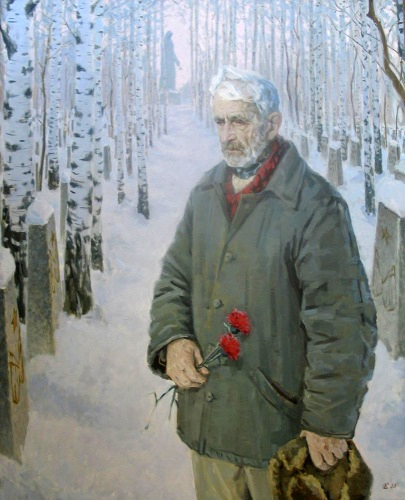 V. Soloveva. Silence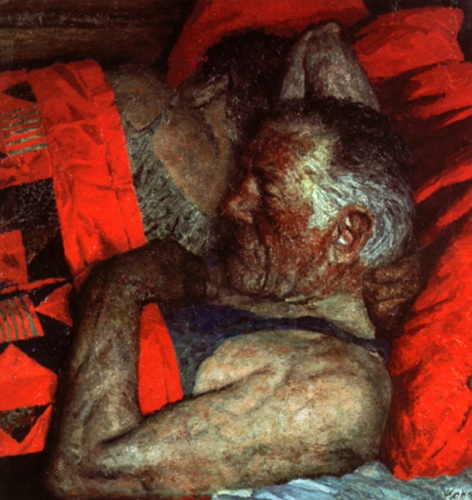 G. Korzhev. Old Wounds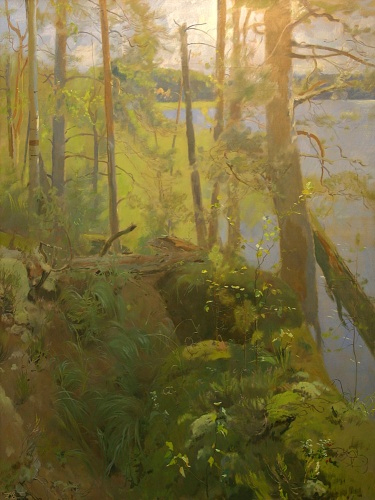 D. Belyukin. Old Trenches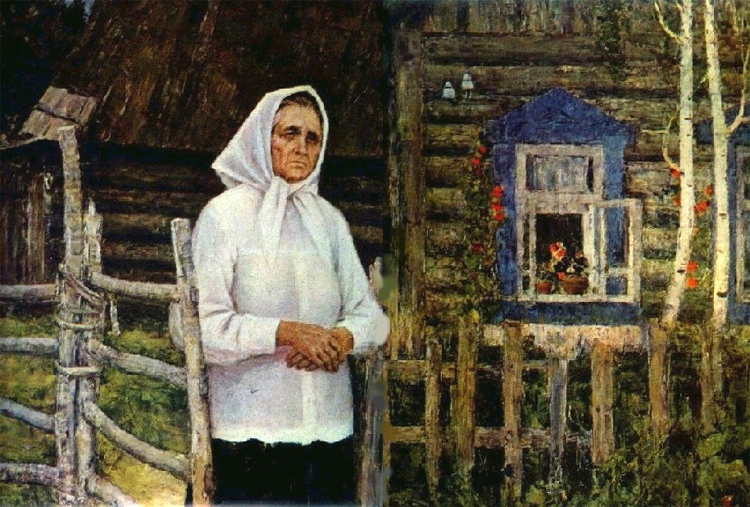 V. Igoshev. Still waiting for her son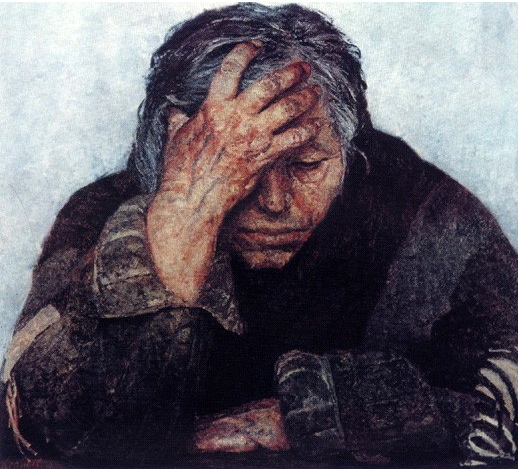 G. Korzhev. Mother