*Disclaimer: Russian World War II posters are dispalyed as historical documents of the era only and are not intended to promote or dissaprove any theories, views, notions, as well as any political, milirtary, social and any other types actions for or against anybody and/or anything. Some portions of this webpage may contain extremely graphic images and/or text, which may offend sensitive viewers and are not recommended for viewing by persons under the age of 18. Viewer discretion is strongly advised. If you are unsure, please leave this webpage now.
Pre-war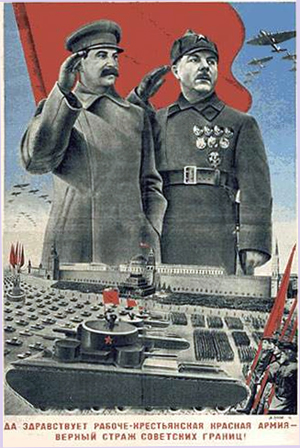 Long live Red Army of workers and peasants - the true guard of the Soviet borders!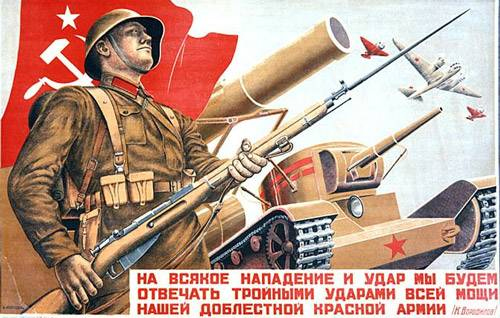 On each and every attack our valorous Red Army will answer with three times more powerful blows!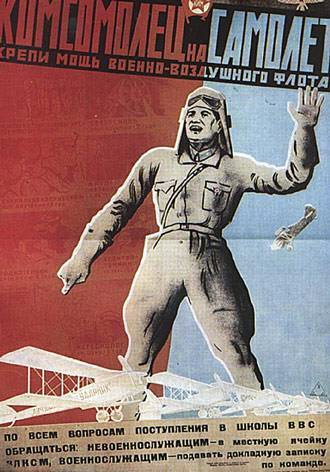 Be a pilot, contribute to the power of the Air Force!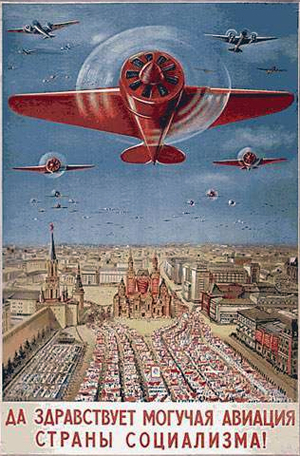 Long live powerful aviation of the socialist country!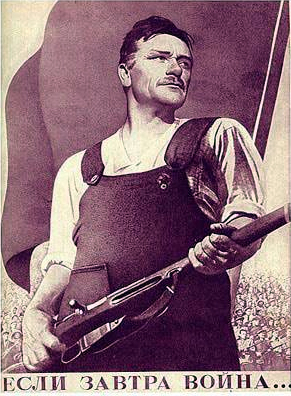 If the war comes tomorrow...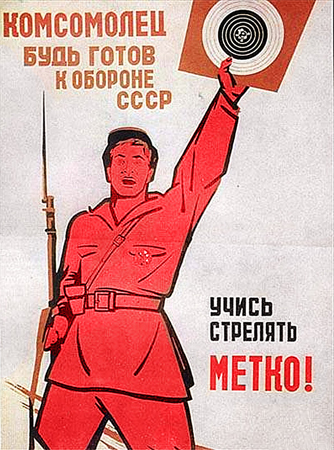 Komsomol member, be ready to protect USSR, learn how to shoot accurately!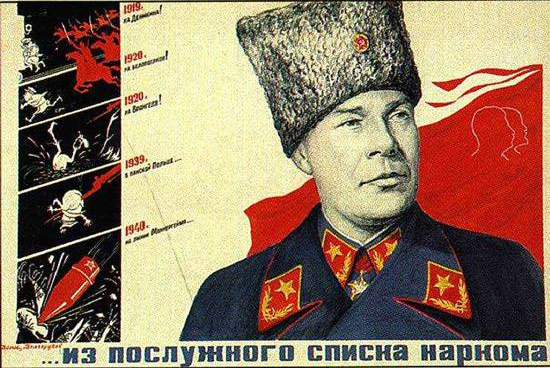 From People's Commissar (Timoshenko) personal record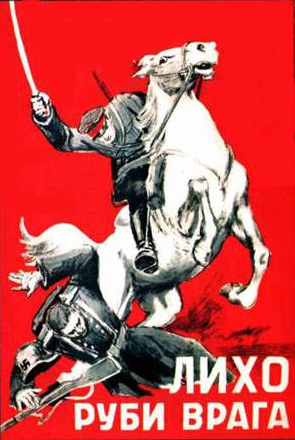 Cut the enemy! (1939).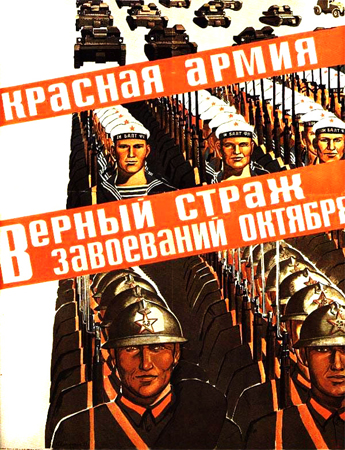 Red Army is the loyal guard of the October Revolution's gains.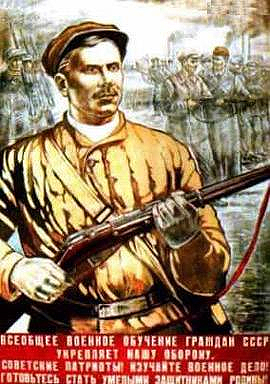 Compulsory military education strengthens our defense!
General

Our cause is just, enemy will be crushed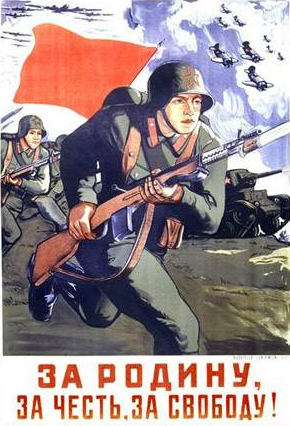 For the Motherland, Honor and Freedom!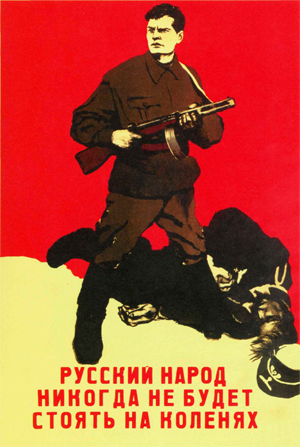 Russian people will never fall to its knees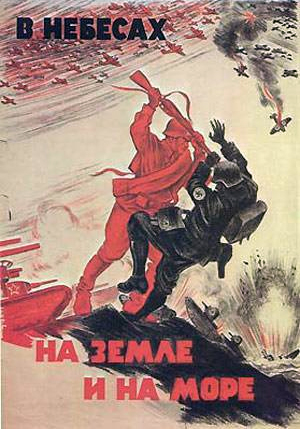 In the sky, on the ground and in the sea.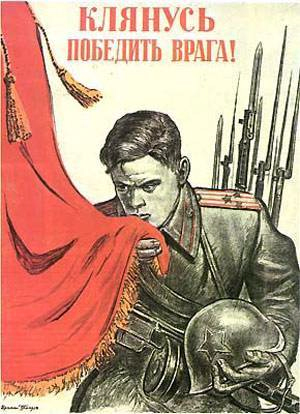 I swear to defeat the enemy.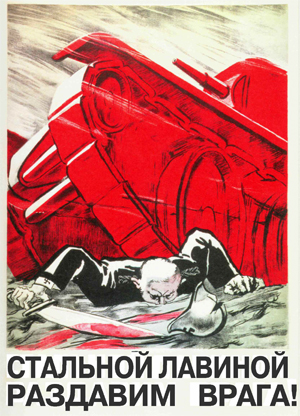 Let's crush the enemy under avalanch of steel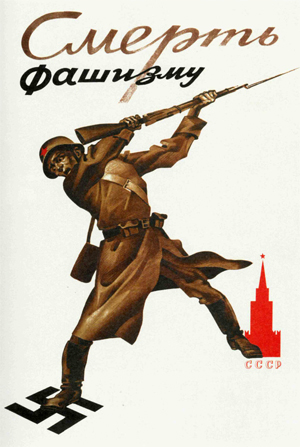 Death to the Fashism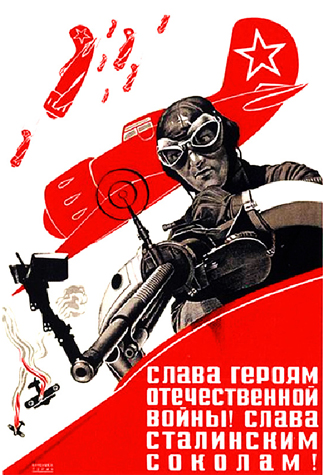 Glory to the heroes of the Patriotic War! Glory to the Stalin's falcons!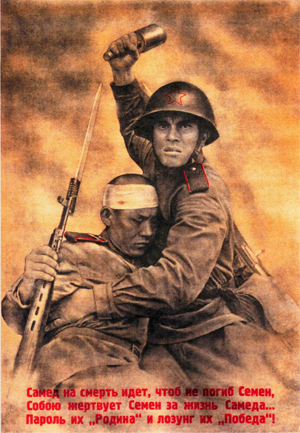 Soldiers of all nationalities, fight for Motherland and victory!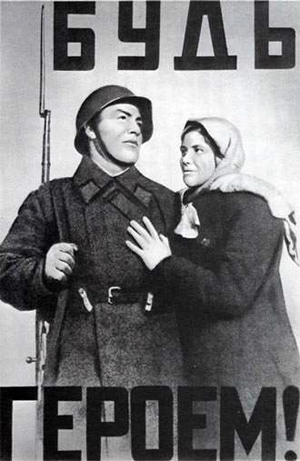 Be a hero!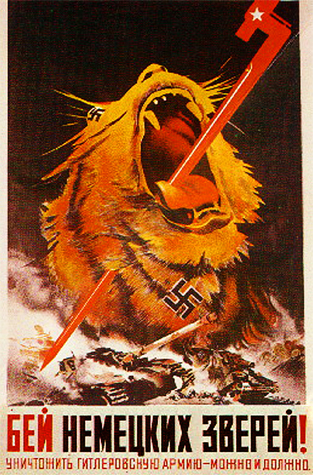 Fight German animals! We can and must destroy Hitler's army.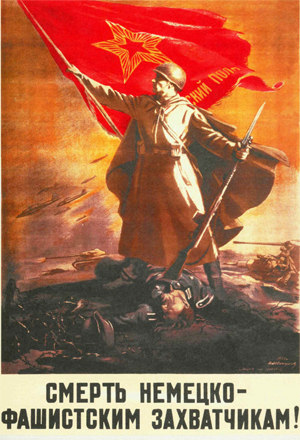 Death to the Fashist-German invaders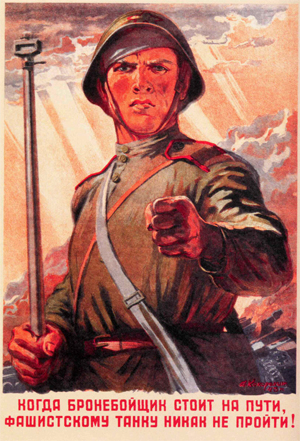 When anti-tank gunner stands on the way, fashist tank will not pass!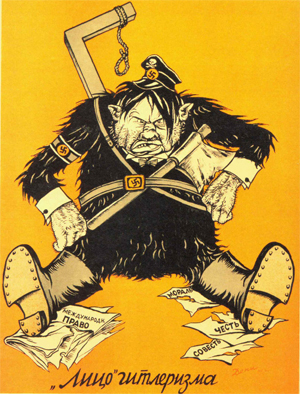 The face of Hitlerism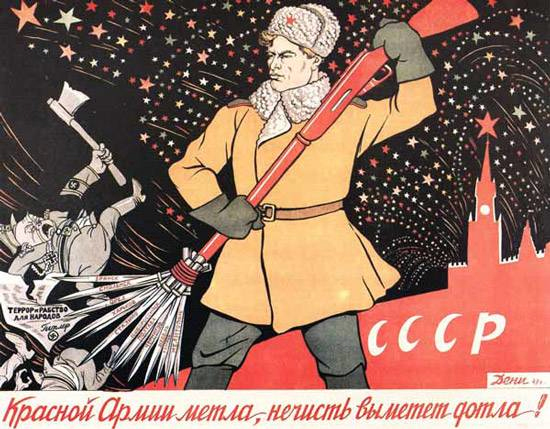 Red Army's broom will sweep the enemy out!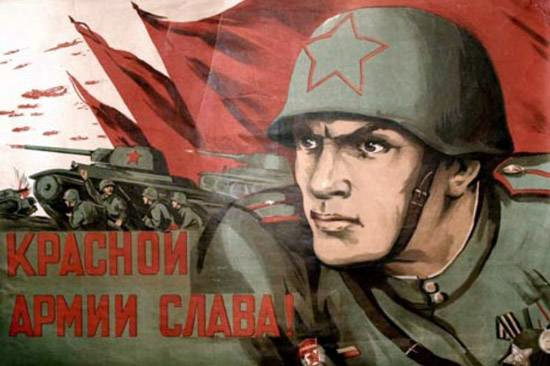 Glory to the Red Army!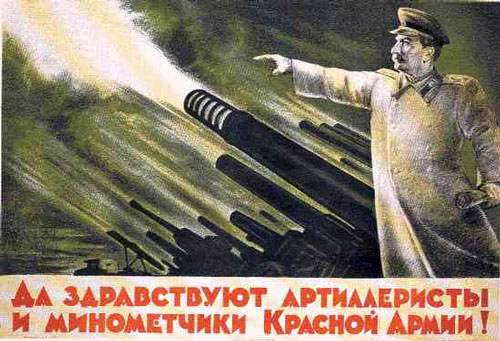 Long live the gunners of the Red Army!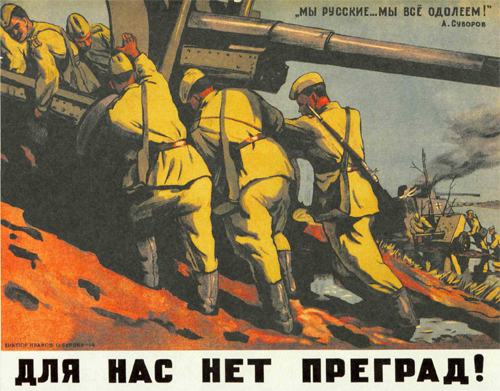 Nothing will stop us! We are Russians, we will overcome! (A.Suvorov)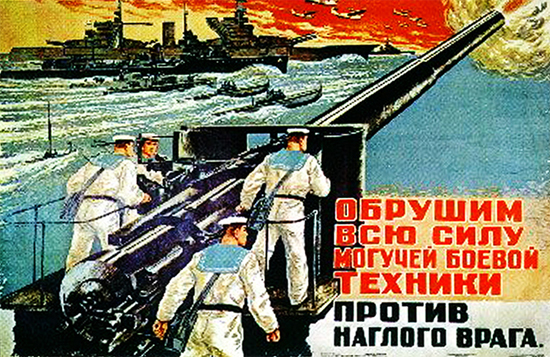 Let's use all might of our weaponry against impudent enemy.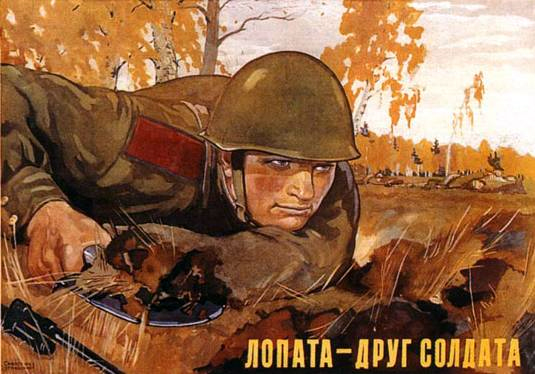 Spade is a soldier's friend!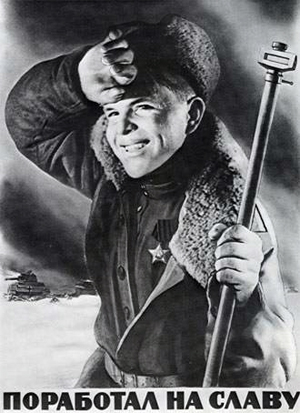 Job well done!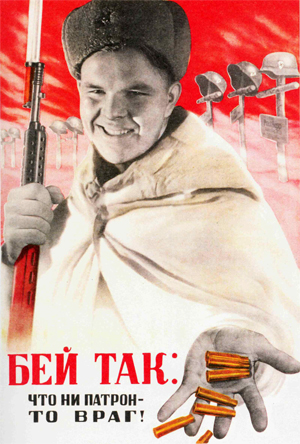 Fight like this: every bullet means an enemy killed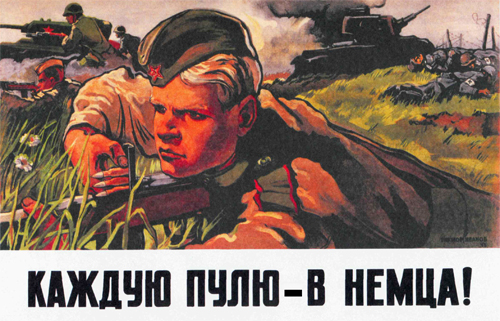 Put every bullet into the German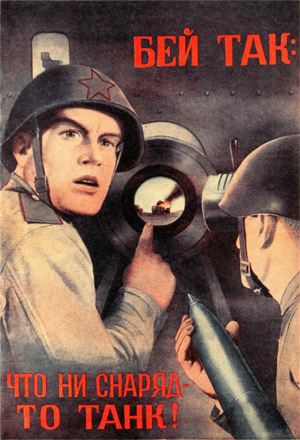 Fight like this: put every shell into the German tank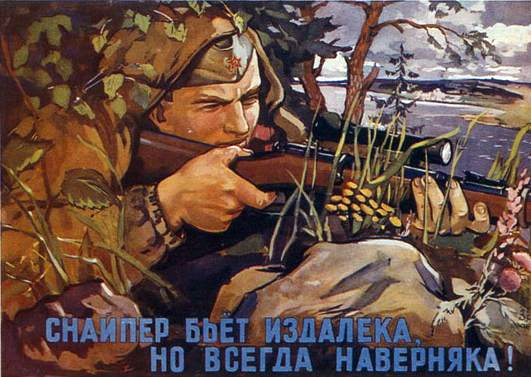 A sniper shoots from afar, but always hits his target!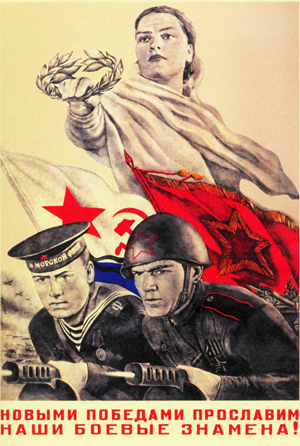 Our new victories will glorify our banners!
Draft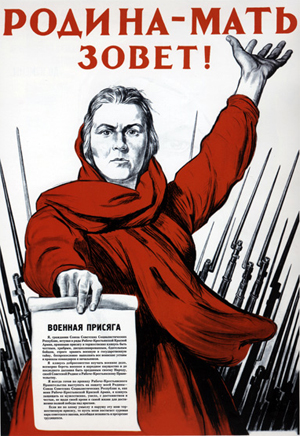 Motherland is calling you!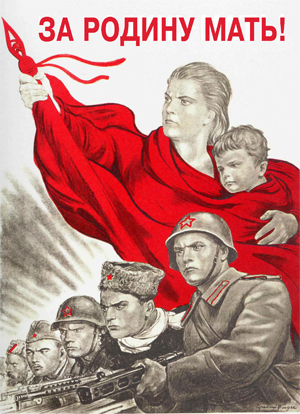 For the Motherland!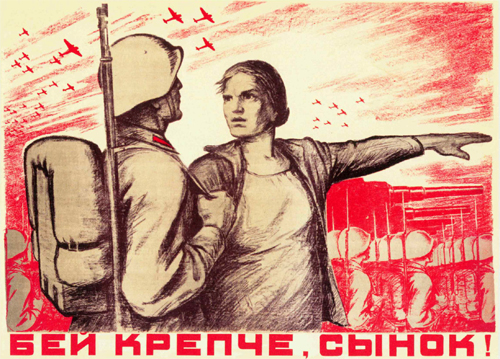 Beat them hard, my son!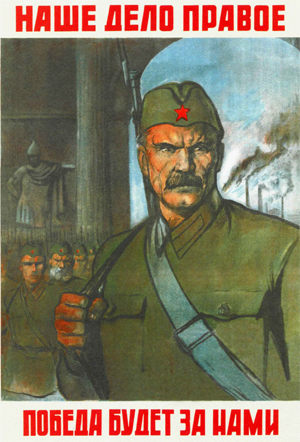 Our cause is just, victory will be ours!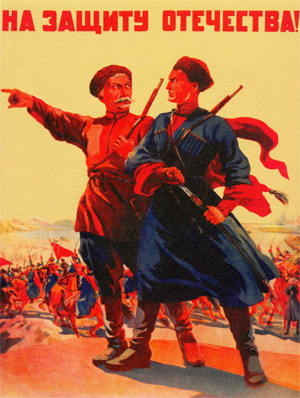 For defense of the Motherland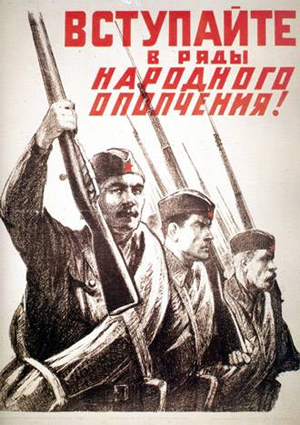 Join people's home guard!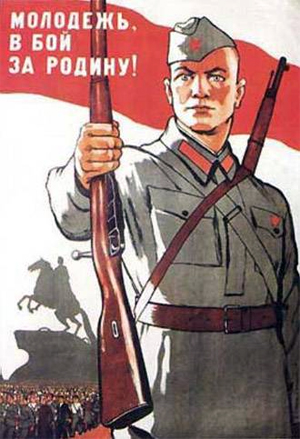 Young people, fight for the Motherland!

Stalin, Lenin, Party, Komsomol

A commissar is a father and soul of his unit.

Under Lenin's banner, let's go forward for the Motherland, for our victory!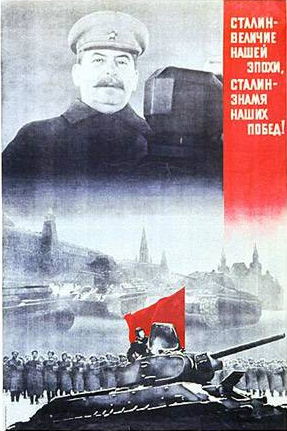 Stalin is a greatness of our time! Stalin is a banner of our victories!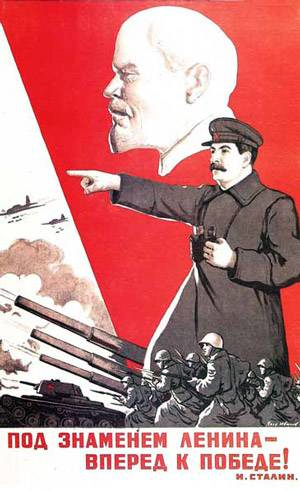 Under Lenin's banner, forward to victory!
"Spirit of the great Lenin and his victorios banner inspire us to fight Patriotic War." (Stalin)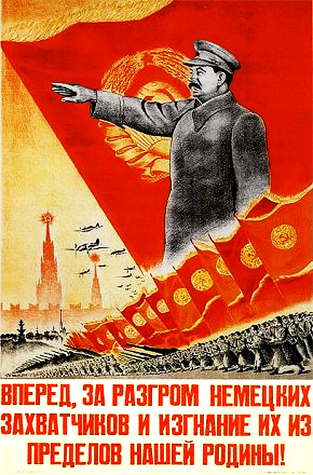 Let's go forward, destroy German invaiders and throw them out from our Motherland!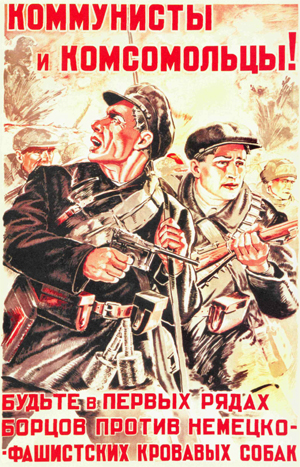 Communists and Komsomol members, be in the first line of the fighters against German-Fashist bloody dogs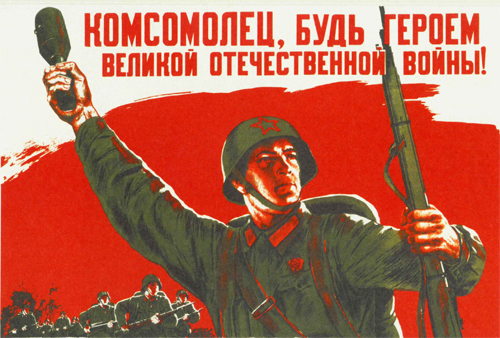 Komsomol member, be a Hero of the Great Patriotic War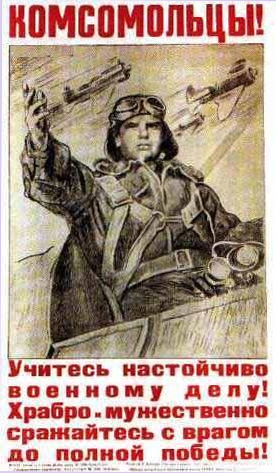 Learn military science! Beat the enemy till complete victory!
Ancestors & history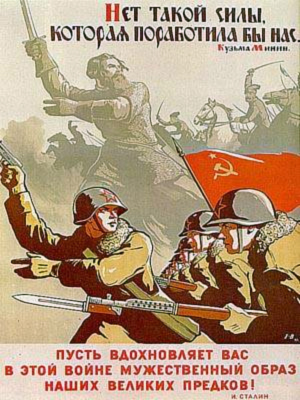 There will be no force which can enslave us. (Minin, 17th century). Let courageous image of our great ancestors inspire you. (Stalin)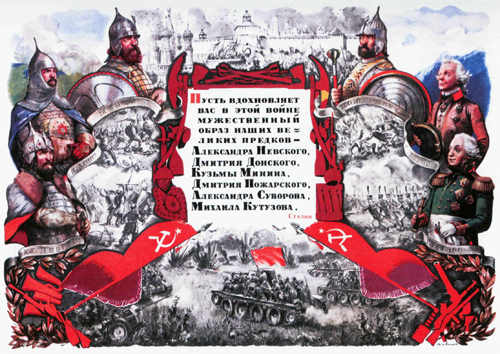 Let's be inspired in this war by our courageous ancestors - Alexander Nevsky, Dimitry Donskoi, Kuzma Minin, Dmitry Pozharsky, Alexander Suvorov, Michael Kutuzov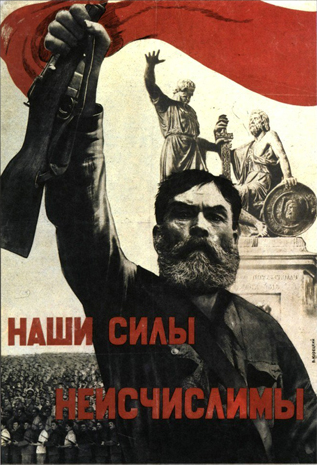 Our forces are uncountable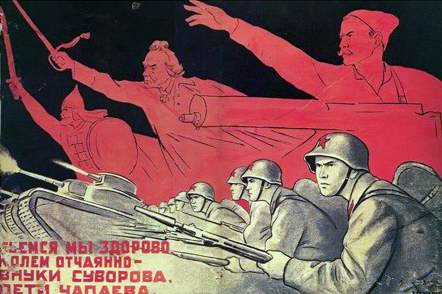 As grandchildren of Suvorov and children of Chapaev, we put up a great fight!
For the sake of the Motherland, let's go forward, warriors.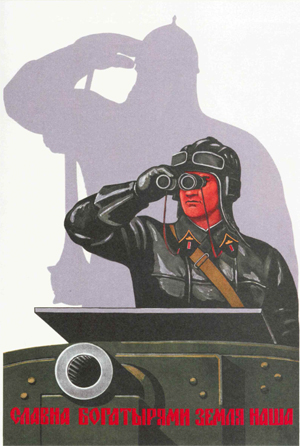 Our land is known for its great warriors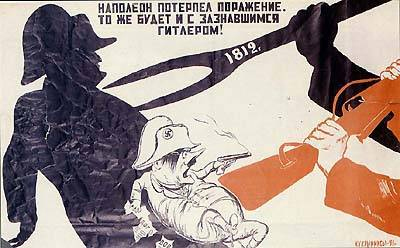 Napoleon suffered defeat. The same will be with Hitler.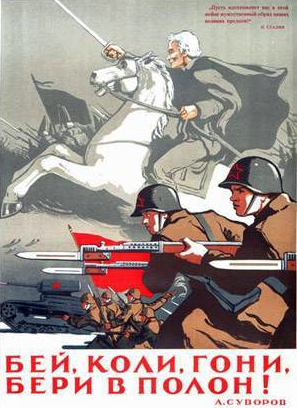 Beat, cut up, drive out and capture! (Suvorov)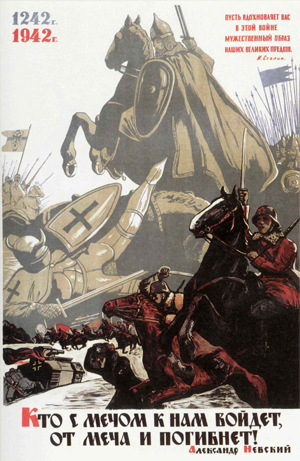 Whoever comes to us with the sword, will die by the sword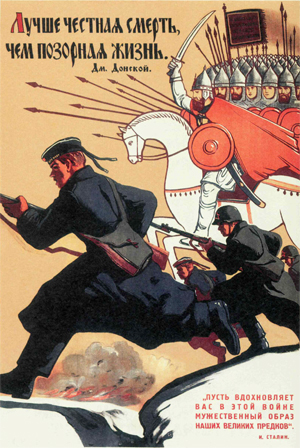 Better honorable death, than shameful life (Dm. Donskoi)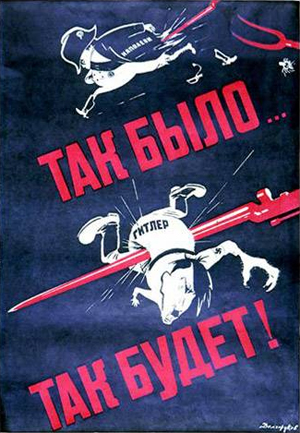 It was like that, it will be like that!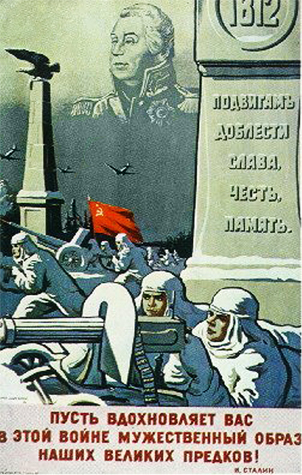 Let courageous image of our great ancestors inspire you. (Stalin)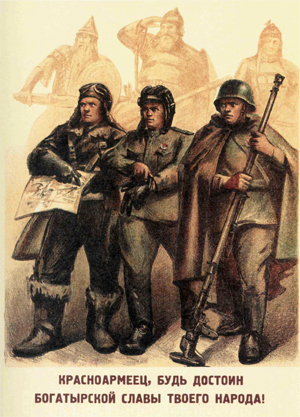 Red Army soldier, be up to the warrior glory of your people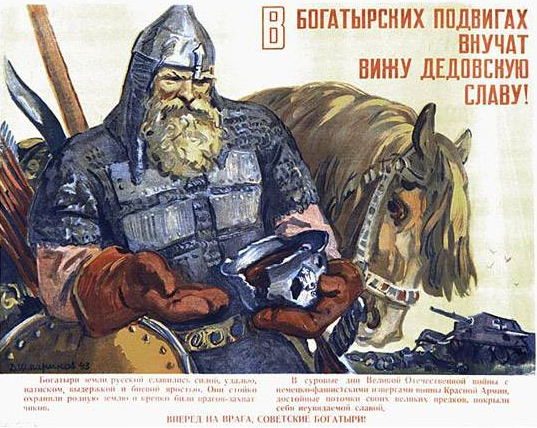 I see war glory of the past in the feats of my grandkids!
Our banner is a banner of victory!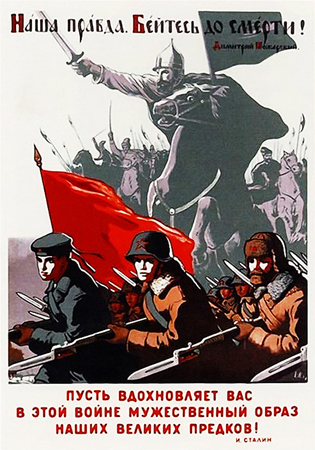 Our cause is just! Fight to the death! "Let courage of our great ancestors inspire you." (Stalin)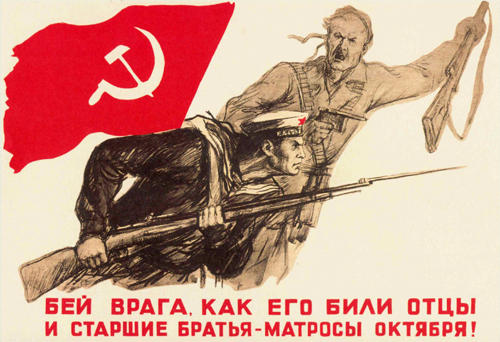 Beat up the enemy as it was beaten up by fathers and brothers, the Navy sailors of October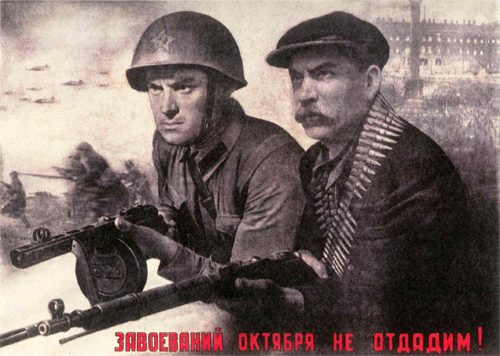 Let us not give up the gains of October!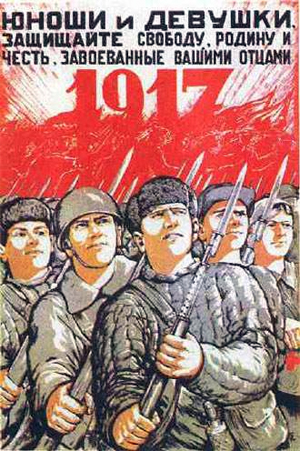 Young men and women, defend freedom, Motherland and honor, gained by your fathers.

1941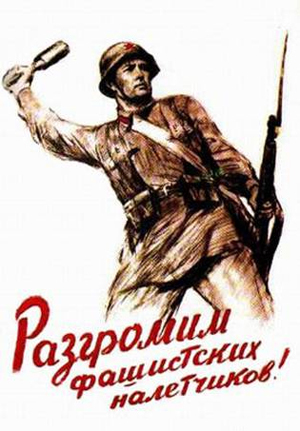 Let's destroy fascist robbers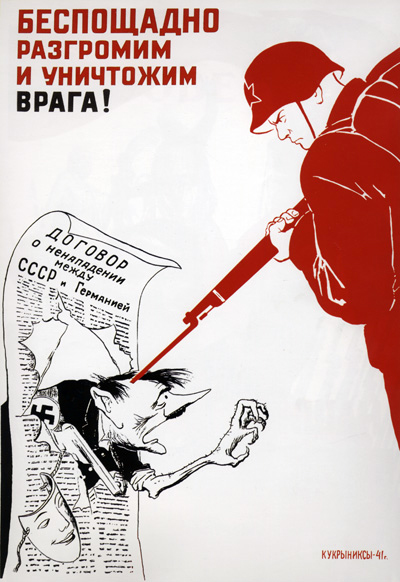 Lets ruthlessly beat and destroy the enemy!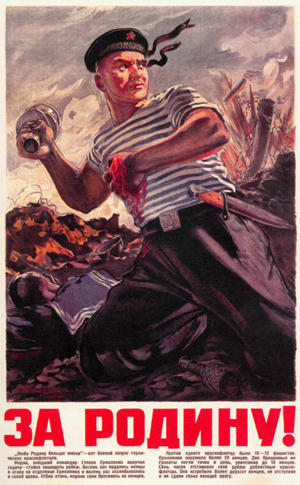 For the Motherland!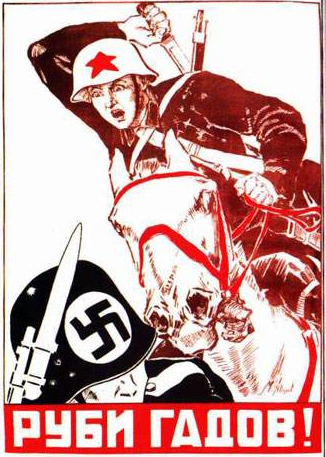 Cut the bastards!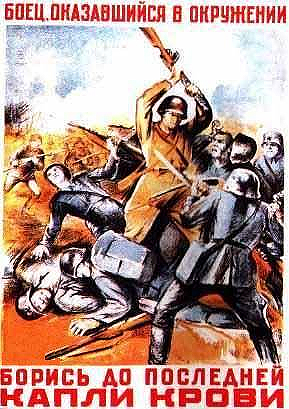 If you are surrounded, fight till the last drop of your blood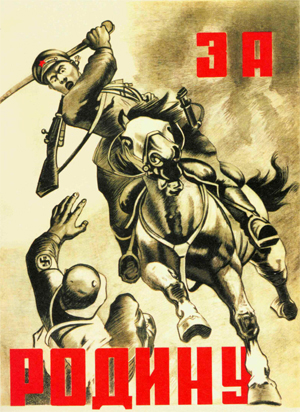 For the Motherland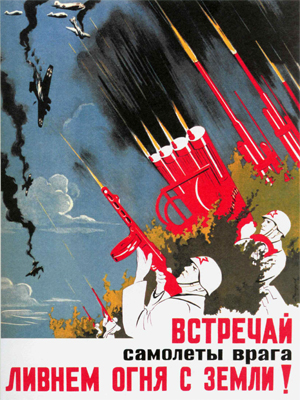 Meet enemy's airplanes with the rain of fire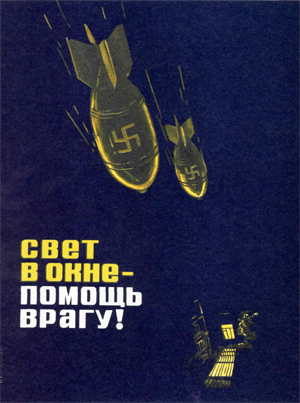 Light in the window is a help to the enemy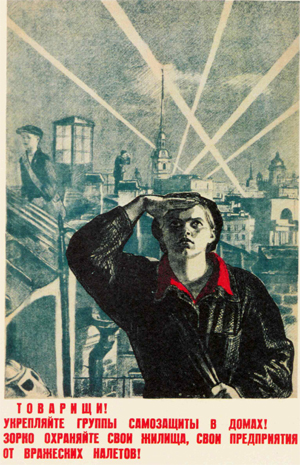 Comrades, strengthen self-defense gropus in your homes! Protect your housing, your industry from enemy's air raids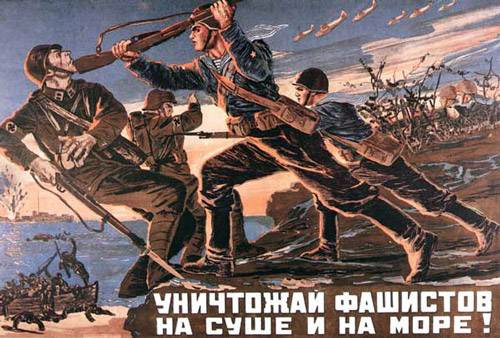 Destroy fascists on land and in the sea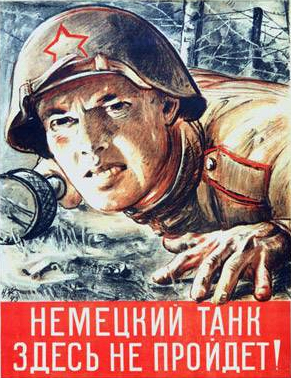 German tank will not pass here!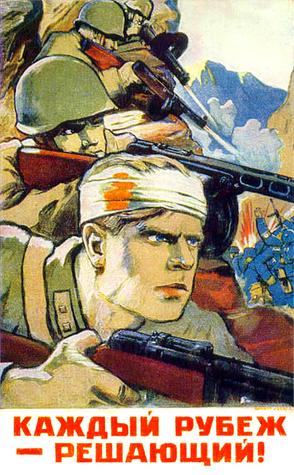 Every position is decisive.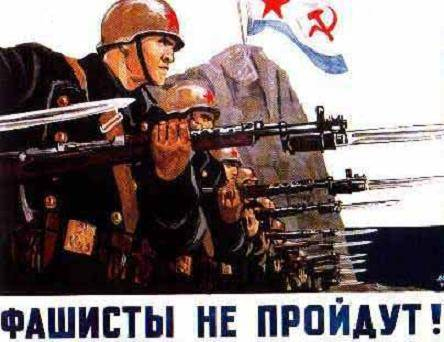 Fascists will not pass!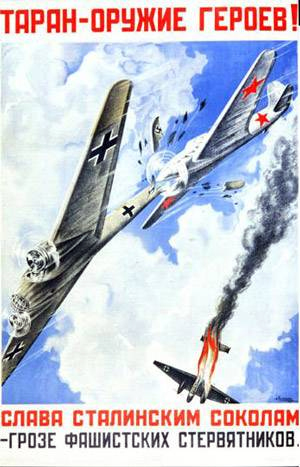 Head-on deliberate midair collision is a weapon of heroes. Glory to the Stalin's falcons, threat to the fascist predators!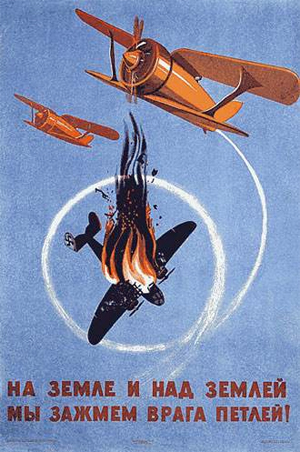 On the land and in the sky we strangle up the enemy with the noose!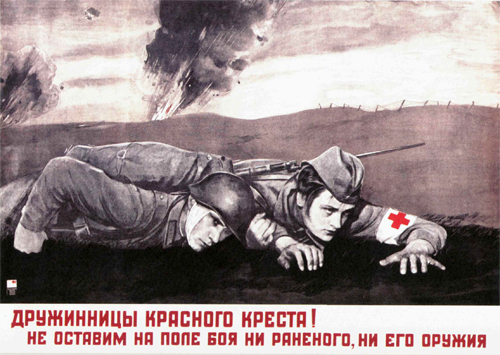 Red Cross nurses, don't leave on the battlefield no wounded, nor his weapon.

Moscow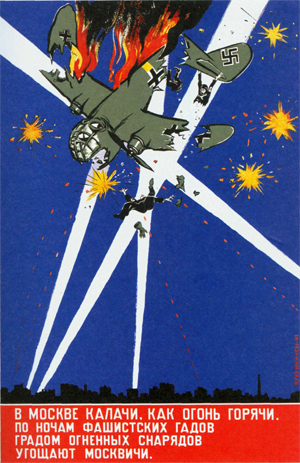 Moscovites feed enemy with hot firestorm of anti-aircraft shells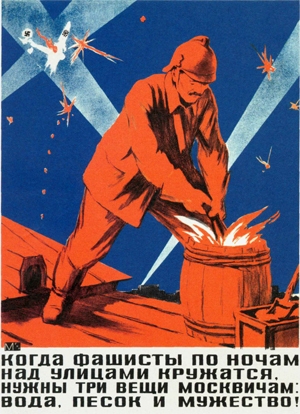 When fashists circle in the night high above the streets. Moscovites need 3 things: water, sand and courage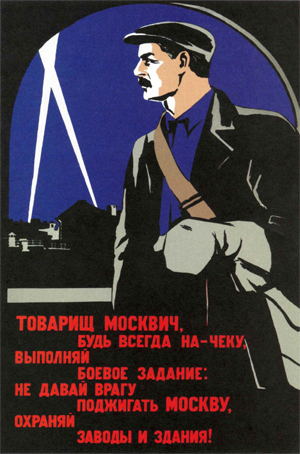 Comrade Moscovite, be always vigilant, carry on your orders: don't let enemy to make fires in Moscow, protect inductry and buildings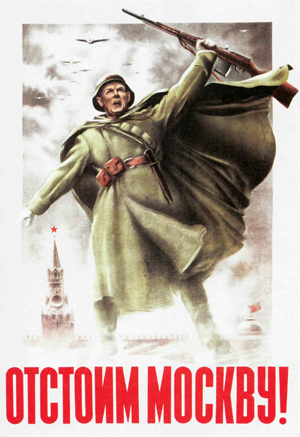 Let's defend Moscow!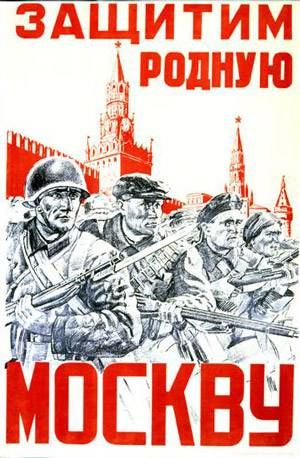 Let's defend Moscow!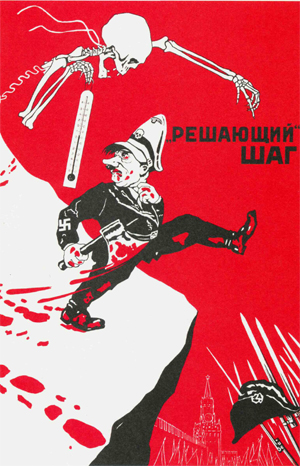 Decisive step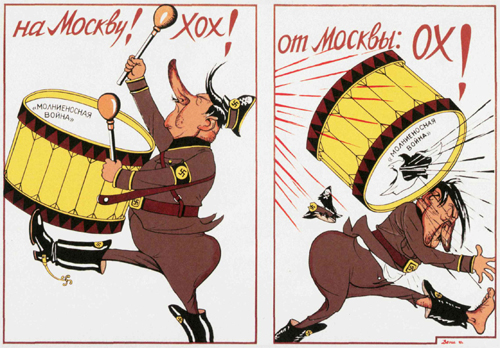 On the Moscow, Hoh, from the Moscow, oh!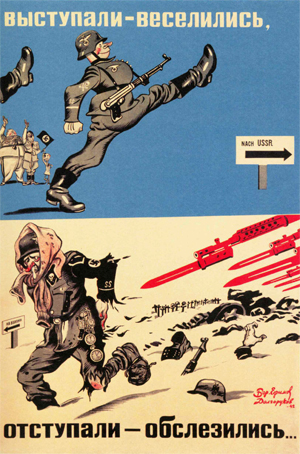 Started with joy, retreated with tears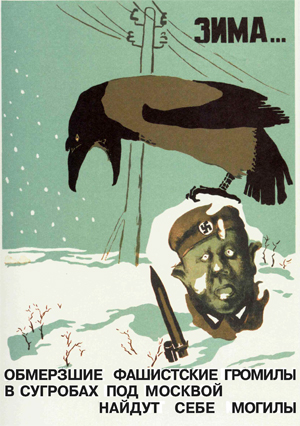 Winter... Freezing German bandits will find their graves in the snow piles before Moscow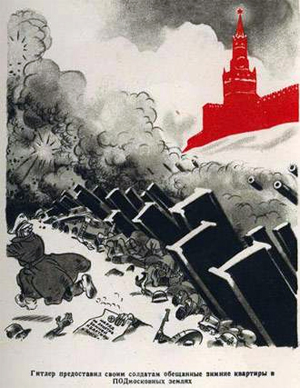 Hitler indeed gave his soldiers long promised apartments near Moscow!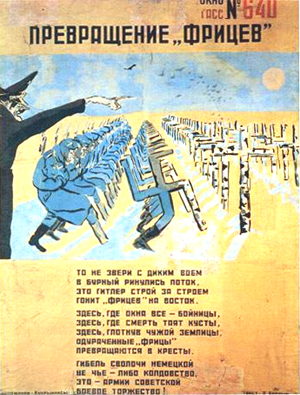 "Fritzes' " transformation.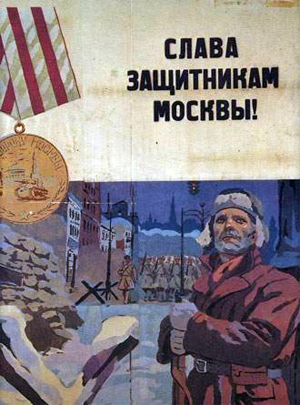 Glory to the defenders of Moscow!

Leningrad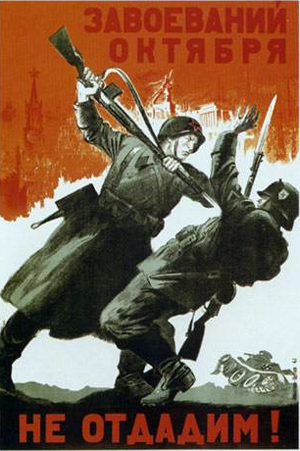 We never surrender the gains of October!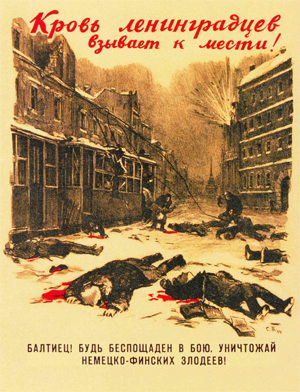 Blood of the Leningrad citizens call to revenge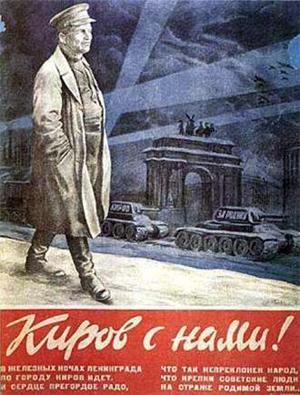 Kirov is with us!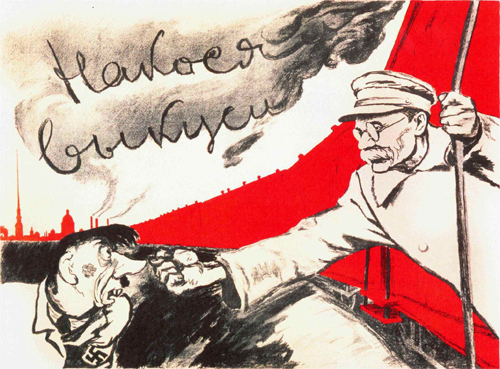 Take this!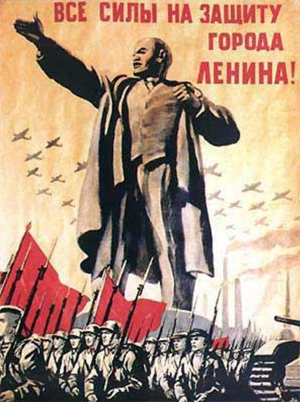 Everything for the defense of Lenin's City!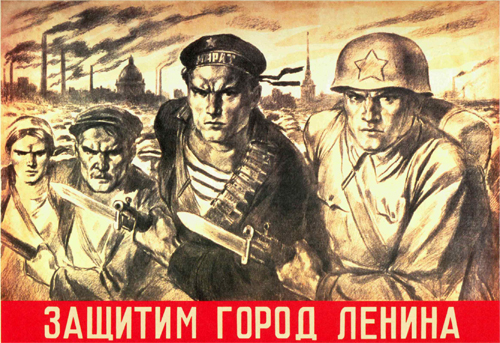 Let's defend Lenin's City!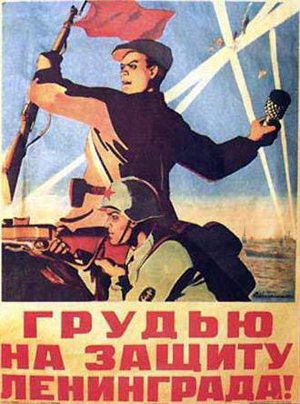 Let's defend Leningrad!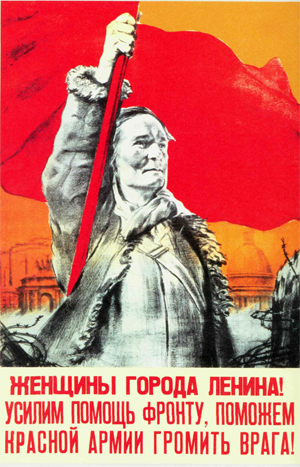 Women of Leningrad, let's help Front, let's help our Red Army to fight enemy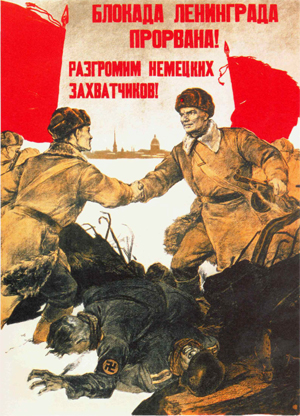 The siege of Leningrad is broken! Let's destroy German occupiers!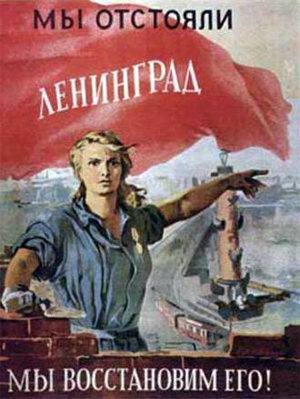 We defended Leningrad, now let's rebuild it!
Stalingrad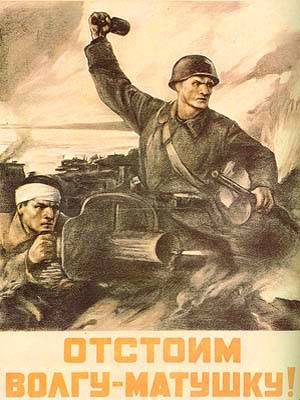 Let's defend our Mother-Volga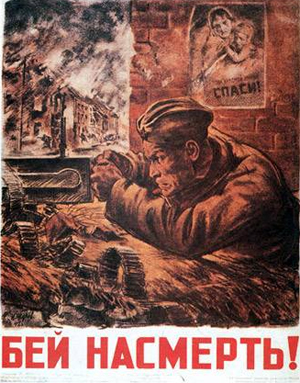 Fight to the death!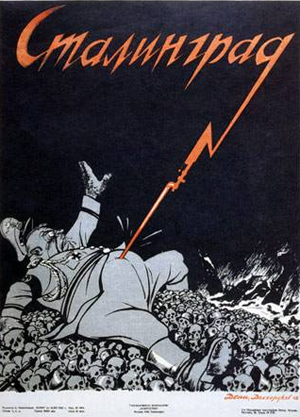 Vigilance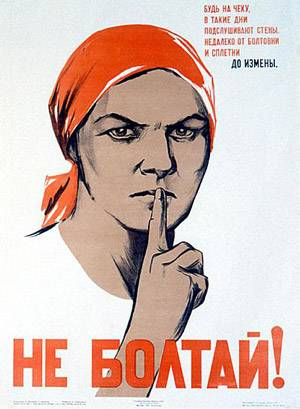 Don't talk!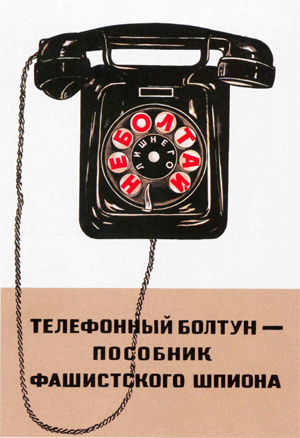 Careless phone talker is assisting to the fashist's spy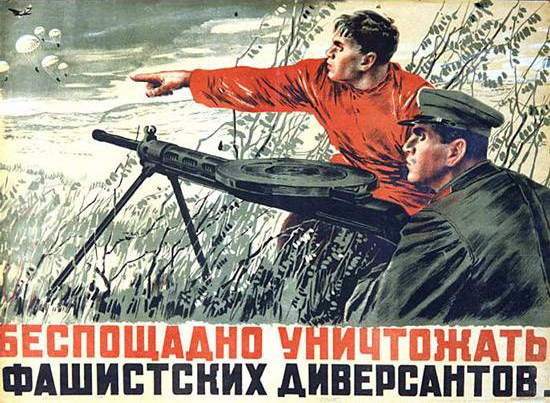 Ruthlessly destroy fascist saboteurs!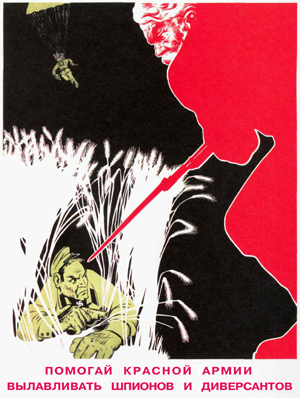 Help Red Army to catch spies and saboteurs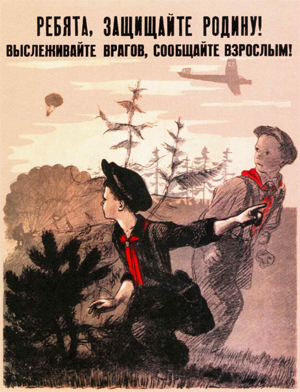 Kids, protect your Motherland, look out for an enemy and tell to the adults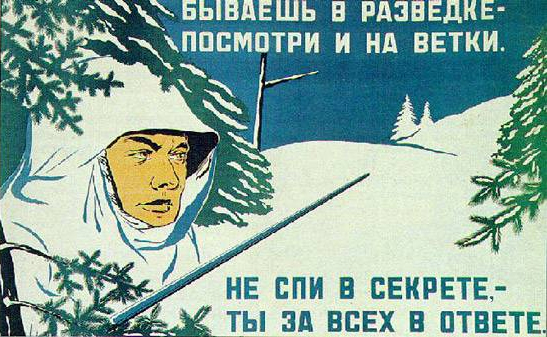 If you are on a reckon patrol, check trees' branches. If you carry guard duty, don't sleep, you are responsible for others.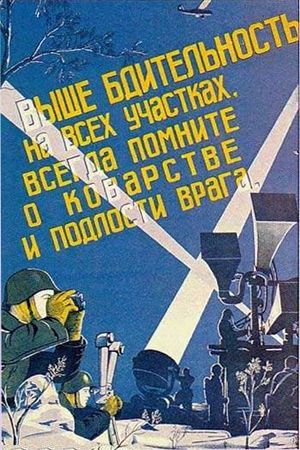 Be vigilant at all times. Always remember about insidiousness and meanness of the enemy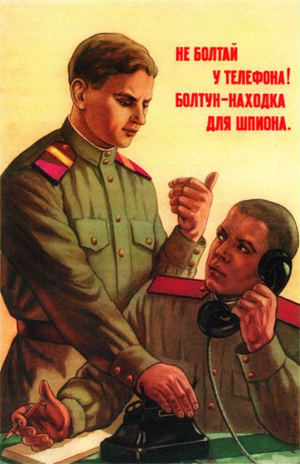 Don't talk on the phone, careless talker is a boon for a spy
Two boots make a pair (Ukrainian nationalists are Germans' collaborators)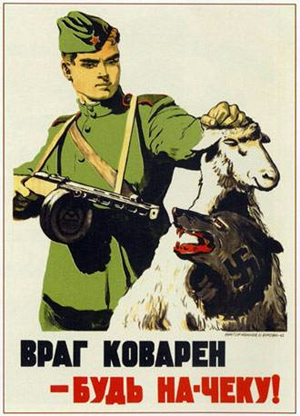 Enemy is inventive, so you are to be vigilant.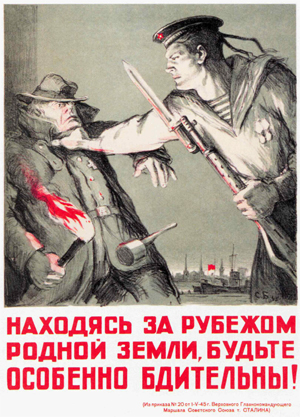 Be extra vigilant when you are far away from the Motherland's borders

On Offensive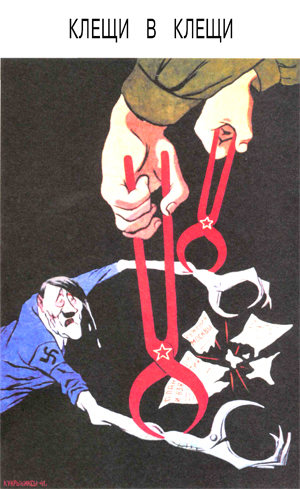 Pincers for the pincers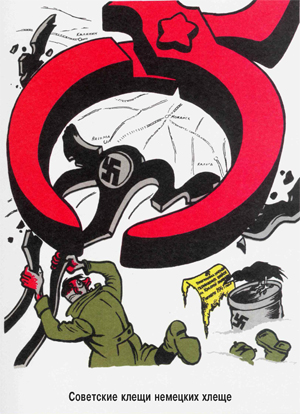 Soviets pincers are more powerful than German's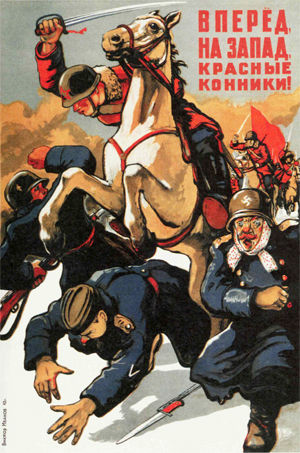 On to the west, Red Army cavalry!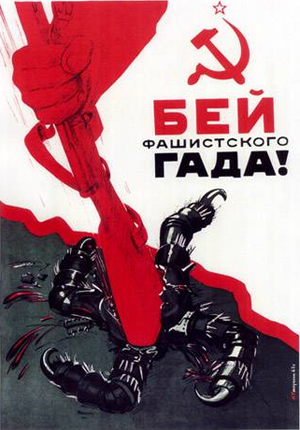 Crush fascist's bastard!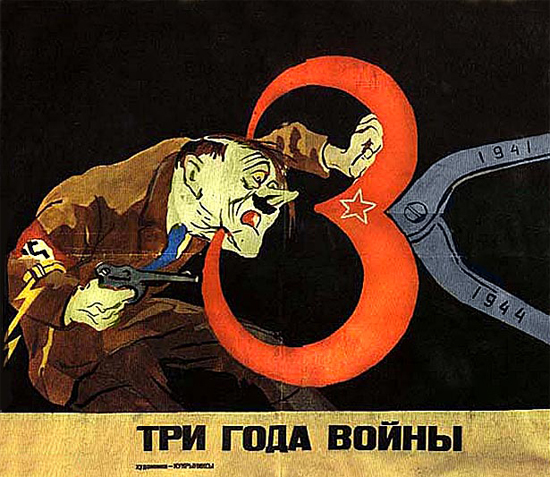 Three years of war, 1941-1944.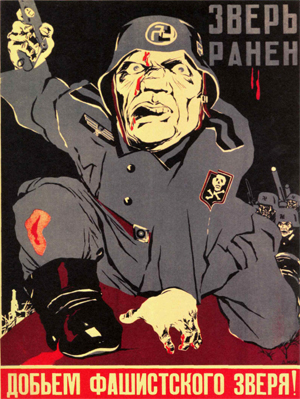 Animal is wounded. Let's finish him off!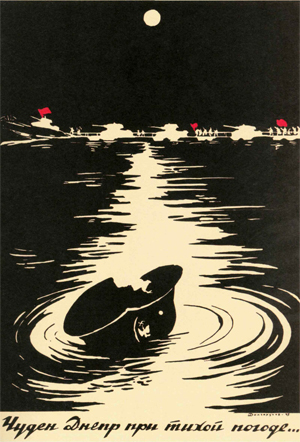 Dnieper River is great when the weather is silent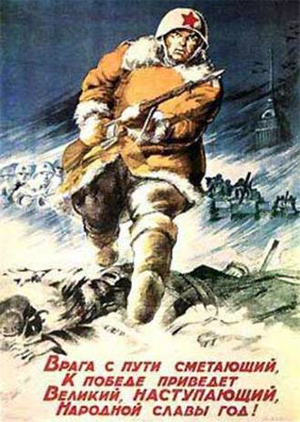 New Year will bring us closer to victory!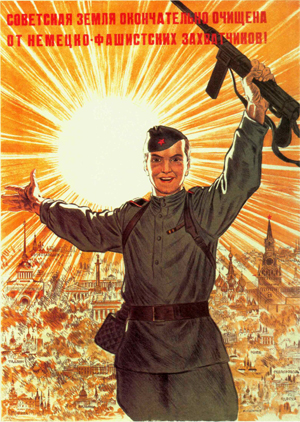 Soviet land has been completely liberated from the Fashist-German invaders!

Weapon instructions posters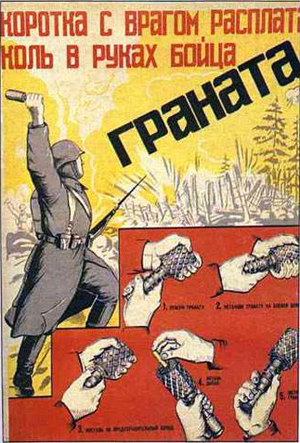 Payback to enemy will be short if soldier has a hand grenade.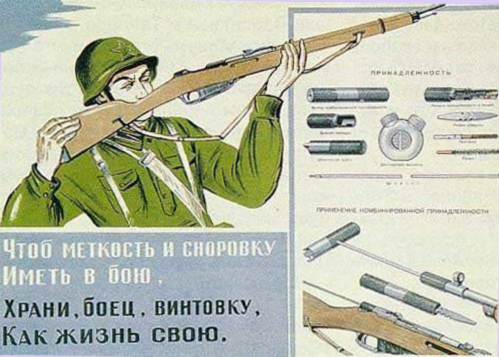 To shoot accurately and fast in the gunfight, keep your rifle as your life

Women and children

Red Army soldier, save us!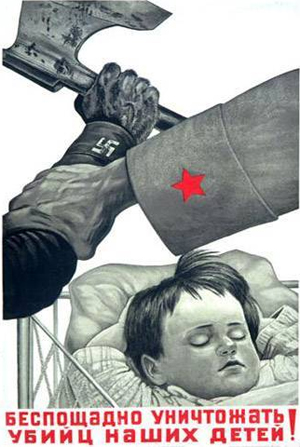 Ruthlessly destroy murderers of our children!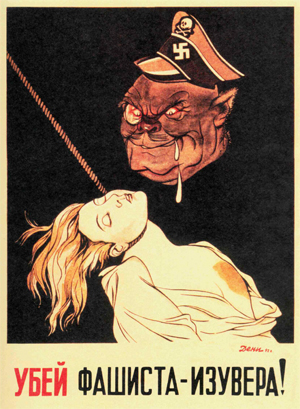 Kill the fashist monster!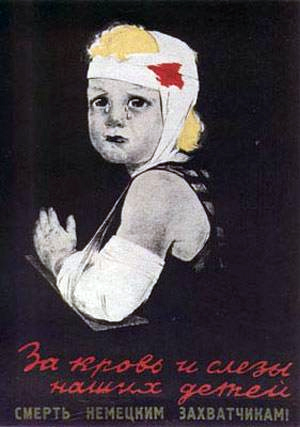 For blood and tears of our kids German occupiers will die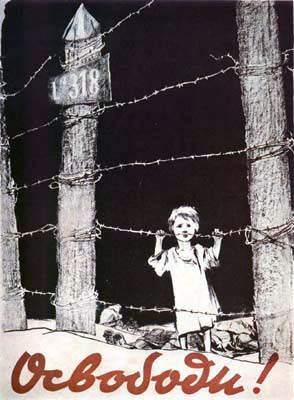 Liberate me!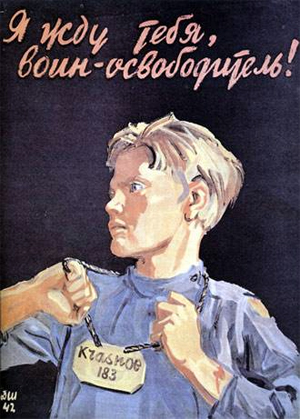 Liberator, I am waiting for you!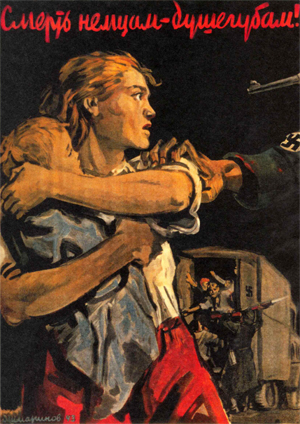 Death to the German murderers!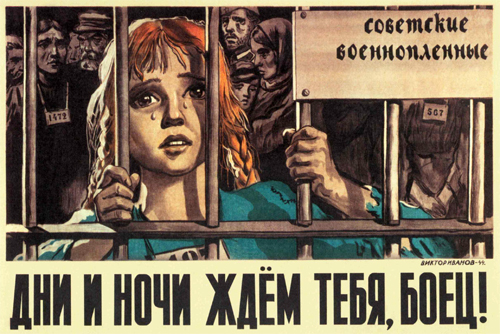 Soldier, we wait for you days and nights!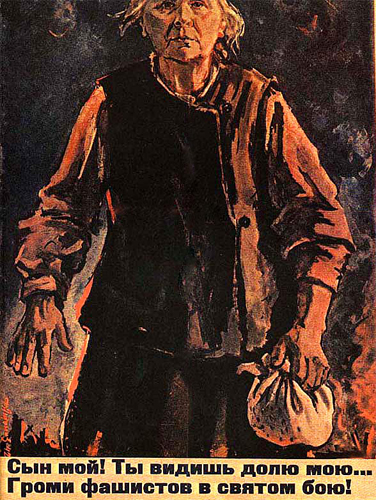 My son! You see what they have done to me. Destroy fashists in the sacred fight!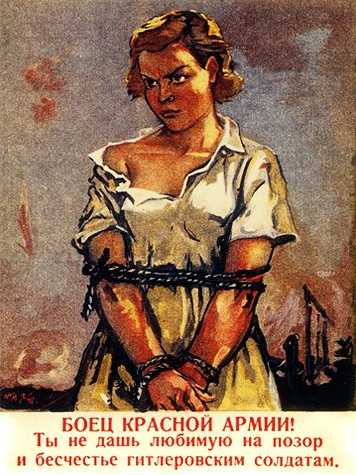 Red Army soldier, you will not surrender you love to the Hitler's soldiers for the shame and dishonour.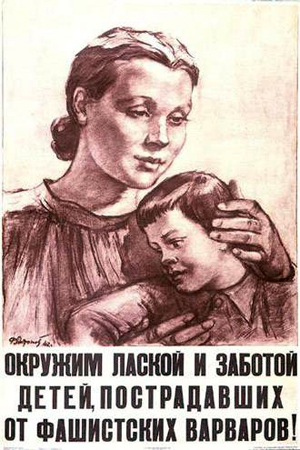 Bring care to all children, suffered from fascist barbarians!
Open fire on murderers of our wives and children!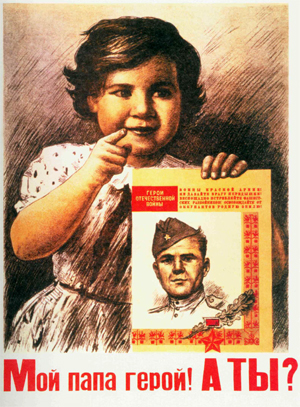 My father is a hero! What about you?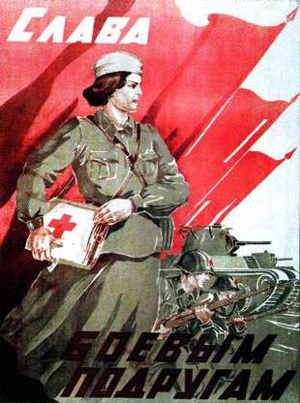 Glory to our fighting women!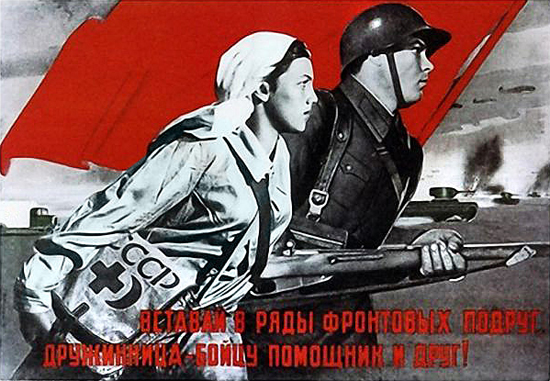 Become a front-line medical nurse, a helper and friend to the soldier!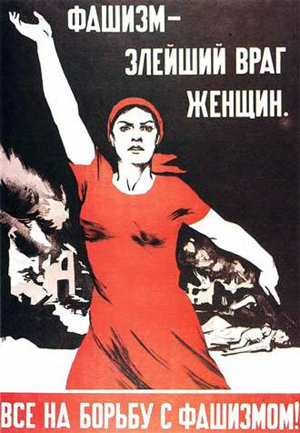 Fascism is the worst women's enemy. All on the fight with fascism!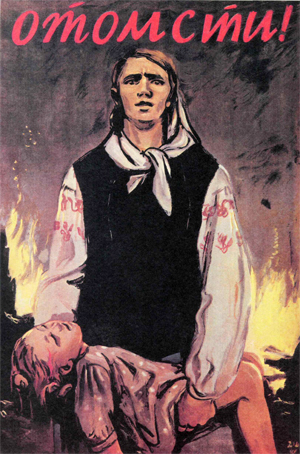 Revenge!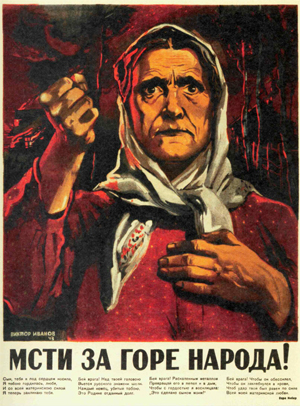 Revenge for the people's misery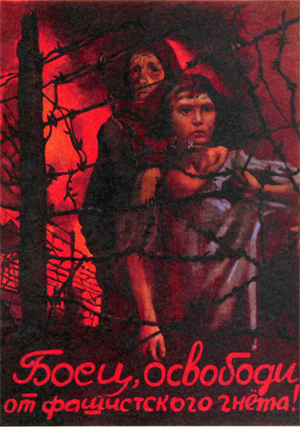 Soldier, liberate us from fashist's slavery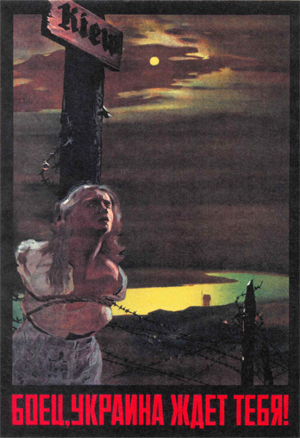 Soldier, Ukraine is waiting for you!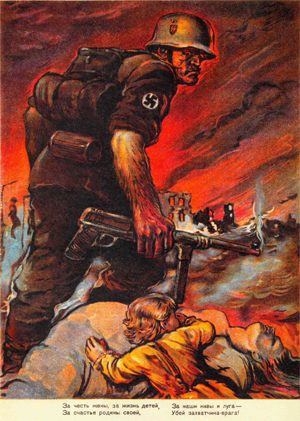 For the honor of your wife, for the life of your kids, for the happiness of the Motherland, kill the invader!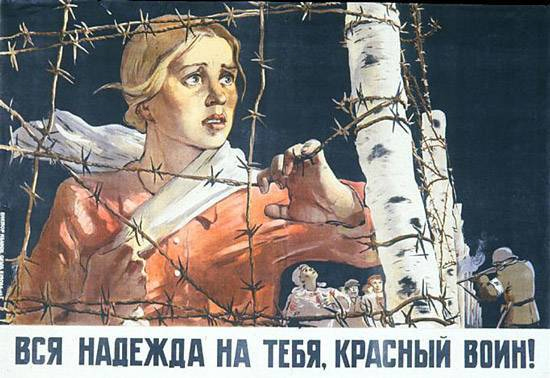 All hopes on you, Red Army soldier!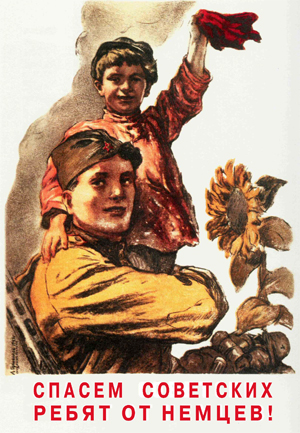 Let's save Soviet kids from the Germans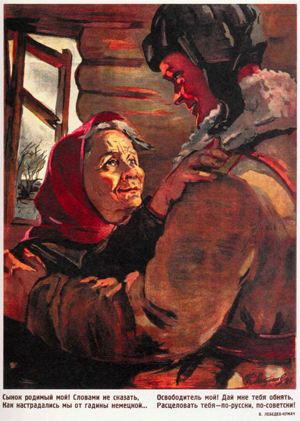 My son, I can't tell you in words, how we suffered from the German monsters...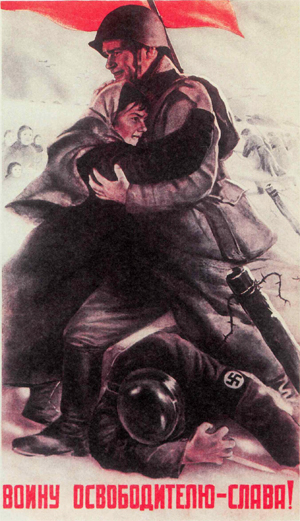 Glory to the soldier-liberator!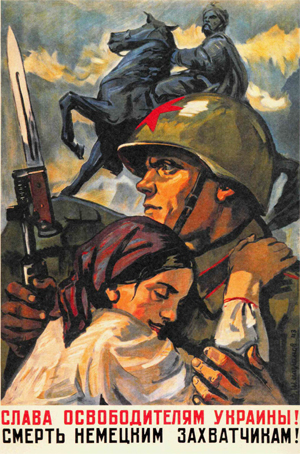 Glory to the liberators of Ukraine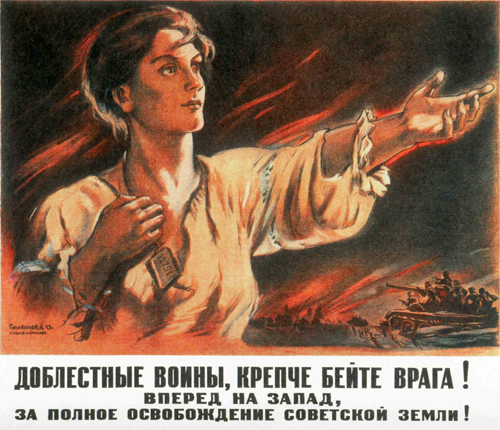 Glorious soldiers, fight enemy stoingly, on to the west, for the complete liberation of Soviet land!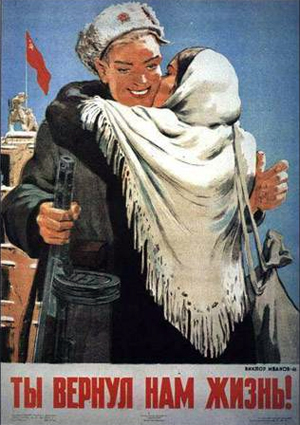 Partisans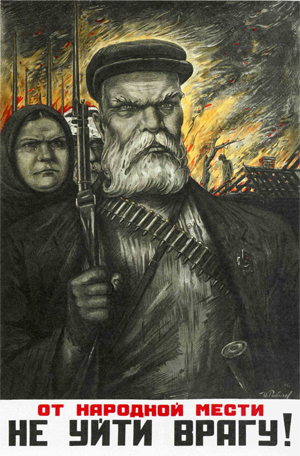 Enemy will not dodge people's revenge!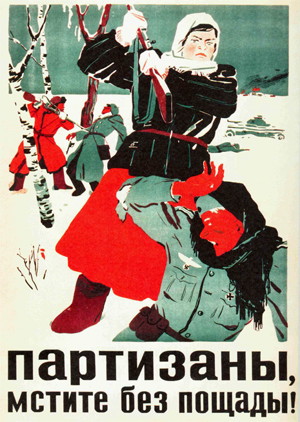 Partisans, revenge without mercy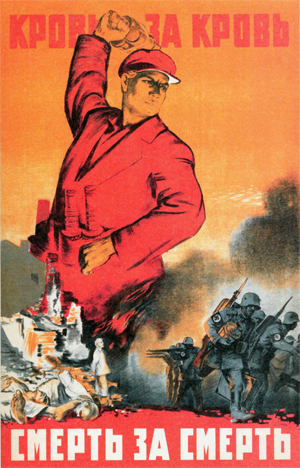 Blood for the blood, death for the death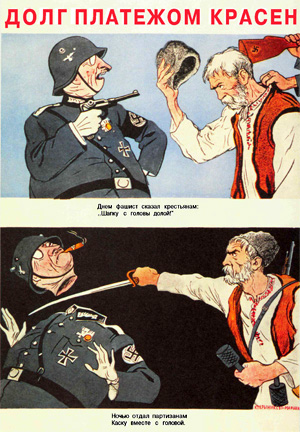 All debts will be payed off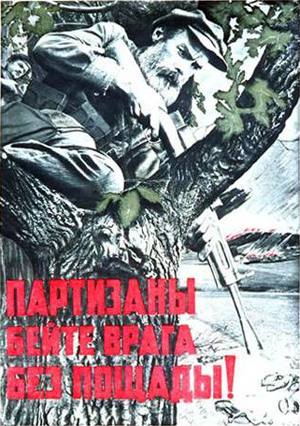 Partisans, crush the enemy without mercy!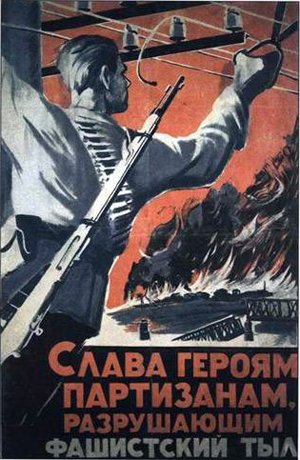 Glory to the partisan heroes, destroying fascists' rear!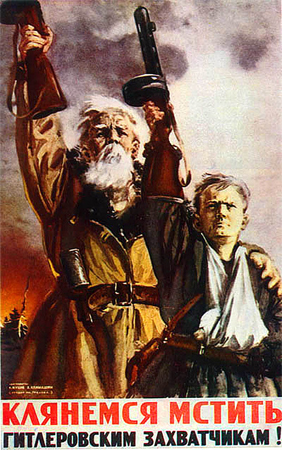 We swear to revenge to the Hitler's aggressors!
Rear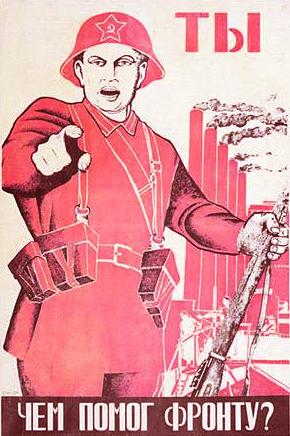 How did you help the front?

We will take your place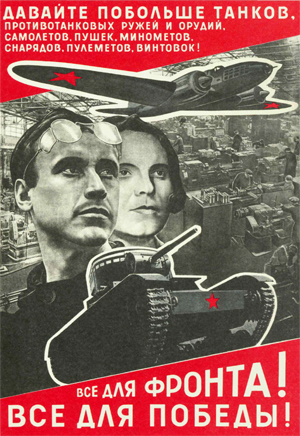 Everything for the Front, eerything for the Victory!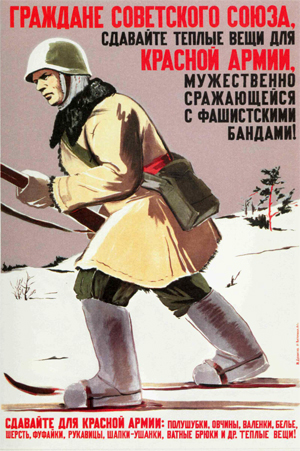 Bring warm clothes for the Red Army, courageously fighting fashist gangs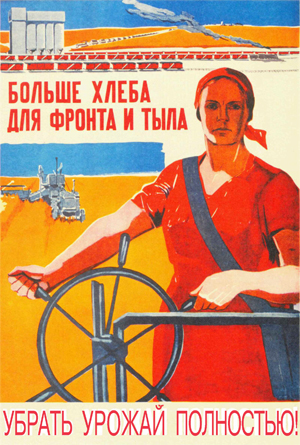 More bread for the front and rear. Harvest in full.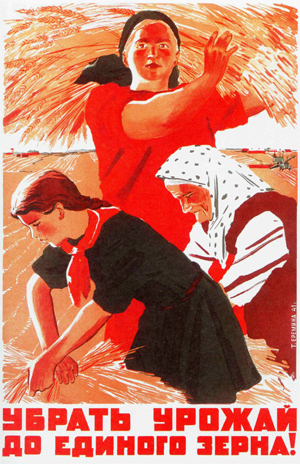 Harvest all crops till the last grain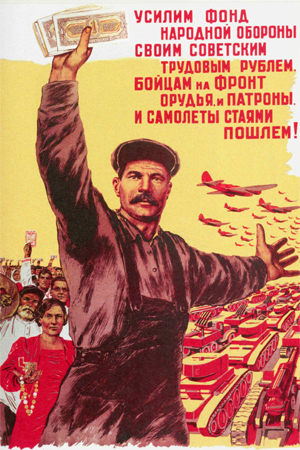 Let's sthrengthen front of people's defense by the Soviet rouble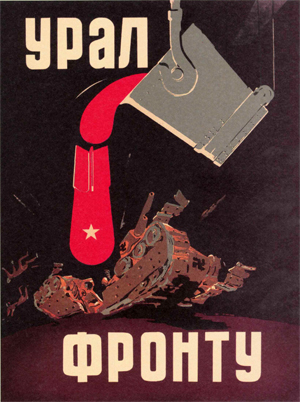 Ural to the front!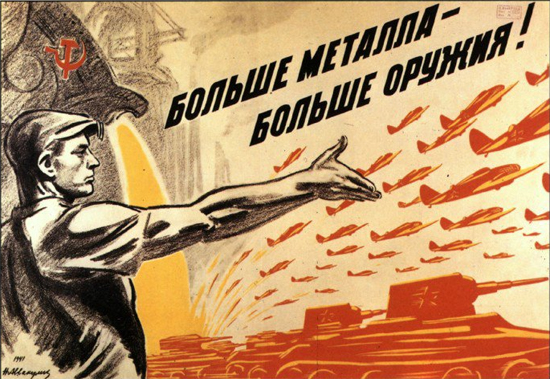 More metal, more weapons!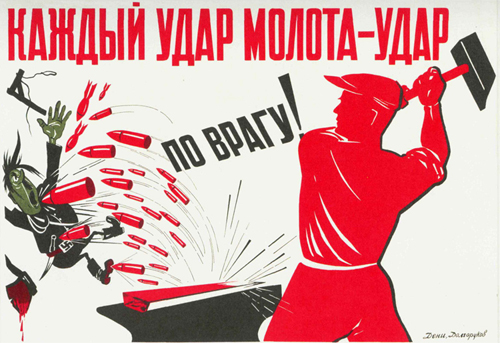 Every hit of the hammer is a hit on the enemy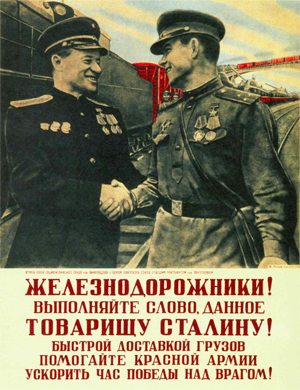 Railroad workers, keep your word to comrade Stalin: help Red Army to bring victory closer with the fast delivery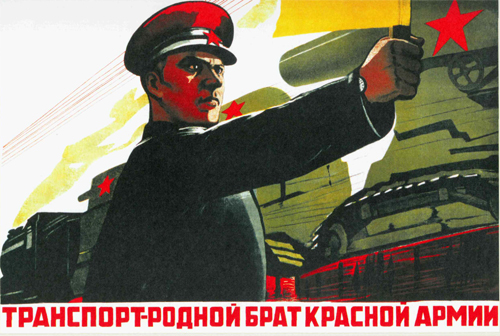 Transport is a brother of the Red Army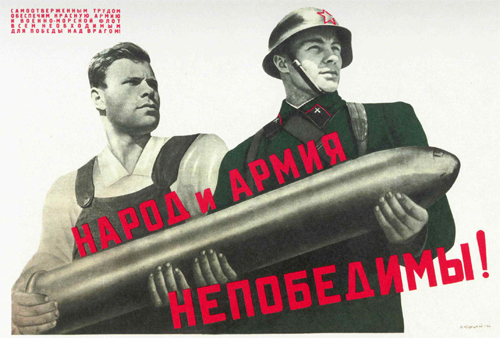 People and Army are together are victorious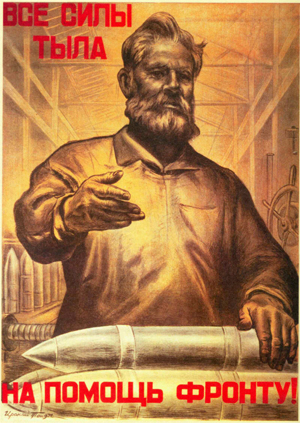 All forces in the rear for a help to the front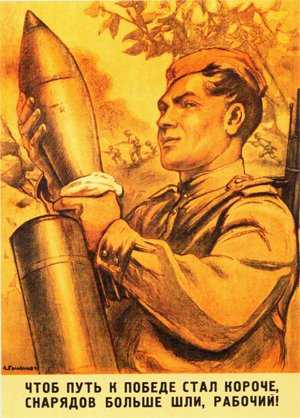 Industrial woker, send us more shells, and our road to victory will be shorter!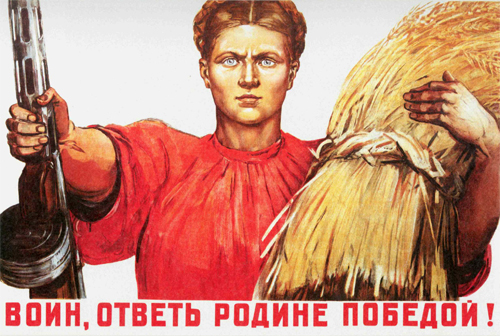 Soldier, answer your Motherland with Victory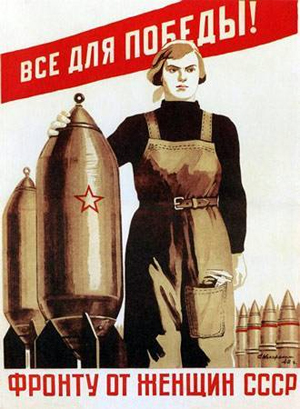 Everything for the victory to the front from the women of USSR!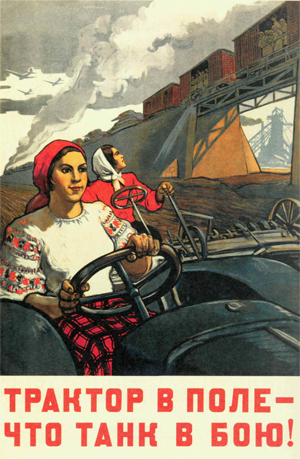 Tractor in the field is the same as a tank in battle
There is my labour in this front news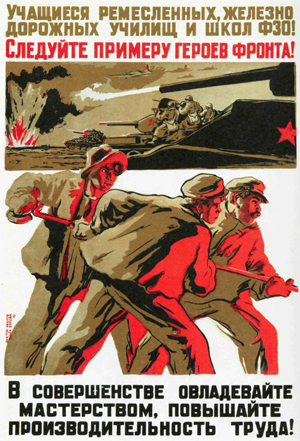 Students of the trade, railroad and industry schools, follow the example of front's heroes, learn your craft, work more effectively!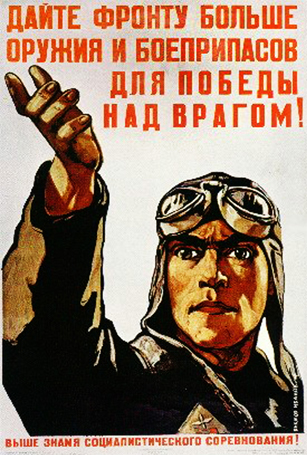 Give more weapons and ammunition to the front! Rise higher the flag of the Socialist competition!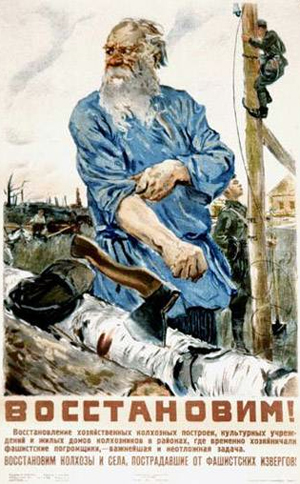 Let's rebuild!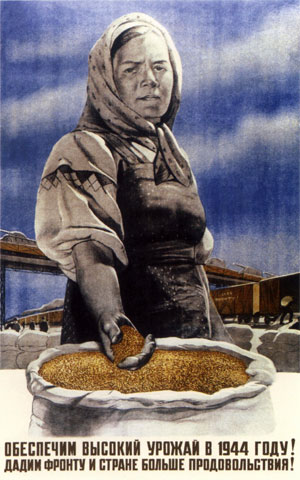 Let's ensure big crop in 1944! Give more food-stuffs to the Front and to the Country.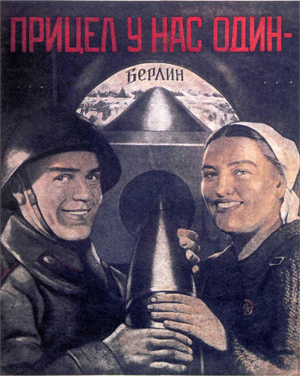 Berlin is out common target!
Allies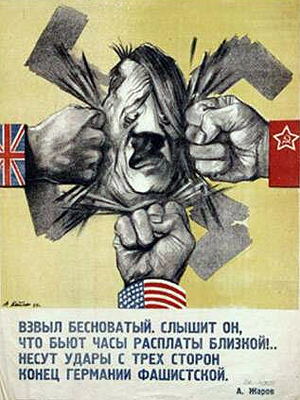 Blows from three sides will finish fascist Germany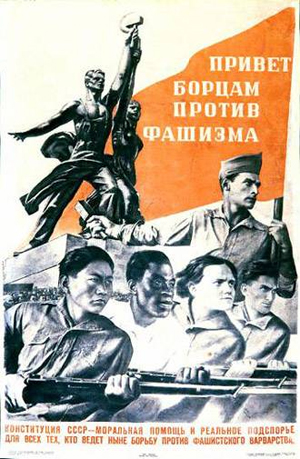 Greetings to all fighters against fascism!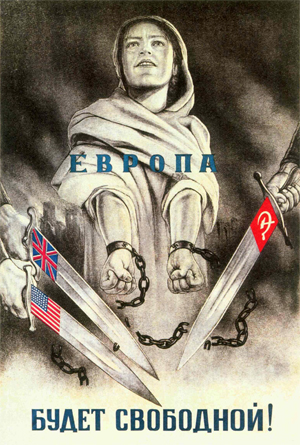 Europe will be free.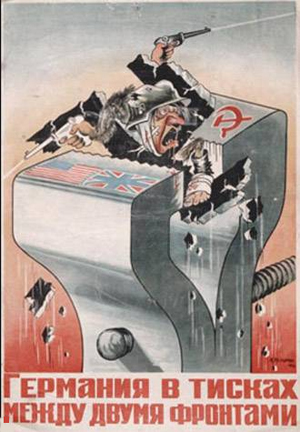 Germany in a vice between two fronts!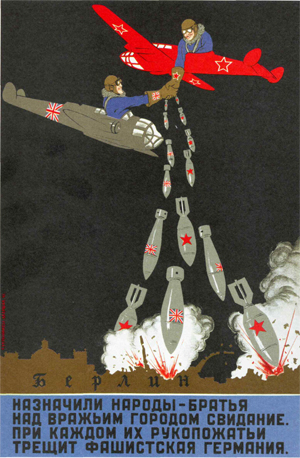 Brothers-in-arms scheduled a meeting above the enemy's city, with every handshake fashist germany is cracking up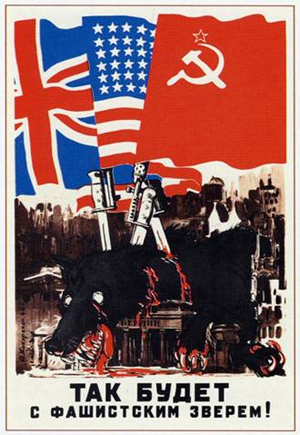 That will happen to the fascist beast!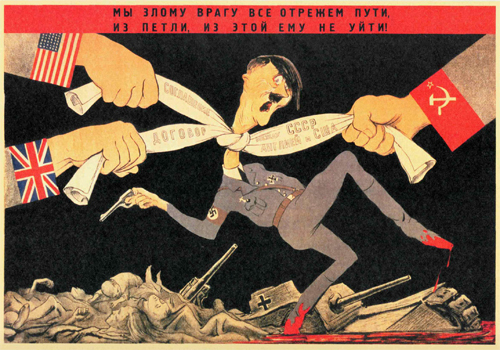 We cut all ways of retreat for the evil enemy, he will never escape this noose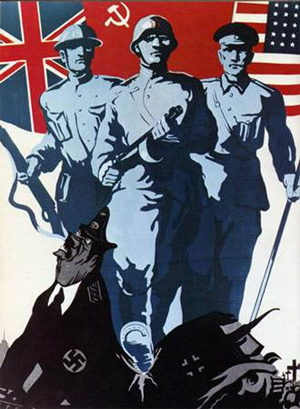 Allies are with us.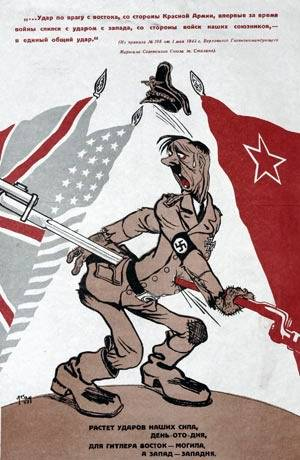 Our blows becomes stronger every day, East will be Hitler's grave, and West will be his trap.

On to the west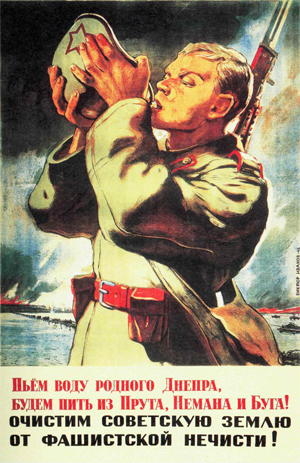 Now we drink water from our Dnepr, then we will drink water from Prut, Neman and Bug!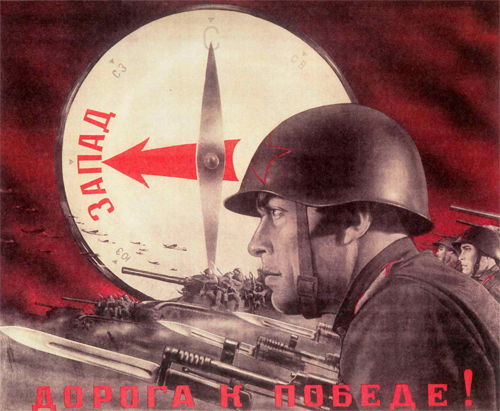 Road to Victory

Forward, to the west!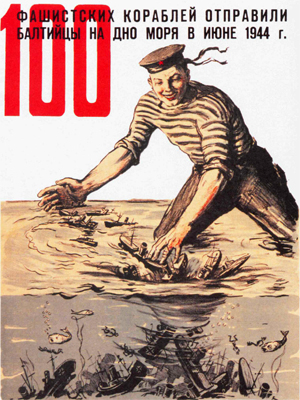 One hundred fashists ships were sunk by the Baltic sailors in June 1944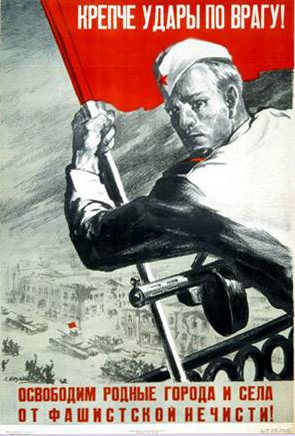 Beat enemy harder, let's liberate our towns and villages from the fascists!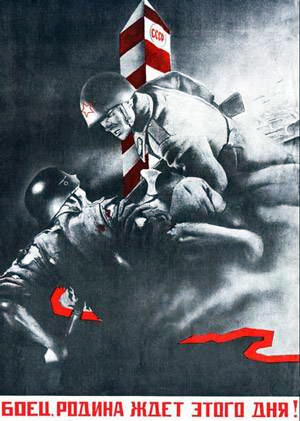 Soldier, Motherland is waiting for this day!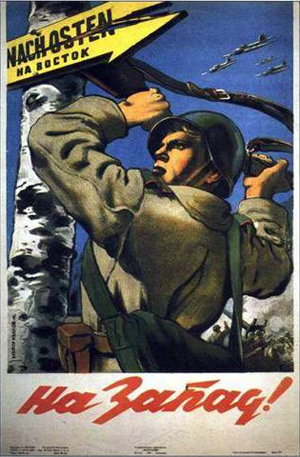 To the west!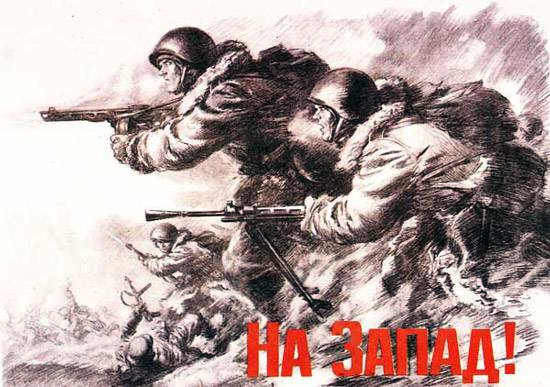 To the west!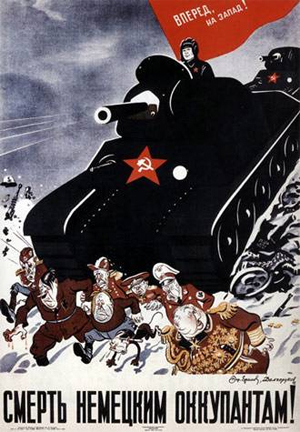 Death to the German occupiers!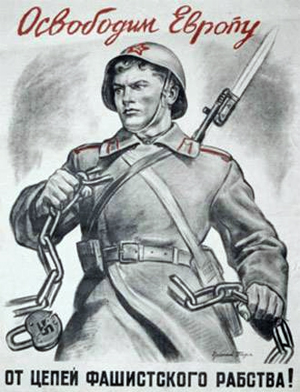 Let's liberate Europe from the chains of fascist slavery!

To Berlin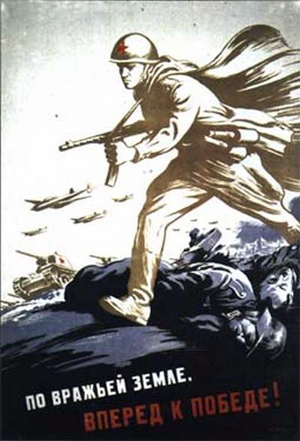 On the enemy's land, forward to victory!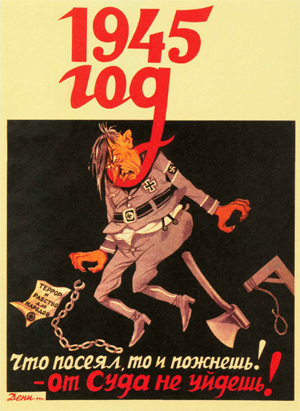 What you sow, that you harvest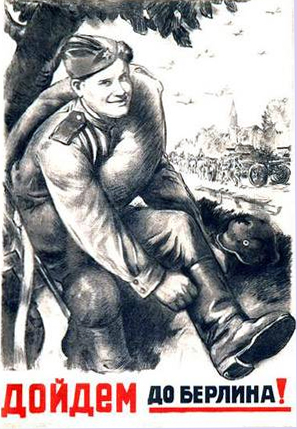 Let's get to Berlin!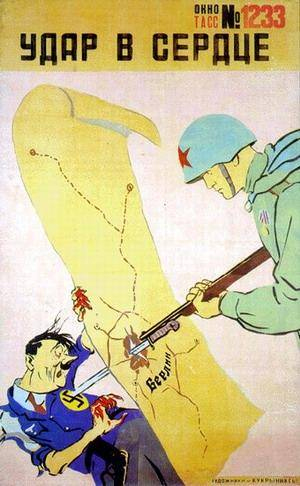 Strike in his heart!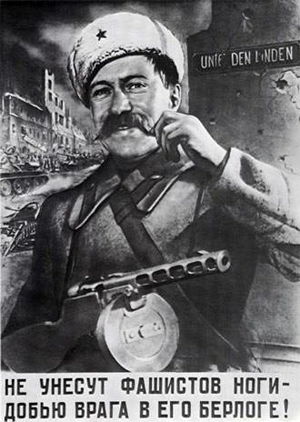 Legs won't save fascists, I will finish enemy in his den!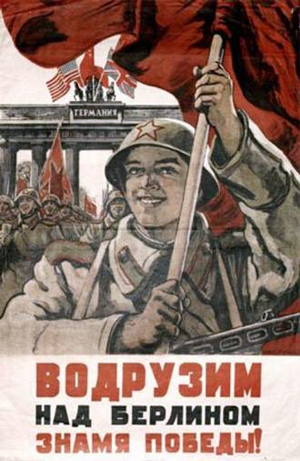 Let's set up Banner of Victory in Berlin!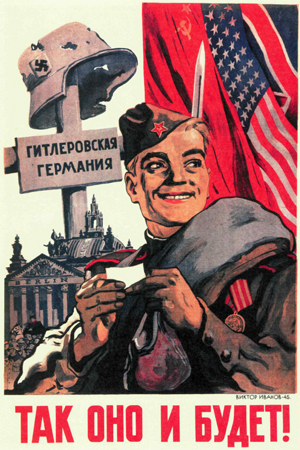 It will be so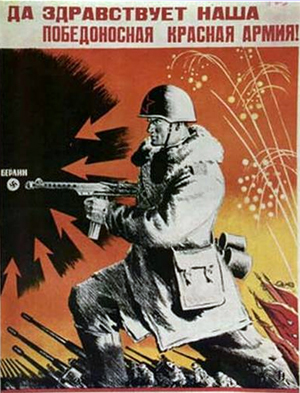 Long live our victorious Red Army!

Victory

Glory to the Red Army!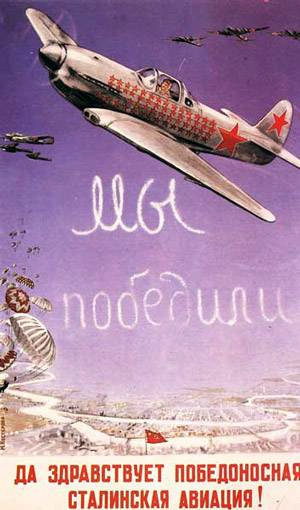 We won! Long live Stalin's victorious air force!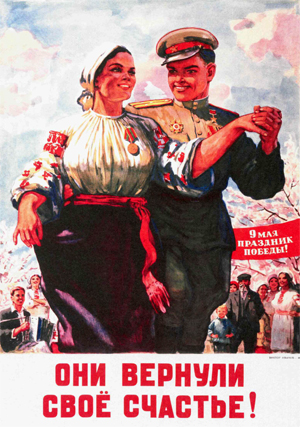 They returned themselves their happiness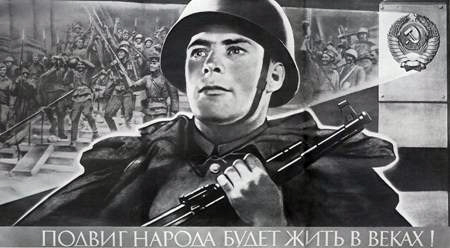 People's feat will live in centuries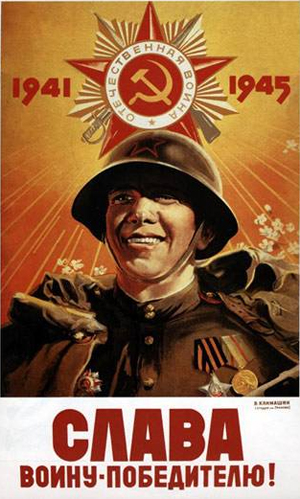 Glory to our victorious soldier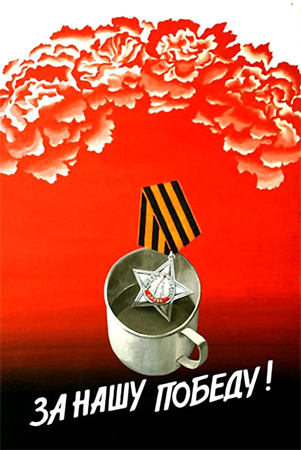 For our victory!